Investors are seeking specific plays in their search for value in these low-interest-rate times
Key points
Customisation involving bespoke portfolios of hedge funds is replacing fund of hedge fund (FOHF) products
Hedge fund assets on managed account platforms have risen sharply
Investors are increasingly asking managers to deliver only a specific aspect of their overall strategy
Technology plays an important part in aggregating risks
Impending interest rate rises, the impact of central banks leaving the system, and anxiety over where equity markets are heading are at the heart of most investment committee discussions. In the past, an allocation to hedge funds, either directly or via funds of hedge funds (FoHFs), would have been considered more than adequate portfolio 'protection'.
That was until all assets correlated on the downside. For this reason, as well as the portfolio effect – where reduced volatility to achieve a higher Sharpe ratio at the fund level meant return targets were not being met – hedge funds have become a dirty term in many circles.
Assets held by FoHFs have fallen from $1.2trn in June 2008 to $798bn in June 2017 (€1trn to €677bn), according to Preqin. Meanwhile, hedge fund assets continue to grow (by 4.1% for the first half of 2017) and have reached $3.38trn.
Customisation, however, is more than just replacing FoHF products with bespoke portfolios of hedge funds. Stephen Oxley, vice-chairman at Pacific Alternative Asset Management Company (PAAMCO), explains that customisation is happening at two levels.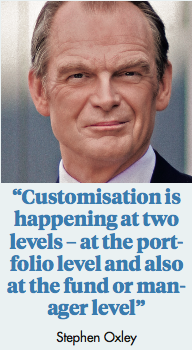 He says they are "at the portfolio level where we have always worked with large institutional investors to customise exposures and to invest via separate accounts with underlying managers, and also at the fund or manager level. Here we work with managers to carve out, for example, a concentrated portfolio of their high-conviction ideas or to co-invest in a new idea."
Within many hedge fund strategies, alpha potential and diversification properties such as alternative risk premia do exist (see article in this report). "In the search for yield outside stocks, we have all had to re-group and dig deeper to find value in this zero-[interest] rate environment. We believe investors are willing to pay for true alpha but not when it is also loaded with market beta," says Michelle McCloskey, president of MAN Americas and president of Man FRM.
One of the side effects of the post-crisis drive for optimal portfolio transparency, liquidity and lower costs has been a two-fold rise in hedge fund assets on managed account platforms.
Bruce Keith, chief executive officer at InfraHedge, the $30bn State Street-owned platform, says the $100bn or so on these platforms represents a fraction of the total. "Assets in dedicated structures or vehicles could easily be five times that amount."
"What's more, it seems that more than 50% of new flows into the hedge fund space are going into some kind of personalised structure, whether into managed accounts funds of one or segregated mandates," Keith says.

This trend has in turn led to a flood of daily position-level data which, over time, is giving valuable insights into real manager skills versus what can be mechanically replicated via algorithms. By decomposing individual manager returns across the alpha-beta spectrum, financial engineers are carving out the relevant skills or premia. These can then be used like Lego blocks to create customised solutions and investors are charged accordingly.
"What is interesting is that, if you look at the 160 managers and funds on our platform from less than 25 clients, less than 20% are running pari-passu [with an equal claim] strategies to the reference fund," says Keith.
"Investors are increasingly asking managers to deliver only a specific aspect of their overall strategy. Managers seem generally to be happy to do this and also to create a different fee structure that reflects this," he adds.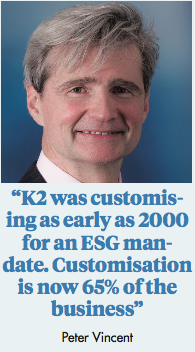 Sara Rejal global head of liquid diversifying strategies at Willis Towers Watson agrees. "Customisation is like going back to hedge fund basics – namely, isolating what we need. Ironically, many hedge funds constrained their upside in the belief that was what investors wanted. We are happy with higher volatility on a single-manager basis because as we carve the building blocks for our clients' portfolios we manage the risk at the portfolio level," she explains.
One of the ways Willis Towers Watson is able to do this is via The Asset Management Exchange (AMX) that it launched at the start of the year with $750m of delegated hedge fund assets which have since grown to more than $2bn.
The platform is open to all investors rather than just Willis Towers Watson clients wanting to access managers. "The launch of the AMX is not only going to provide Willis Towers Watson with a centralised platform to put hedge fund carve-outs on, but it also means managers will be more willing to create a specific portfolio if they believe they might get additional assets from other clients," says Oliver Jaegemann, global head of AMX.
"Carving out specific strategies [from hedge funds] is not new but with the advances in technology the process is far cheaper. We do not customise for the sake of customising. In fact, sometimes all a manager's product needs is a simple tweak in, for example, which expenses are charged to the fund or the volatility or risk profile," says Rejal.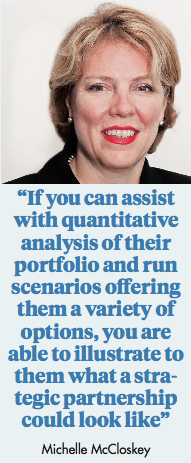 Unlike many of their rivals that are newer to the customisation game, multi-managers such as K2 Advisors and PAAMCO have been customising portfolios since they started investing in hedge funds. "K2 was customising as early as 2000 for an ESG mandate. Customisation is now 65% of the business," says Peter Vincent, head of investment solutions, EMEA at Franklin Templeton Investments.
"Today technology plays a great part in aggregating risks. In our liquid alternative portfolios we [at K2 Advisors] see every trade every manager does every day and how they will behave under certain market conditions," says Vincent. This quality of data resulted in a successful example of partnering between an investor and underlying managers.
Three years ago, to create a truly daily liquid 'hedge fund' solution that could sit within the Investment Company Act of 1940 and UCITS mutual fund regulations, K2 advisors worked with underlying managers to create the Franklin K2 Alternative Strategies fund. "This daily liquid onshore multi-manager fund does not invest in the actual hedge funds but bespoke carve-outs that sit on our managed account platform," explains Vincent.
"Despite not paying a performance fee and charging the clients a flat management fee, the underlying managers still agreed to this because for many it allowed them access to a new [mutual fund] investor base with the benefit of Franklin Templeton's asset-raising capabilities. They also don't have to worry about the operations side, as we have deep expertise in this area too," says Vincent. In three years, the UCITS and US '40 Act' versions have raised roughly $2.5bn in combined assets.
"Conversations no longer start with products any more. I can't remember the last time the discussion revolved around a pitch book. It is all about the investment opportunities and the issues they need to resolve," says Man FRM's McCloskey.
"Investors are increasingly taking a holistic view of their portfolios. If you can assist with quantitative analysis of their portfolio and run scenarios offering them a variety of options, you are able to illustrate to them what a strategic partnership could look like. Our aim is to be their global strategic partner or an extension of their investment team," she adds.
As a firm, Man FRM continues to shift its focus towards building bespoke solutions for clients using external managers, as well as Man Group investment engines such as Man GLG or Man AHL where appropriate.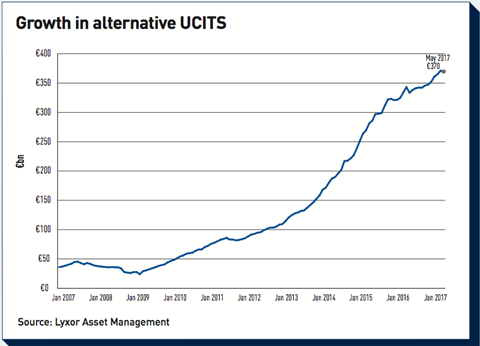 "We can offer a broad range of services from a managed account platform where investors select their own managers and we perform the structuring and risk-monitoring through to a more comprehensive advisory role in which we're present during board meetings and directly assisting their investment teams," says McCloskey.
Clearly, this new approach is working. For the first half of 2017, Man FRM assets grew by 27% with net inflows of $3bn, according to company statements.
"An investment in a hedge fund should always be seen as a partnership to some extent. But whether or not this evolves into a strategic partnership will often depend on investor reputation, size and investment horizon, amongst other factors. A strategic partnership should be truly two-way, with information flow and collaboration benefiting both parties," says Valérie Bénard, partner head of Aksia Europe.
Hedge funds: No longer out of reach
1

2

3

4

5

Currently reading

Hedge fund customisation: Bespoke solutions in demand

6

7