Investing In Emerging Market Equities: The tide begins to turn
Emerging market equities are finally seeing inflows, but are these justified? Joseph Mariathasan investigates
At a glance
• Investment is flowing back into emerging markets after hitting a low in September 2015.
• More sophisticated investors discriminate between the different markets.
• There are more opportunities apparent in the Middle East than the low oil price might suggest.
Institutional exposure to emerging markets hit an all-time low in about September 2015, notes Carlos Hardenberg, lead manager of the Templeton Emerging Markets Investment Trust. All classes of institutional investors have been pulling out of emerging markets over the past five years as a reaction to many factors. These included uncertainties over the Chinese economy; the volatility and declining prices of commodity markets, as well as political issues across a diverse range of countries including Brazil, South Africa and Turkey. 
There has been a flight to quality, with investors hiding in cash, government bonds and other assets which were considered safer. But that has led to an overreaction and the heavy underweighting to emerging market equities, argues Hardenberg. 
Hardenberg sees the developments over the middle six months of 2016, with both institutional and retail money coming back in, as a reaction against the disinvestment of the past few years. This represents the start of a trend toward renormalising allocations, which has meant that some of the underweight positions have had to be closed. 
Hardenberg also argues that developed markets have reached levels where investors are no longer comfortable on valuations, with the differential between developed markets in general and emerging also reaching an all-time high: "Emerging markets are now trading at levels even below those seen during the global financial crisis, so we can pick up quality assets at good prices," he says. 
While most of the flows have been into passive global emerging market exchange-traded funds (ETFs), more sophisticated investors have been discriminating between markets. Their views, however, can differ considerably.
The turmoil in Brazil at the beginning of 2016, for example, has opened up opportunities in both debt and equities for some managers. "The country had been uninvestable for the past few years. That is now changing," says Hani Redha, a fund manager at PineBridge Investments. "But the country has had the deepest recession in living memory, combined with high inflation. To fix both will be painful. Tackling inflation first will make growth even more challenging for a while and equities need growth". 
Templeton, however, is more positive on Brazilian equities. It found opportunities in Brazil at the beginning of 2016, at the time of the Petrobras collapse and falls in commodity companies. Hardenberg explains: "There was a lot of collateral damage with a lot of companies that were much higher quality also falling in line with the rest of the market. We found a number of opportunities; we invested in a company exporting filters for the automobile industry and a company producing basic foodstuffs whose price fell 50-60% in dollar terms but whose revenues were only marginally affected. We also saw the currency itself as presenting an opportunity for investors." 
"This year, the monsoon [in India] has been fantastic and as a result, there should be an excellent harvest releasing three years of pent-up demand into the marketplace" Praveen Jagwani
Pinebridge favours equities only in three of the emerging markets – India, Indonesia and Mexico. India, as Redha points out, has been a large beneficiary of the oil price collapse, as it imports a billion barrels of oil a year. He sees the government as making slow but steady progress, with the implementation of the goods and services tax (GST) being the most recent achievement.
Praveen Jagwani, CEO of UTI International, considers valuations in India as reasonable, with equities trading at 16.5 times earnings: "The biggest thing favouring a rally would be an increase in domestic consumption. During the last three years, India has been having bad monsoons, which meant that the rural population, accounting for 40% of the population, was not generating large amounts of disposable income. This year, the monsoon has been fantastic and, as a result, there should be an excellent harvest, releasing three years of pent-up demand into the marketplace." The other big factor for domestic consumption will be the seven-yearly review of public sector wages that occurred in August.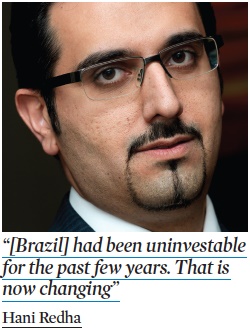 The boost in basic pay will also boost consumption.
Redha sees Indonesia's new president as a key factor in the attractiveness of that country's equity markets. President Joko Widodo has a willingness to fix the problems: "He stumbled early on and made mistakes. The new finance minister has been brought back in. He is in a position to put in more reforms." The currency has adjusted; inflation is down to 3%, which is low for a country like Indonesia. There is also flexibility for the central bank to continue monetary easing to support growth. Indonesia also has a large population with attractive demographics. Redha argues that Widodo has a window of opportunity but needs to move quickly. 
Hardenberg also considers Indonesia as another great story. Macro developments are conducive for local entrepreneurs, with a lot of reforms being pushed by the government. On the negative side, though, he sees the market as still cursed by deep layers of corruption and political challenges that need to be overcome. 
Redha also favours Mexico, because of its profound structural reforms, which, he argues, mean that the country is much further along the reform process than countries like Brazil and others that have not even begun to fix the excesses of the past. In Mexico, there have been many vested interests that have suffocated the country, Redha says, preventing competition to bring down costs and to enable growth to accelerate. Oil production had also been declining, even though the price of oil was previously over $100 a barrel.
"This was not because Mexico was running out of oil, but because there were vested interests preventing foreign capital coming in and the lack of expertise and the bureaucracy of the incumbent prevented oil production from being maintained, let alone increased," says Rehha. But, as he adds, President Pieno Nieto is unpopular. He may be replaced and his successor might try to reverse the reforms, which is a risk that investors need to watch.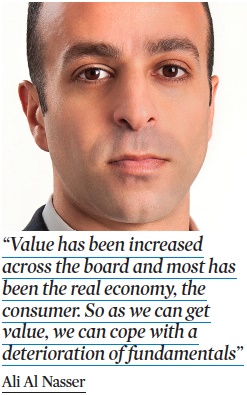 It is not only the mainstream countries that offer opportunities in the emerging markets universe. The Gulf region, for example, is viewed as an off-index allocation, explains Ali Al Nasser, portfolio manager at Duet MENA [Middle East and North Africa]. Anyone invested here is overweight in the context of their overall benchmark. The low oil prices have clearly caused a lot of damage to the fiscal and monetary side of the equation for the Persian Gulf countries. "The eye of the storm is Saudi Arabia," says Al Nasser, "because it has not diversified its economy away from hydrocarbons to the same extent as the UAE [United Arab Emirates]. The silver lining is that we saw a significant release of value in the market, with companies down 50% and valuation multiples depressed significantly." Duet sees valuations as much more interesting than they were six to 12 months ago. There are no upstream listings in the region as there is little representation of oil-related stocks in the equity markets. 
In fact, says Al Nasser, MENA has a lower correlation with oil than a lot of emerging markets because of the nature of what is listed. "Value has been increased across the board and most has been the real economy, the consumer. So as we can get value, we can cope with a deterioration of fundamentals." What is driving fundamentals he argues, are the reforms being implemented along with the macroeconomic environment. As oil prices have fallen many governments have pursued reforms which favoured some sectors over others. This is creating tail winds for sectors like healthcare and education, but disadvantaging other sectors, with a change generally in how business is being done. "The government crowded out a lot of investment by being the primary provider of most services in the economy. With oil at $50, the governments are generating deficits of 10-15%, so it is no longer a viable solution," Al Nasser, says.
Duet says the opportunities are in areas of the economy where governments have historically played a larger role. Investors can benefit where there is a clear intention to step back and open the market to the private sector.
Pages in: Investing In Emerging Market Equities: The tide begins to turn