PureGroup: Sensitivity of selected funds to macro factors
The chart data shows the sensitivity of the five largest US small and mid-cap equity funds and the five largest European small and mid-cap equity funds to changes in macroeconomic factors: default spreads and inflation. IPE and PureGroup selected from the largest euro-class domestic and cross-border institutional funds registered for sale in UK, in terms of assets, from the Morningstar database. 
The selected funds are:
• US Small and Mid Cap Equity
• Robeco BP US Select Opportunities Equities
• Schroder International Selection Fund US Small & Mid-Cap Equity
• Parvest Equity USA Mid Cap
• T. Rowe Price Funds SICAV – US Smaller Companies Equity fund
• William Blair SICAV US Small-Mid Cap Growth fund
• European Small and Mid Cap
• Parvest Equity Europe Small Cap
• Threadneedle Investment Funds – Threadneedle European Smaller Companies
• Franklin European Small-Mid Cap Growth fund
• Allianz Europe Small Cap Equity
• AXA World Funds Framlington Europe Small Cap.
The higher the sensitivity of each fund to the macro factor, the higher the probability that performance will respond to changes in that factor. The graphs show the sensitivity of the funds to the factors, while the bottom bar charts show the monthly year-on-year change of the factors over the past five years. The data was analysed using PureGroup's Forward Perspective Model, a macroeconomic factor model built for the investment industry, covering open-end, closed-end and exchange-traded products. The model analyses an investment product's positioning. 
US small & mid-cap equity
US default spread

Widening default spread can indicate periods of increased short-term market risk and equity market underperformance. If we see a softening of US equity markets during 2017, or stalling confidence in the new Trump administration, the cohort including Schroders, Robeco and T. Rowe Price is expected to perform positively during such bearish cycles where default spreads typically expand, with the Schroders fund expected to benefit the most. The only fund that would have a negative impact during this cycle would be the Parvest USA Mid Cap fund. Conversely, if we see a sustained bull market and default spreads contract, then it would be the only fund to have positive contribution to its performance.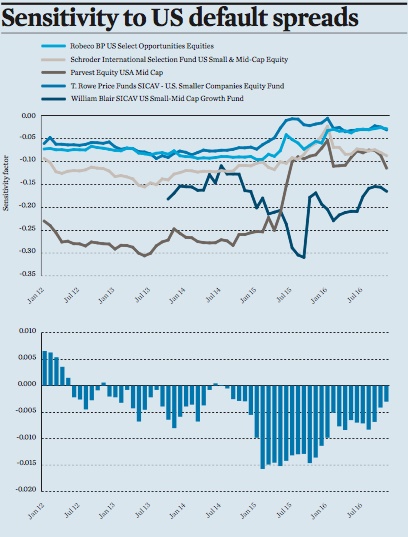 US inflation
For the US household, 2016 has been punctuated by a rise in oil prices and core inflation. With an increase in earnings growth and signs of sustained inflation moving beyond core to general wage inflation, the Federal Reserve's, Janet Yellen, has shown willingness to increase rates. If we are to see a wider inflationary cycle, then all funds may have a negative impact to their performance as they all have negative sensitivity. The fund that will be most affected in these cycles will be the William Blair fund and the least affected will be the T. Rowe Price and Robeco funds.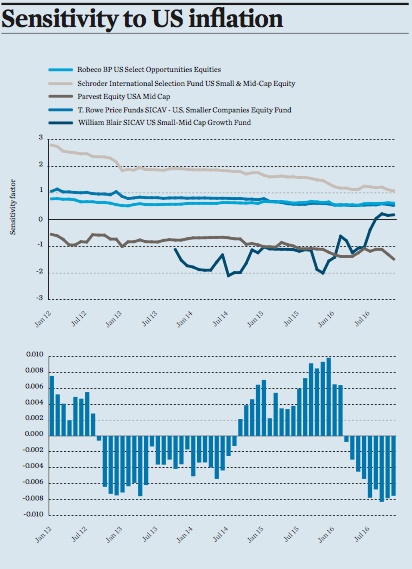 European small & mid-cap equity
Euro-zone default spread

Assessing the peer group, we can see again that while currently all the funds have a positive sensitivity to this macroeconomic factor, there is a significant spread. The funds will typically perform well in periods of expanding default spread and equity market underperformance. However, the AXA Framlington fund has the highest positive sensitivity to this factor, which shows that it is expected to have the greatest positive contribution to its performance during periods where default spreads expand, followed by the Threadneedle, Franklin and Allianz funds. The Parvest fund is relatively neutral to this factor.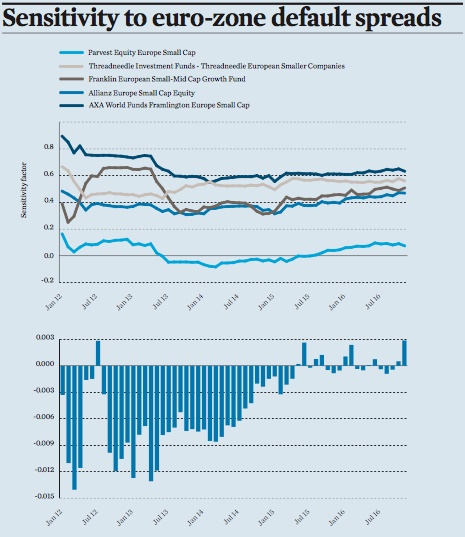 European inflation
Europe inflation has increased to a three-year high, exceeding levels last seen in September 2013 and above the market expectation of 1%. Focusing on the peer group, the funds are split into three distinct cohorts. The Franklin and Threadneedle funds are expected to perform well in cycles of increasing inflation, with Franklin performing best. Parvest is neutral but is positively trending from a negative position for the past five years. The AXA Framlington and Allianz funds have a negative sensitivity and in this cycle would be expected to face a headwind to their performance.
Patrick Murphy, director, PureGroup puregroup.io/academic-research