Jennifer Bollen finds a re-birth in Europe's CLO market, offering better pricing and lower risk – but facing significant obstacles to achieving maturity
European asset-backed securities (ABS) markets may not be as attractively priced as they were immediately after the financial crisis, but they can still add useful diversification of credit risk and they may still even offer some value.
Commercial mortgage-backed securities (CMBS) have not experienced the same dramatic rally and tightening of spreads as that seen in the market for residential mortgage-backed securities (RMBS). One might expect that their relative cheapness would therefore make the case for investment.
Joseph Mariathasan finds investors ready to buy ABS, but the markets frozen by regulators still fearful of their role in the financial crisis
Europe's key RMBS markets remain subdued. Lynn Strongin Dodds reports on whether the lack of activity is just about bank stresses – or a more fundamental economic malaise
Digital Edition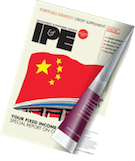 Subscribe to the digital edition of IPE magazine to view the latest issue directly in your browser.