From The Magazine
ESG is still an unpopular investment strategy in Switzerland. How will it overcome this lack of enthusiasm?
In October, I wrote that investors would soon have to choose between backing social justice or going along with authoritarian- ism. I was not expecting that the choice would come so quickly
Lenders see an apparent correlation between energy efficiency and lower defaults

One in every four professionally managed dollars is now invested sustainably according to some definition, with a total of $22.9trn run in this way overall
Integration is high on the agenda for most asset managers. What does it take to build truly sustainable portfolios?
Providers acknowledge low-carbon indices are imperfect, but argue they are an invaluable tool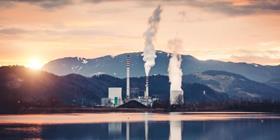 Investor call-to-action hits 415 backers as climate negotiators meet in Poland for COP-24

Asset owners from Ireland, Sweden, France and the UK argue that numbers aren't the only way of measuring impacts
Feedback invited on usability and first set of activities deemed 'environmentally sustainable' 

Irish finance minister tells IPE Conference 2018 that the government now wants to promote green finance

Carbon-heavy fossil fuel to remain vital for country's energy independence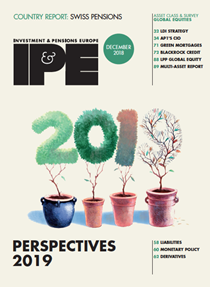 Digital Edition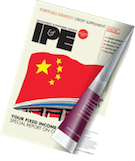 Subscribe to the digital edition of IPE magazine to view the latest issue directly in your browser.
NEST CIO Mark Fawcett is on the hunt for DC-ready private credit managers
'Volatility from diverging monetary policy could lead to fixed income asset devaluations if rates move unexpectedly'

Number of private debt funds targeting Europe shrinks compared to 2017

Eight industry-wide schemes are pooling resources in an innovative approach to illiquid assets

Fund managers expect shift towards co-investments and separate accounts