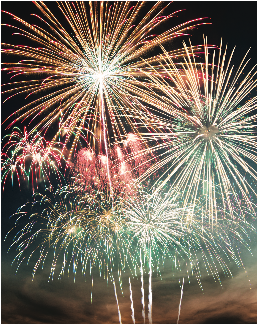 Headlines suggest institutional demand for hedge funds is waning. But the facts paint a different picture, finds Carlo Svaluto Moreolo
Joseph Mariathasan explores the universe of emerging market hedge fund strategies
Niki Natarajan looks at how liquid alternative strategies could be the answer to the current low-interest-rate and high-volatility environment, even if it seems counter-intuitive

Hedge funds are using onshore vehicles to replicate the returns of the offshore market. Is this making investment in hedge funds easier or simply another risky alternative?
Joseph Mariathasan looks at why investing in the hedge fund market is still contentious for many pension funds, even in the current low-interest-rate environment. Is it the fee structures or the economic uncertainity that drives this caution?
The current reforms risk repeating some of the mistakes of the Riester plan. Devolving responsibility to social partners for creating new sector schemes risks passing the buck
Times have changed since the Society for the German Language chose Alternativlos (without alternative) as its Unwort (literally 'unword' or ugliest word) of the year for 2010
The review of the UK's asset management market by the FCA may or may not result in tighter regulation of investment advice. But the regulator would do well to continue focusing on investment consulting firms that offer fiduciary management services
This spring marks 20 years since the first issue of IPE. Our founders Piers Diacre and Fennell Betson started this publication with an assumption that funded pension systems would become more widespread in time, leading to increased diversification and a need for clear, well-researched and well-presented information.
Norway's Government Pension Fund Global (GPFG), arguably the world's most watched institutional investor, is considering adopting a risk-factor approach.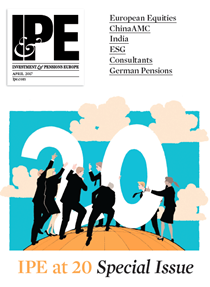 Digital Edition
Registered users are entitled to the first digital issue of IPE with the compliments of the IPE.com team.
Three pension funds - BNL BNP Paribas, Heidelberg Cement and Istituto di Previdenza del Cantone Ticino - share insights on working with consultants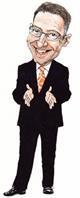 Mark Fawcett, the CIO of NEST, tells Carlo Svaluto Moreolo what the future holds for the UK's fast-growing defined contribution scheme
Asset management is one of the few areas of business where, so far at least, the Chinese have made little global impact. No Chinese firm was even in the top 100 in the 2016 IPE rankings
Three pension funds - Industriens Pension, Migros Pensionskasse and SPMS – explain their approach to managing geopolitical risks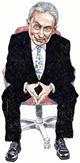 Robin Ellison, chairman of Carillion Pension Trustees, tells Carlo Svaluto Moreolo about the scheme's approach to de-risking and regulation