Although emerging markets are in aggregate enjoying structural improvements, there are stark differences between regions
Public markets are shrinking while private markets are attracting huge amounts of capital. But it is still not clear which is the better bet
An anti-corruption drive by Latin American companies is creating opportunities for responsible investors

The euro-zone appears to be in a low-growth liquidity trap redolent of Japan
Advances in artificial technology and computing power are opening paths to new hedge funds strategies

Europe's automotive industry faces global challenges ranging from emissions standards to trade disputes and radical transformation of the industry
Digital Edition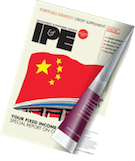 Subscribe to the digital edition of IPE magazine to view the latest issue directly in your browser.
Equity investors putting faith in growth stocks – stocks that are priced expensively relative to fundamentals because they are expected to grow fast – received a shock in early September when they sold off sharply.

Large buyout funds are a staple ingredient in many institutional pension funds' private-equity portfolios. Focusing on more diversified private-market strategies could be a better way to achieve return objectives
If anyone in Europe was left in any doubt on 11 September about the dovishness of the European Central Bank (ECB) under Mario Draghi's leadership, by close of business on the next day their doubts were surely dispelled. On that day the outgoing president of the ECB unleashed a bout of monetary easing, in an attempt to boost euro-zone inflation from 1% to its target of "below, but close to, 2% over the medium term".

Father Christmas delivered a sack of coal to equity markets last Christmas Eve, with the S&P 500 index losing 1.8%, following a three-day slide. Forecasters had previously been expecting two or three rate hikes in December, as Federal Reserve chairman Jerome Powell steered that discussion. He had mistakenly assumed that the economy had not yet reached a normal, ...