Some US smaller companies may benefit from America First policies but others will not
Comparisons of the performance of listed smaller companies and private equity are fraught with difficulty
Most emerging markets are regarded as reasonably placed to handle the impact of the winding up of quantitative easing in the West
Argentina has had to seek a $50bn rescue package from the IMF in its latest crisis after just two years of a boom period
The recent rash of selling of EM assets has been triggered by a combination of factors
The DB pension industry is nearing peak LDI and a new understanding of liability management is taking hold
Digital Edition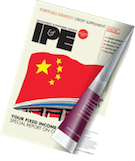 Subscribe to the digital edition of IPE magazine to view the latest issue directly in your browser.
The rate of increase in life expectancy in Germany appears to be slowing down 
Despite generous state incentives in the Turkish auto-enrolment system, opt-out rates are high
A major GICS index methodology change seeks to reflect underlying market economics
The long/short liquid alternatives universe is more hetreogenous than some realise
Whether or not to insure liabilities via a buyout or buy-in has long been a decision which most defined-benefit pension funds need to consider. Buyout deals have become integral to the pension fund landscape.