A year into Generali's ambitious growth plan, it looks set to meet its promises

By his own account Nico Marais is an extraordinarily lucky man. The CEO of Wells Fargo Asset Management (WFAM) is keen to use every opportunity to emphasise his good fortune. In Marais's modest telling of his own story, his success is thanks to the qualities of others, rather than to his own merits. "It's the story of my life. I've just always worked for amazing people," ...
If people ask Peter Branner why he moved from Sweden to the Netherlands to run the asset management arm of APG he might tell them that he is in effect chief investment officer for more than a quarter of the Dutch population

We are living in Disneyworld," says George Muzinich, the CEO and chairman of Muzinich & Co, a New York-based investment manager specialising in corporate credit.
As a Europe-focused small and mid-cap manager, the decision of London-based Montanaro Asset Management to launch its Better World fund, a global impact focused fund after a 27-year track record as a European house, was most certainly a change in strategic direction.
Self-described lifelong quant Rob Arnott finds the quantitative-investing industry often guilty of "overhyping and overselling" ideas
Digital Edition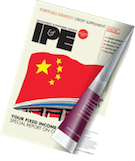 Subscribe to the digital edition of IPE magazine to view the latest issue directly in your browser.