We are living in Disneyworld," says George Muzinich, the CEO and chairman of Muzinich & Co, a New York-based investment manager specialising in corporate credit.
As a Europe-focused small and mid-cap manager, the decision of London-based Montanaro Asset Management to launch its Better World fund, a global impact focused fund after a 27-year track record as a European house, was most certainly a change in strategic direction.
Self-described lifelong quant Rob Arnott finds the quantitative-investing industry often guilty of "overhyping and overselling" ideas
The growth of non-bank lending in Europe is often mentioned as a trend that could radically transform the European economy. This remains to be seen, but if banks gradually give some of their dominance in the lending market, then firms such as Cheyne Capital Management stand to benefit. 
This year is a milestone for Neuberger Berman. It marks the 10th anniversary of the re-emergence of the firm as an independent, employee-owned in-vestment manager, as well as the 80th anniversary of its founding
Following the group's reorganisation, SMTAM's David Semaya outlines ambitious plans to widen their international expansion
Digital Edition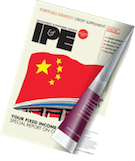 Subscribe to the digital edition of IPE magazine to view the latest issue directly in your browser.