Strategically Speaking: Eastspring
Investment professionals are fond of talking about the power of compound interest but many fail to fully appreciate its implications for Asia. Decades of rapid GDP growth are not only making the region a substantial economic force but they are transforming its character.
The numbers alone are striking enough. What the International Monetary Fund classifies as Emerging and Developing Asia has gone from 9% of global output in 1980 to 31.5% last year (measured at purchasing power parity). Add the developed economies of East Asia (Japan, Hong Kong, Singapore, South Korea and Taiwan) and the total came to about 38% of global output in 2016.
In contrast, the EU accounted for less than half that amount at about 16.5%. Having said that, the EU's population was about 500m, compared with well over 3bn in East and South Asia combined. So Asia still lags considerably in terms of income per head.
Guy Strapp, the chief executive at Eastspring Investments, spells out the investment implications of Asia's rise in more human terms. "It's that continuous wave of the power of the demographic, the weight of money, the emerging middle class, increasing investor sophistication and further penetration into the markets whether it's wanting to buy insurance protection or invest in mutual funds. It doesn't have to be a headline maker. It's chipping away at a unique opportunity on a global scale."
It is this long wave that Eastspring intends to capitalise on. For this it is well placed with an on-the-ground presence in 10 Asian markets including the five developed ones along with the emerging nations of China, India, Indonesia, Malaysia and Vietnam. It also has sales offices in Chicago, London and Luxembourg. The purpose of the presence outside the region is to get more global investors interested in the Asian growth story.

Strapp himself, an Australian who has lived in Asia for many years, is enthusiastic about the challenges.
"I can't think of anywhere else people in finance would want to work over the next five to 10 years," he says. "That's notwithstanding all the challenges".
Eastspring is the Asian investment management business of Prudential PLC, the UK-based financial services group, although it was only in 2011 that the subsidiary was given its distinct identity. Back in 1994 the UK parent set up a regional operation with the establishment of Prudential Corporation Asia with its headquarters in Hong Kong. Today Eastspring has over 2,500 employees of whom more than 250 are investment professionals.
In Prudential's most recent results, for the half-year ended 10 August 2017, Eastspring led the way with a growth in operating profits of 20%. The Asian subsidiary enjoyed net internal inflows of £2.3bn (€2.6bn) over that period with its retail business driving the strong performance. So Eastspring provided, and could well continue to provide, a healthy boost to its parent's profits.
Strapp says Eastspring hopes to benefit from both sides of investment flows between Asia and the West. It aims to help western investors who want to invest in Asia as well as Asian investors who want to invest abroad. "The opportunity is vast," he says.
Many Asian markets will be important but some will be far larger than others. "You'll have China and Japan as the standouts pools of massive liquidity, massive investable assets, in Asia," he says. "Australia will be important as well but those two markets will dominate."
One sign of the region's increasing convergence with the West is the growing focus on environmental, social and corporate governance (ESG). This is particularly true of Asia's developed markets but is spreading to the emerging ones too.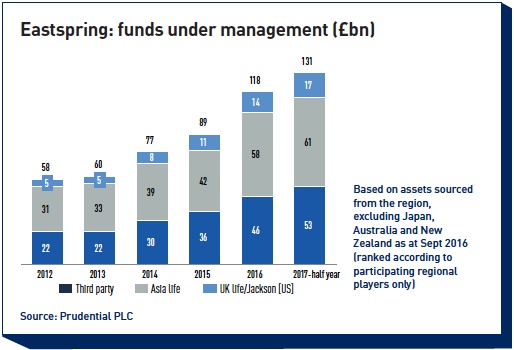 "It's very front of mind for Japanese clients, they have their own stewardship code," says Strapp, who lived in Japan for a couple of years. There is also a particular focus on the theme in Korea and Singapore.
But just because there is a trend towards ESG across the region does not make it straightforward. Strapp points out that it could mean 10 different approaches emerge in its 10 different markets. That could mean having completely different discussions with 10 regulators or more (as some countries have more than one).
Eastspring is also involved in raising $500m (€420) for a sustainable infrastructure with the International Finance Corporation, the investment arm of the World Bank. The scheme, which will raise $5bn in total from institutional investors, will help modernise infrastructure in power, water, transportation and telecommunications across the developed world. Eastspring is the first Asian investor to participate in the programme.
As things stand it looks like Eastspring is in the right place at the right time. It is in the midst of a regional shift that can reasonably be described as historic. Guy Strapp's challenge is to ensure that Eastspring carries on riding the Asian wave.