IPE is the leading European publication for institutional investors and those running pension funds. It is published by IPE International Publishers Ltd, an independently-owned company founded in July 1996. IPE's sister publications are IPE Real Assets and FD Pensioen Pro | IPE. Our annual Conference & Awards event is the largest gathering of European pension funds under one roof.
For further information about the company or any of our titles, please contact:
Piers Diacre, Publisher
Tel: +44 (0)20 3465 9300 piers.diacre@ipe.com
For more information, please click below:

Pensions bill to cover greater powers for regulator and frameworks for CDC provision and pension dashboards

Coverage ratio down by 4% in third quarter, consultancy reports
Digital Edition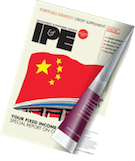 Subscribe to the digital edition of IPE magazine to view the latest issue directly in your browser.