IPE is the leading European publication for institutional investors and those running pension funds. It is published by IPE International Publishers Ltd, an independently-owned company founded in July 1996. IPE's sister publications are IPE Real Assets and FD Pensioen Pro | IPE. Our annual Conference & Awards event is the largest gathering of European pension funds under one roof.
For further information about the company or any of our titles, please contact:
Piers Diacre, Publisher
Tel: +44 (0)20 3465 9300 piers.diacre@ipe.com
For more information, please click below:

Strong equity markets and rising government bonds help recovery from weak end to 2018

Members of two Danish labour market pension funds to vote on Wednesday on merger
Digital Edition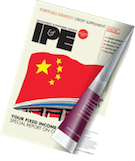 Subscribe to the digital edition of IPE magazine to view the latest issue directly in your browser.
Madison Realty Capital Debt Fund IV planned to raise $1bn
Investor association Af2i sets out views on unified French pension system after reform law passed

Investcorp is buying the multi-let building with a €48m loan provided by Münchener

CPEG is anxious about a May referendum that could pave the way for much-needed financing

The Outlook examines the conditions that may affect market performance after a strong Q1, the factors supporting global economic growth, and provides a sector-by-sector fixed income outlook and analysis.