IPE is the leading European publication for institutional investors and those running pension funds. It is published by IPE International Publishers Ltd, an independently-owned company founded in July 1996. IPE's sister publications are IPE Real Assets and FD Pensioen Pro | IPE. Our annual Conference & Awards event is the largest gathering of European pension funds under one roof.
For further information about the company or any of our titles, please contact:
Piers Diacre, Publisher
Tel: +44 (0)20 3465 9300 piers.diacre@ipe.com
For more information, please click below:

Mandatory tendering must be part of the reform when new rules come into force next year, providers say

French reserve fund posts 5.2% investment loss after return-seeking assets fall 8%
Digital Edition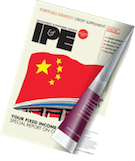 Subscribe to the digital edition of IPE magazine to view the latest issue directly in your browser.
French reserve fund posts 5.2% investment loss after return-seeking assets fall 8%
Deal brings total liabilities insured to £1.7bn following transactions in 2017 

Investment loss of 0.2% before costs follows weak equity markets in the fourth quarter of 2018

Young and ethnically diverse investors are starting to take control of their financial futures, according to an expert panel
The two eight-storey building was acquired for an undisclosed sum