Fees have declined significantly in areas such as emerging market equity, emerging market debt, and fund of hedge funds, according to bfinance

Aon Denmark sees entry of traditional labour market pension funds as positive, but not entirely offsetting effect of fewer commercial providers 

Trustees need to work with their advisers to scrutinise asset managers' offering, says PLSA 
Digital Edition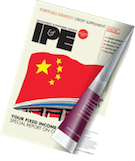 Subscribe to the digital edition of IPE magazine to view the latest issue directly in your browser.
Equity investors putting faith in growth stocks – stocks that are priced expensively relative to fundamentals because they are expected to grow fast – received a shock in early September when they sold off sharply.

Large buyout funds are a staple ingredient in many institutional pension funds' private-equity portfolios. Focusing on more diversified private-market strategies could be a better way to achieve return objectives
If anyone in Europe was left in any doubt on 11 September about the dovishness of the European Central Bank (ECB) under Mario Draghi's leadership, by close of business on the next day their doubts were surely dispelled. On that day the outgoing president of the ECB unleashed a bout of monetary easing, in an attempt to boost euro-zone inflation from 1% to its target of "below, but close to, 2% over the medium term".

Father Christmas delivered a sack of coal to equity markets last Christmas Eve, with the S&P 500 index losing 1.8%, following a three-day slide. Forecasters had previously been expecting two or three rate hikes in December, as Federal Reserve chairman Jerome Powell steered that discussion. He had mistakenly assumed that the economy had not yet reached a normal, ...

This is not a commentary on the UK within or without Europe. Brexit has been a compelling distraction but it is one macroeconomic strand in a complex world. The overwhelming coverage has also moved attention away from key internal tensions within the European project. 

German institutional investors have shifted their asset allocation due to low bond yields

Germany's Spezialfonds market showed modest positive growth in 2018 in the face of challenging market conditions, with total assets approaching €1.5trn. 
The tragic Easter Sunday bombings have devastated tourism, a key plank of the economy
DB pension funds could benefit from synthetic credit exposures provided by credit default swap indices
It has been a bad decade for European financials, with share prices still a fraction of their pre-crisis highs

"Public interest in IPOs hasn't been this high since the dot-com era of the late 1990s," say analysts at UBS. Such popularity is stoking fears of a bubble in unicorns – privately-financed start-ups valued at over $1bn (€900m) taking listings.

Pension funds lose billions annually in badly timed trades in the capital markets