Group is refocusing on asset owners

KPMG sees slowdown in fidiciary expansion but 'may represent a blip rather than lower growth in the long term'

TKP Investments loses major advisory client as PostNL decides to split advice and implementation

Plus: DB consolidator appoints service providers ahead of launch; RPMI Railpen reappoints BNY Mellon as custodian

Competition regulator still finds adverse effects on competition after revisiting data on fiduciary costs
Anton van Nunen argues that proposed law provides for a 'solution to a non-existent problem'

MP says amendment would prohibit supervision of scheme investment policies by fiduciary managers

Plus: IASB eyes new pension standard, EU plots financial reporting 'lab'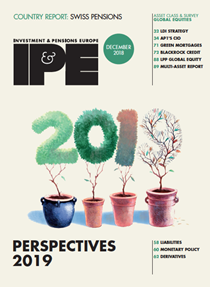 Digital Edition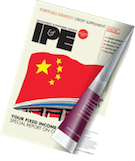 Subscribe to the digital edition of IPE magazine to view the latest issue directly in your browser.
A major GICS index methodology change seeks to reflect underlying market economics
The long/short liquid alternatives universe is more hetreogenous than some realise
So how does one model the effect of further tariffs on a portfolio? This article shows how to construct a potential trade-war scenario and analyse the impact on a euro-denominated global multi-asset class portfolio
Recent tax reforms and the expected inclusion in global indices of Chinese sovereign bonds has shone a spotlight on a vast, under-exploited, multi-trillion bond market
Amid all the talk of deglobalisation, certain tenets of the world remain fixed in our minds. Key among these assumptions is the status of the dollar as the global reserve currency. 
The Bank for International Settlements has warned bond yields could suddenly rise – a snapback could rapidly spread between bond markets
Key challenges facing securities services include margin pressure, regulatory change and technological development
A stockpile of nearly €780bn worth of non-performing loans weighs on the European economy

The implications of the UK's EU departure will be complex and wide ranging for asset managers
Anxiety is growing about emerging market debt. US rate rises and the potential for a stronger dollar mean that EMD may be heading for turbulent times
Creeping tensions have appeared in the interbank market that, in the past, sowed the seeds of economic downturns and financial crises
Few words are as visceral, and yet as ill-defined, as populism. It has become a catch-all phrase for the sense of malaise sweeping the world