Consultants asked to assess risk attitudes, climate change, inflation and 'premium funding'
Competition watchdog also considering measures to inform trustees about switching costs

Competition watchdog admits that it is 'not straightforward to say how the practices might impact competition' 

Financial advisers told to "start from the assumption" that exiting a defined benefit pension fund is unsuitable

Plus: JLT Employee Benefits launches price comparison tool for schemes considering buyouts

Competition and Markets Authority says analysis fits into its value-for-money scrutiny of sector

Trustees, as customers, are not getting necessary information to judge value for money, says competition watchdog
Matching pension liabilities is seen as a risk management rather than investment issue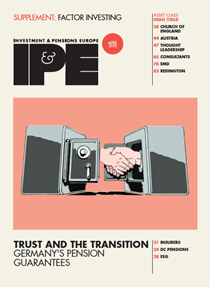 Digital Edition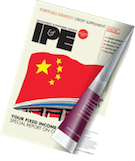 Subscribe to the digital edition of IPE magazine to view the latest issue directly in your browser.
While there is uncertainty over exemptions for pension funds, compliance with EMIR could bring benefits
The Dutch residential market offers good opportunities in fixed income, but foreign investors should do their research

Digital currencies dominate the media and water cooler conversations these days
The Japanese stock market recently hit a 26-year high. This achievement is even more remarkable when considered against the geopolitical backdrop

Gold has been a byword for trust and value for millennia. For many investors today this still holds true
The carry trade may be making a comeback, after a decade in the doldrums, laid low by the global financial crisis
The changing financial services landscape raises doubts about the belief that publicly traded investments are more liquid than private ones
The ongoing economic expansion is set to become the longest in the post-war era, at least for the US. The debate about the pros and cons of zero rates and quantitative easing continues
Integrating private markets within an asset allocation can be rewarding but is also challenging

Insurance-linked securities (ILS) are an asset class based upon insurance events. They provide an element of diversity to portfolios. Put simply, a market collapse is unlikely to be correlated to a natural disaster.
Published 25 years ago this month, the Cadbury Report introduced the first comply-or-explain corporate governance code