Pension funds will get actuarial services directly from Storebrand from June 2020

SEC provides guidance to fund managers about proxy voting responsibilities and to proxy advisory firms about anti-fraud rules

DWP consults on new rules for fiduciary managers and investment consultants following CMA investigation
Code of practice updated to introduce new governance, monitoring and reporting structures for proxy advisory companies

Amsterdam-based consultancy's clients have mainly comprised private equity fund managers and institutional investors

Northern Trust mandate ends in October; ATP received 'several competent bids' 

Swedish pensions expert says his new company will focus on strategy, platform design and pensions for asset owners and managers
Digital Edition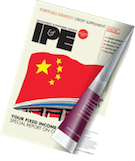 Subscribe to the digital edition of IPE magazine to view the latest issue directly in your browser.

"Public interest in IPOs hasn't been this high since the dot-com era of the late 1990s," say analysts at UBS. Such popularity is stoking fears of a bubble in unicorns – privately-financed start-ups valued at over $1bn (€900m) taking listings.

Pension funds lose billions annually in badly timed trades in the capital markets 
Exchange-traded funds (ETFs) have grown into a $5trn (€4.4trn) global industry by focusing on a few key selling points – low costs, liquidity, easy diversification and transparency.
Valuation has always been an important, albeit thorny, component in assessing insurance-linked securities (ILS) but the higher-than-expected losses in 2017 and 2018 made the number crunching even trickier. The recently published set of guidelines from the  Standard Board of Alternative Investments (SBAI) is designed to improve the process but investors should always be aware of the risks attached to this asset class.

Six months ago, markets were rediscovering volatility, sentiment was wavering and there were growing fears that we had reached the end of a decade-long bull market for most assets. There were several reasons, such as worries over indicators, global trade tensions and the sustainability of corporate earnings growth, but one of the key ones was the relentless raising of interest rates by the US Federal Reserve.

Investors are divided on whether to classify Chinese equities as a distinct asset class

Emerging markets have failed to increase their share of global investible market capitalisation since 2007

Active management versus passive index tracking remains one of the most hotly contested questions in the world of investment management.
Chinese tech firms offer exposure to rapidly expanding domestic markets

It is human nature to reduce the complexity of reality to simple rules, simple foci and simple decision points. In this, Brexit is no different