Mercer, Lærernes Pension, Generali, BMO, Notariaat, BNP Paribas, Buck Consultants, Aon, LPP, Candriam, State Street

Transaction sealed after JLT agreed to sell its aerospace insurance brokerage

Institutional investors should consider an allocation to cryptocurrencies, according to Cambridge Associates

Schemes hiring the same actuaries often made the same strategic investment choice 

Government pledges to legislate for CMA recommendations that require tendering for fiduciary contracts

Consultancy giant confirms it had considered 'potential opportunities' with rival company
Sion Cole to lead the growing department after 15 years at Aon

State Street, JPMAM, Jupiter, Clara-Pensions, Franklin Templeton, AMX, Cambridge, Robeco, NIBC, K3, XPS, Mediolanum
Plus: Mercer enters Swedish asset management market with multi-asset launch
Digital Edition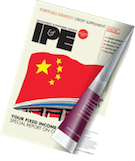 Subscribe to the digital edition of IPE magazine to view the latest issue directly in your browser.

Emerging markets have failed to increase their share of global investible market capitalisation since 2007

Active management versus passive index tracking remains one of the most hotly contested questions in the world of investment management.
Chinese tech firms offer exposure to rapidly expanding domestic markets

It is human nature to reduce the complexity of reality to simple rules, simple foci and simple decision points. In this, Brexit is no different
Philip Green, a British retail billionaire, is perhaps best-known for the controversy surrounding the pensions deficit of his defunct BHS high street chain

Do reports of a growing wariness over collateralised loan obligations (CLOs) mean that the good times are over for the investment vehicle?

Financial markets have suffered a nasty bout of indigestion since October. The interplay of sentiment and volatility induced widespread pessimism, with added concern that market tantrums could subsequently bleed into the real economy

Rising interest rates put collateral management strategies to the test

Protectionism is becoming more widespread despite the benefits of free trade being understood for more than two centuries
The new rules are having a dramatic effect on the world of investment research
The long/short liquid alternatives universe is more hetreogenous than some realise
A major GICS index methodology change seeks to reflect underlying market economics