SPH, SVVK-ASIR, SASB, LCP, DNB, Schroders, Wells Fargo, EB-SIM, AXA IM, Willis Towers Watson, Aviva Investors
Schemes need to make a clearer distinction between performance gross and net of fees and costs, consultancy argues

Hedge funds too focused on tangential issues, says Willis Towers Watson

PGGM, Mercer, JLT, AP Pension, Skandia, AFM, Amundi, Lazard, Wells Fargo, BPL Pensioen, PDN, Barnett Waddingham

Trade body encourages schemes to 'take action where issues cause concern'
Also: Smurfit Netherlands to liquidate; Adviser trade bodies to merge

Institute is in discussions with US and Dutch providers about extending coverage outside the UK

UnitedPensions Deutschland AG is the 33rd Pensionsfonds to get a license from German BaFin

Watchdog to consult next month on draft 'remedies' for competition problems in consultancy, fiduciary management sectors
Digital Edition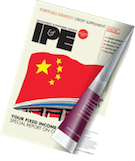 Subscribe to the digital edition of IPE magazine to view the latest issue directly in your browser.

Financial markets have suffered a nasty bout of indigestion since October. The interplay of sentiment and volatility induced widespread pessimism, with added concern that market tantrums could subsequently bleed into the real economy

Do reports of a growing wariness over collateralised loan obligations (CLOs) mean that the good times are over for the investment vehicle?

Rising interest rates put collateral management strategies to the test

Protectionism is becoming more widespread despite the benefits of free trade being understood for more than two centuries
The new rules are having a dramatic effect on the world of investment research
The long/short liquid alternatives universe is more hetreogenous than some realise
A major GICS index methodology change seeks to reflect underlying market economics
Amid all the talk of deglobalisation, certain tenets of the world remain fixed in our minds. Key among these assumptions is the status of the dollar as the global reserve currency. 
So how does one model the effect of further tariffs on a portfolio? This article shows how to construct a potential trade-war scenario and analyse the impact on a euro-denominated global multi-asset class portfolio
Recent tax reforms and the expected inclusion in global indices of Chinese sovereign bonds has shone a spotlight on a vast, under-exploited, multi-trillion bond market
The Bank for International Settlements has warned bond yields could suddenly rise – a snapback could rapidly spread between bond markets
Key challenges facing securities services include margin pressure, regulatory change and technological development