Two transactions to boost global advisory firm's alternatives offering

Focusing on mid-market corporate direct lending 'too constraining', according to Willis Towers Watson

ESG ratings capture Aon's assessment of effectiveness of manager policies and procedures
Some UK funds are considering changing the date of formal valuations – but advisers are split on the benefits
But some dispute the findings of adverse effects on market and customers from the CMA

CMA finds adverse effects on market competition in investment consulting and fiduciary management sectors

OneDB combines admin, actuarial and investment services to set schemes on a path to full funding – and, perhaps, consolidation

Looming tariffs on trade between China and US are a cause for pessimism among consultants and strategists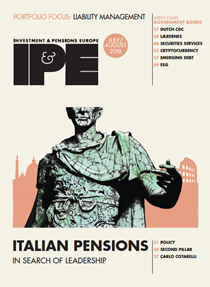 Digital Edition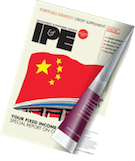 Subscribe to the digital edition of IPE magazine to view the latest issue directly in your browser.
Anxiety is growing about emerging market debt. US rate rises and the potential for a stronger dollar mean that EMD may be heading for turbulent times

The implications of the UK's EU departure will be complex and wide ranging for asset managers
No one wants UK equities. The influential global fund manager survey published by Bank of America Merrill Lynch reported that they were the most unpopular asset in April
Few words are as visceral, and yet as ill-defined, as populism. It has become a catch-all phrase for the sense of malaise sweeping the world
Creeping tensions have appeared in the interbank market that, in the past, sowed the seeds of economic downturns and financial crises
The bout of marked market volatility in February prompted a heated debate: were financial markets close to a Minsky moment? 
Taking a consolidated view of taxation not only removes compliance headaches for asset managers but can also give them an edge over other industry players
While there is uncertainty over exemptions for pension funds, compliance with EMIR could bring benefits
The Dutch residential market offers good opportunities in fixed income, but foreign investors should do their research

Digital currencies dominate the media and water cooler conversations these days
The Japanese stock market recently hit a 26-year high. This achievement is even more remarkable when considered against the geopolitical backdrop