Fund allows investors to invest alongside Dutch development bank in three key areas

Early signs suggest sell-side and buy-side firms are still in 'price discovery' stage for investment research

Plus: NN IP partners with ChinaAMC; Cambridge Associates' client ESG assets shoot up

If trade talks between the UK and the European Union collapse, experts warn there could be a scramble for Irish fund registrations

LGPS pool seeks managers for £1.8bn across UK equity and lo-vol strategies

Management of dual class share offerings should not be tasked to index providers, world's largest asset manager argues

Also: JP Morgan and BlackRock partner for ESG indices; Amundi launches leveraged loan fund

Vista Hypotheken to focus on first-time buyers
Fund launch comes amid growing interest in impact investing

Hermes' CEO Saker Nusseibeh and Federated Investors' vice-chairman Gordon Ceresino speak to IPE

IC Select's guidelines come amid unprecedented regulatory pressure on fiduciary providers

Pension funds have higher exposure to real estate and equities compared to other investor types

The cosy old world of asset management seems already seems like a different era. One day, CEOs will probably tell their grandchildren about the bygone days of fat margins, soft dollars and dubious intermediary arrangements

Data is transforming asset management. Are humans a weak link or an indispensable component?
Familiar set-ups in asset management are becoming obsolete in the face of Darwinian forces
Can markets offer investors better price discovery for a lower spread?
Pension funds are consolidating. What are the consequences for investment managers?
Asset managers must put client interests first as Brexit negotiations draw near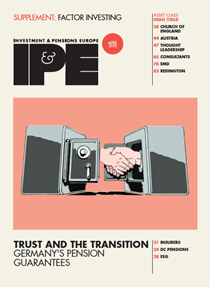 Digital Edition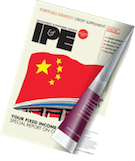 Subscribe to the digital edition of IPE magazine to view the latest issue directly in your browser.