Trump's US infrastructure plans could still see the light of day 'despite the noise' 

Plus: UK campaign group rejects Investment Association cost disclosure code

Engagement has had 'discernible' impact, but more work to be done at investors and companies

LGPS seeks to address costs by adopting Investment Association's transparency model

$150m mandate for all-cap or large-cap manager sought by the end of May

Asset managers pays €31.5m of bonuses in total to 525 workers

Illiquids and premium products are confounding fee reduction efforts in several asset classes, finds bfinance

Defined benefit aggregate shortfall increased by 8.4% during April

Global institutional investors call for action from G7; UK local government schemes challenged on climate risk stance
Sustainalytics identifies six prevailing types of approaches to ESG integration

Transaction to add $23bn in assets to Invesco's exchange-traded fund business
Non-profit group assesses asset managers for the first time

Assets managed by the leading global asset managers increased by nearly 12% over the course of last year, according to the 2016  IPE Top 400 Asset Managers survey. This is less than the 17.8% increase recorded over the course of 2014, although higher than 2013's 8.9% increase. 
Asset managers face an existential crisis as they confront the end of a six-year rise in asset prices. What does the future hold for the industry? Christopher O'Dea investigates
The new world of ultra-low interest rates could be here to stay, so investors need to change the way they think about investing. Tapan Datta explains
Asset managers can no longer rely on central banks to shore-up the markets, according to Amin Rajan and Pascal Blanqué
The boom in China's asset management industry should create opportunities for overseas investors, says Qin Xu
Regulators have turned their attention to addressing the European asset management industry's handling of liquidity risk, writes Federico Cupelli
Multi-asset strategies have many diversification benefits for investors in today's challenging environment, according to Phil Edwards and Ben Lewis
JR Lowry believes that digitisation, de-risking, disintermediation and democratisation are transforming the asset management industry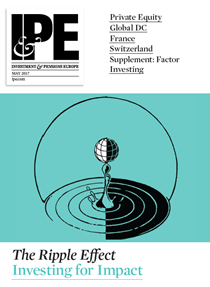 Digital Edition
Registered users are entitled to the first digital issue of IPE with the compliments of the IPE.com team.