Dutch asset manager to use satellite data for engagement work with palm oil producers
But in Europe regulation was the top driver of pension funds' adoption of ESG principles
ECB said to have agreed to discussions about the matter

Tobias Pross named as CEO from 1 January, Deborah Zurkow global head of investments

Analysts call for results to be made available more widely

Opperman urges trustees to use their 'immeasurable capacity to make a difference'
Plus: Schroders to exit RWC Partners 
Performance concerns and lack of reported data still challenges

New Stewardship Code sets the bar higher, reflecting changing expectations of investors and industry developments
Direct exchange comes after positive feedback from investors to information relayed by the association
Plus: DWP plans general levy hike, schemes urged to equalise GMPs

Projects gaining directly from China's Belt and Road Initiative may not be best investments, says Amundi
Can multi-affiliate boutique structures combine the benefits of consolidation with the cultural advantages of smaller, focused managers? 

 How are managers deploying natural language processing to analyse management sentiment in earnings calls?
There is no consensus on a positive link between ESG and improved portfolio performance

Culture is a big differentiator in determining the successful asset managers of the future
Digital Edition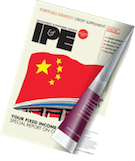 Subscribe to the digital edition of IPE magazine to view the latest issue directly in your browser.