Industry forum has signed up 76 trustees and pension managers responsible for £367bn of assets in a bid to step up scrutiny of asset managers
Danish fund divests seven companies and puts another seven under observation as part of its semi-annual portfolio climate review
European survey conducted by NNIP reveals 50% believe RI carries risk management challenge

The artificial intelligence-based vehicle will assess potential sustainable development investments and has already earned the support of big investors such as USS
'Join us', CFO of global food company tells delegates at major responsible investment conference 
In a welcome speech to delegates, Jean Raby says investors need to 'go back to basics' and ask themselves what they are trying to achieve

The Law Commission was asked by the UK government to carry out a study about the system of 'intermediated securities'

The Swedish state pension buffer funds' Council on Ethics gathered major banks and regulators together to discuss recent scandals

Also: AXA IM launches impact fund focused on Asia, Africa and Latin America; NN IP green bond fund reaches €1bn

Plus: MSCI to buy Zurich-based environmental fintech and analytics firm Carbon Delta to boost climate risk offering for institutional investors

LGT's Sustainable Equity Global fund focuses on financially strong sustainable companies

CEPB and MP Pension among major institutional shareholders demanding that the mining giant abandons lobby groups that operate at odds with the 2015 Paris Agreement on climate change
Digital Edition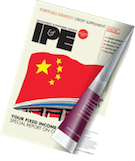 Subscribe to the digital edition of IPE magazine to view the latest issue directly in your browser.

One in every four professionally managed dollars is now invested sustainably according to some definition, with a total of $22.9trn run in this way overall
Integration is high on the agenda for most asset managers. What does it take to build truly sustainable portfolios?
Providers acknowledge low-carbon indices are imperfect, but argue they are an invaluable tool
The three components of ESG investing in fixed income – environmental, social and governance – cannot be maximised simultaneously. Investors must decide which to emphasise
A taxonomy for sustainable investments is a key element of expert proposals
GPIF's 100-year perspective places ESG at the heart of its world view
A Mumbai-based advisory firm is promoting alternative measures to quantify added value