LAPF warns Sky not to undervalue company as it considers bid from 21st Century Fox
Local authorities gearing up to seek performance, cost-monitoring services
Danish bankers, securities dealers propose steps to improve situation

Dutch fund manager also expresses concerns over mandatory central clearing

Pensions regulator intervenes to secure £37m funding for pension scheme deficit

Firm fined over failure to comply with UK regulator's rules for custodians for six years

Regulation also seen as major driver behind changing trading environment for institutional investors

Westminster selects new custodian after joint tender with Hammersmith and Fulham, with mandate covering £1.7bn in assets
UK lifeboat scheme to appoint global custodian over next 12 months

Pensionskassen pay 0.42% of managed assets in fees, according to ASIP survey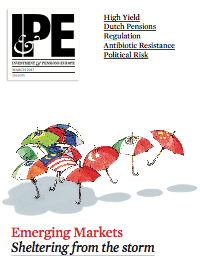 Digital Edition
Registered users are entitled to the first digital issue of IPE with the compliments of the IPE.com team.
Rolf, our chairman of trustees is having a reception to mark his 30 years working for Wasserdicht. An engineer by profession, he was worked for us all over the world and has many stories to tell
Last month I met with my old friend Thijs, who is CIO of a large UK corporate pension scheme, working in a small investment office in the UK with an enlightened CEO
Our investment committee members had quite a few questions at the final meeting of 2016. Brexit, Trump, the equities rally, long-bond yields, emerging markets: the trustees kept the topics coming thick and fast
Recently we had to admit that the trustee board of the Wasserdicht Dutch pension fund isn't very diverse. Of course, we fulfil the requirement to have one female trustee and one under the age of 40 and have for some time
Last month I joined our co-operation partners at PensionKøbenhavn in Copenhagen for a private round table of institutional investors discussing real assets
Recently, I was invited to join a network of financial academics as a 'practice adviser', which means I speak to them regularly about the challenges our pension fund faces and what we are doing in the investment portfolio.