LAPF warns Sky not to undervalue company as it considers bid from 21st Century Fox
Local authorities gearing up to seek performance, cost-monitoring services
Danish bankers, securities dealers propose steps to improve situation

Dutch fund manager also expresses concerns over mandatory central clearing

Pensions regulator intervenes to secure £37m funding for pension scheme deficit

Firm fined over failure to comply with UK regulator's rules for custodians for six years
Digital Edition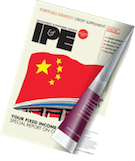 Subscribe to the digital edition of IPE magazine to view the latest issue directly in your browser.
As an investment professional I am used to traditional risk categories like equities, interest rates, inflation and the like. Now it seems we will have to add information security risk to that list
Sometimes I look back fondly on the simpler good old days. 
We Dutch are well known for keeping an eye on the price of things and for our frugal approach to life. Increasingly, this applies to pension funds
We at Wasserdicht Pension Funds have been using BIG Asset Management for what seems like an eternity. I have learned two things about BIG over the years
Can you guess the topic of discussion of the latest Wasserdicht global investment committee? You probably can: it was political risk
Rolf, our chairman of trustees is having a reception to mark his 30 years working for Wasserdicht. An engineer by profession, he was worked for us all over the world and has many stories to tell