The resurgence of interest in pension obligation bonds (POBs) is one of the effects of the pandemic on the US pension funds industry. Indeed in 2020 POB issuance reached its highest level in a decade, exceeding $6bn (€5bn), according to Municipal Market Analytics (MMA), an independent research firm focusing on the US municipal bonds.
Cities, states and other local government entities use POBs to borrow money that they give their pension funds to cover, at least in part, the unfunded liabilities. It is a good deal if the bond proceeds are invested, through the pension fund, in assets that realise a return higher than the cost of the bond. This is why POBs are popular now – as long as interest rates are low, and pension funds' investment returns are better than the bonds' yield, more governments that have COVID-19 related financial problems may be tempted to issue them.
However, the Government Finance Officers Association's (GFOA) has reaffirmed its guidance against POBs. "In 2007, we said that governments should not issue POBs and we do not change our position," Emily Swenson Brock, director of the GFOA's Federal liaison centre, told IPE. "No matter the economic environment, these bonds represent considerable financial risks: the invested POB proceeds might fail to earn more than the interest rate owed over the term of the bonds, leading to increased overall liabilities for the government."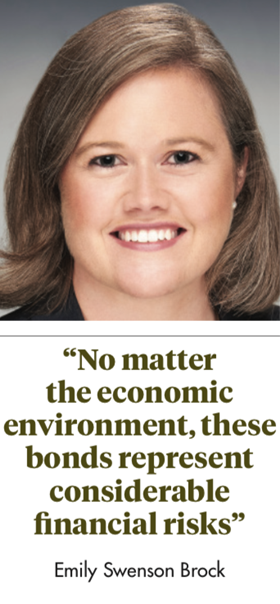 "In general, POBs are a terrible idea, a gamble on the market," says Matt Fabian, partner at MMA. "The principal issue is that they create generational equity problems: their impact lasts for 20-30 years, with risks and possible losses entirely carried by future taxpayers, while potential benefits go now to current taxpayers. In fact POBs are usually issued to give budget relief to a government that, after funding its pension fund with the bond, can take a contribution holiday for a few years, having maybe more problems in the future."
All bonds sold by cities using POBs should be avoided, according to Fabian, because POBs are often issued by governments with financial problems.
A case in point is Detroit that in 2005-06 used a highly speculative type of pension bonds to finance the city's budget deficit. It ended in 2013 with a declaration of bankruptcy, leaving bondholders with about 14 cents on the dollar.
"The problem is that often the governments do not consider all the risks involved in issuing a POB," says Todd Tauzer, vice-president and consulting actuary at Segal, and the author of a new paper about POBs. "In the past, several governments issued these bonds right before a market collapse and they ended up with more debt and more pension obligations. In fact, what happens in the first 2-3 years after issuing a POB is crucial: if there is a market crash, no matter if the market recovers 10 years later, the government's financial problems will get worse."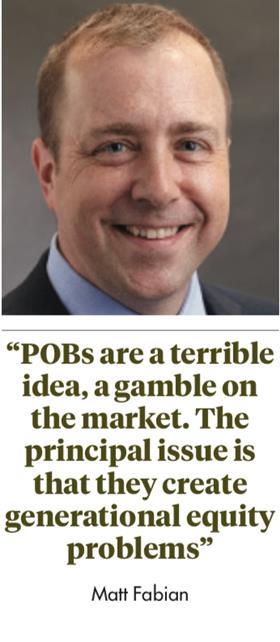 But POBs could be a reasonable idea, Tauzer says, "as long as there is complete transparency on what can happen in bad markets and whether the government is capable of withstanding new adverse situations. Moreover, the POB structure must be responsible: it cannot be a way to create savings early on – for example, starting as interest-only payments – and pushing the cost burden onto future taxpayers. Finally, if a POB is part of a large package of reforms that change the long-term sustainability of the pension fund, that bond could be a positive move."
"One of GFOA's objections to POBs is regarding variable rate bonds, often with swaps. GFOA is also concerned that for some issuers pension bonds could use up governments' borrowing capacity," says Brian Whitworth, director at Hilltop Securities. The Texas-based financial services company recently advised the city of West Covina, California, to issue a $200m bond to make a lump-sum payment to its pension fund, CalPERS. The fund charges 7% interest on unfunded liabilities. West Covina was able to borrow money at a 3.7% interest rate. Thanks to the spread, the city saved about $45m, according to Whitworth.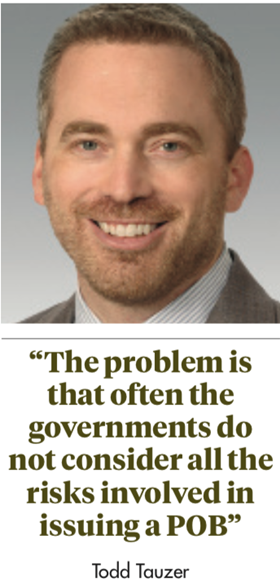 "In our first meeting with West Covina, we discussed GFOA's objections and we explained that well-structured bonds' primary risk is the investment return of the pension fund. If CalPERS's annual return is only 3.7% or less in the long term, West Covina will have paid more in bond interest than the investment return at CalPERS. Long-term returns as low as 3.7% would be an even bigger problem for the pension fund itself," he says.
With all pension bond issuers, Hilltop Securities does a sensitivity analysis about the impact of a decline of investment returns on their finances.
For West Covina, a decline of 22% in the first year of the bond would have eliminated all expected savings. "A certain positive effect of POBs," says Whitworth, "is that governments that issue them must take a closer look at how their pension funds operate. POBs may be the occasion to adopt better policies, and potentially make reforms to their retirement plans. Such changes are often viewed positively by rating agencies."