We asked the senior managers of two European pension funds to describe how they invest in small-cap equities and what are the challenges and opportunities in this asset class
The realm of inefficiencies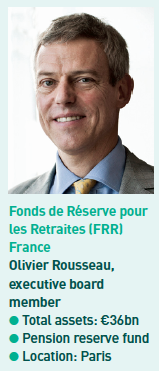 We have an active-only approach for small caps because we believe small caps belong to the realm of inefficient markets. Our mandates are truly active: we allow our managers to reach a tracking error of 10%. We are aware of the doubts in the academic literature and asset management business circles about the continued existence of the small-cap premium. However, we think it is too early to declare the death of this premium. We admit that there is significant variation among different markets. For example, the small-cap premium has been high over the last few years in the European equity markets, particularly since beginning of the recovery from the financial crash. We know that in the US the picture has been different. However, over the last year, the Russell 2000 index has started to outperform large-cap indices.
Our small-cap portfolio is focused on the French and European markets. Having said that, we have exposure to small caps in most of our equity strategies. Our managers of Japanese equities have played the small-cap factor to various degrees and, on balance, the tilt to small caps has contributed to outperformance. Our US equity managers of are also allowed to apply a small-cap tilt. Lastly, in our smart-beta portfolios of euro-zone and Asia-Pacific ex Japan equities, by construction we have a small-cap tilt. This has been profitable, particularly in the euro-zone portfolio.
The introduction of MiFID II, which could lead to a reduced availability of research, does not fundamentally change our view of small caps. We accept, however, that it may have implications. If anything, reduced research coverage will mean an even more imperfect market, thus a stronger case for active management in small caps.
So far, we are pleased with our small-caps investments. We expect a more challenging environment for small caps in the medium term. However, in the long term, if they grow their revenues and profits faster than large caps, on average, there is no question that these companies will keep outperforming the stock market as well. This is regardless of how exposed they are to the rise of protectionist barriers.
An empirical approach
We have around €300m in dedicated small-caps mandates, corresponding to 3.2% of our total assets. These mandates are concentrated within our US and European equity portfolios. Within Asia-Pacific and emerging markets, our overall equity investments are not large enough to allocate to dedicated small-cap mandates. Furthermore, we are not sure that there is an investment premium in those regions' small caps.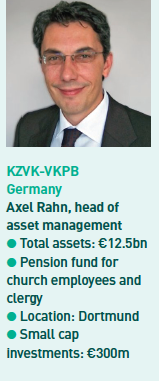 The existence of the small-cap premium is a matter of significant debate. As an example, if you look at the US and Europe, it seems that a premium exists. In Europe, small caps have delivered remarkable outperformance over the last few decades and have become expensive as a consequence.
However, we are not absolutely convinced that the premium really exists as borne out by empirical evidence, which is thin. But, because we are practitioners, if there is a good chance that these kinds of premia exist, we must exploit them.
When we invest in small caps, we are agnostic in terms of sectors or styles. We are simply trying to extract the small-cap premium. Our benchmarks are the MSCI USA Small Cap and the MSCI Europe Small Cap.
There are a few small-cap specialists among asset managers, including boutique investment firms that specialise in this asset class. However, we have observed that small-cap boutiques have a somewhat idiosyncratic approach to investing. For example, they might invest exclusively in the micro space of the small-cap universe. This is companies that have a market cap of, say, less than €200m. Thus, if we wanted to deploy €300m in a mandate, and the managers were only able to handle €1bn, or less, within their overall strategy, it would not make much sense to go with them. We would not be able to deploy our money in those mandates. Most of the time, when we evaluate small-cap managers, we search for specialised small-cap teams within a large equity manager.
Some have argued that the rise of protectionism may drive investment in small caps. We do not share that view. If you look at typical German small-cap companies, they often conduct business on a diversified international platform. It used to be that investing in small caps meant focusing on the local market, but this is no longer the case. So the argument about protectionism favouring small companies does not hold.
Another topic regarding small caps has been the impact of MiFID II, which could reduce the availability of equity research. There is a question whether it could become more costly to invest in the small-cap universe. We have had this discussion internally, but have not observed this effect yet. The availability of research may not be reduced after all. As investors, we would pay for research through brokerage commissions, which is quite high in the small-cap universe.
If there is less research availalble, hopefully the opportunities for managers to generate alpha will be augmented.
Interviews by Carlo Svaluto Moreolo