Gail Moss finds that despite healthy returns last year, 2017 will be more challenging for Belgian pension funds

Belgian pension funds are well funded, but their small size restricts their opportunities to diversify, according to Gail Moss 
Having enjoyed good returns in 2014, Belgian pension funds are now seeking alternatives to bonds, writes Gail Moss
The new government has received a raft of recommendations to fix the disparities in the country's pension system. Is it too little too late?
KBC has introduced a DC pension fund for new members starting from the beginning of 2014 and closed its DB fund. The fund is one of Belgium's largest pension schemes, founded in 1941 with €1.2bn in assets and 15,500 active members.
Belgium has doubled occupational pension fund participation in the last 10 years and returns were a healthy 6.7% in 2013, writes Iain Morse
Belgian pension schemes are looking ahead to another year of improving funding ratios as they diversify fixed income portfolios, writes Rachel Fixsen
Cécile Sourbes asks what lessons can be learned from the failure of UMR to create an IORP domiciled in Belgium
An Van Damme analyses Belgium's attempt to raise the age of retirement through incentives rather than legislative decree
Challenges in the form of regulation and lower expected returns mean Belgian pension funds must seek economies of scale and improved governance, writes Karel Stroobants
Tom Mergaerts , CEO of Amonis, tells Carlo Svaluto Moreolo about the Belgian €2.1bn pension fund's uncompromising investment philosophy

Insurer says IORP II will increase legal obligations, governance for pension funds
After the ECB's announcement of more QE, we asked two pension funds how they plan to manage the prospect of lower yields

IPE asked regulators and industry bodies in EU member states how they have been preparing for the UK's scheduled departure from the bloc on 31 October
The industry organisation is to focus on simplifying procedures to enhance Belgium's standing as prime location for pan-European pension funds
… Iceland, which narrowly beat Switzerland, according to Natixis Investment Managers' annual Global Retirement Index

PensioPlus wants to increase size of Belgian-based pension fund market by more than double in six years

Move subject to approval by two thirds of participants and pensioners
Digital Edition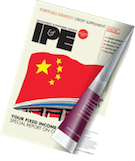 Subscribe to the digital edition of IPE magazine to view the latest issue directly in your browser.