Belgian pension funds enjoyed good returns in 2014, writes Gail Moss, and are slowly shifting to alternatives. Government plans to promote the use of annuities could now stimulate interest in liability management strategies.
As in other European countries, the hunt for yield is very much ongoing for pension funds in Belgium.
But recent returns have been healthy. According to figures from the Belgian Association of Pension Institution, funds returned 11.9% in 2014, up from 6.7% in 2013 (see panel, right). Mercer's Pension Investment Performance Survey (PIPS), which measures the median annual investment performance of 35 Belgian pension scheme portfolios shows overall net returns of 10.9% for 2014, taking the five-year return to 7.4%.
"We've seen pension funds in general starting to increase their equity allocation, partly because of a fear of rising interest rates," says Geert Rosiers, head of institutional clients at KBC Asset Management. "But they are also looking for alternatives to bonds because of plummeting yields and risks relating to duration."
However, the balance between equities and bonds in the PIPS universe has hardly shifted over the past year, with both asset classes very slightly up over 2013. Equities now form 46%, and bonds 47%, of portfolios. European equities have risen to 23% of portfolios, while US equities have fallen to 8.5%.
Turning to the bond segment, government paper still rules the roost with 29% of investment assets, or 60% of the overall bond allocation. Corporates have risen to 13.2%.
Petercam and Degroof merger takes shape
The planned merger between Petercam and Bank Degroof will create the largest independent financial services provider in Belgium. Yet in some ways this underlines the already concentrated nature of asset management provision, and few commentators see it having much of an impact.
As IPE's annual Belgian asset management survey shows, domestic players still largely dominate the top positions for domestic business (see page 42). Within that, some observers note that captive managers may be gradually losing market share to independents. Bank Degroof has said it is using the merger as a springboard to launch into the Netherlands – where it currently lacks a presence and, indeed, institutional clients – and target the Dutch pensions market.
Although the two parties are legally constrained from commenting on the focus of the new entity, they may well be looking to Belgium's OFP cross-border pensions vehicle across to their neighbouring market. Already the multinationals using the vehicle include Nestlé, Pfizer and Johnson & Johnson. But BP's Dutch pension fund is now considering making the move, partly to escape the requirements in the new FTK framework.
As the yields on core bonds have fallen – for example, on a 10-year German government bond they fell from nearly 2% at the beginning of 2014 to 0.3% this February – Belgian investors have gravitated towards more peripheral issuers such as Spain and Italy for extra yield pick-up, says Willy Santermans, a principal at Mercer. He also sees relative lack of interest in Belgian government bonds, which are seen as overvalued.
"Belgium's government debt is now over 100% of gross domestic product," he says. "Inflation is negative and will continue to be very low because of the dip in oil prices. Unemployment is high, and consumer spending is not growing, because people are concerned about the future."
Sven Schroven, director of consulting services at Towers Watson, says: "I expect a trend towards more alternatives, especially from traditional bonds. I suspect the larger funds in particular are looking for higher returns in the bonds and loan space, so alternative credit may be more popular in coming years."
And he adds: "I haven't seen a massive shift back to core government bonds, as in the Netherlands. That's possibly because in the Netherlands transfer values and minimum funding requirements are calculated on the basis of the swap curve and if you want to match that you have to stick to high-quality government bonds. In Belgium, there's no reason to use high-quality bonds from a minimum funding perspective."
Association calls for better risk management
Belgian pension funds markedly improved their investment returns last year, with average gains of 11.9%, compared with 6.7% for 2013, according to the Belgian Association of Pension Institutions (BAPI). BAPI said the overall return for the 52 pension funds surveyed was boosted by the continued low level of interest rates.
But Philip Neyt, president of BAPI, warned: "It is important that the sector remains vigilant. Persistently low interest rates will bring about lower returns in the future. Seeking more profitable asset classes must go hand-in-hand with better risk management." Neyt also called for a reform of the guaranteed legal minimum return on pension fund contributions, which he said should be fair, transparent and easy to manage.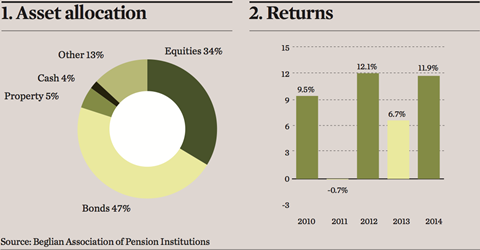 Meanwhile, the average asset allocation of the BAPI sample was 47% in bonds, 34% in equities, 13% in other investments (mainly insurance, infrastructure, private equity and convertible bonds), 5% in real estate, and 2% in cash, as of the end of 2014.
In recent years, Rosiers has also seen a big trend from government to corporate bonds, and to emerging bonds. This has allowed average maturities to be reduced – say to four or five years – while capturing higher yields.
A focus is on specific risk markets such as high-yield bonds in different currencies from high-quality issuers, such as the World Bank or European Investment Bank issuing in emerging currencies.
"They [funds] are also willing to go to emerging countries especially in emerging Asia, but the bonds have to be investment grade," says Rosiers. "The Chinese economy has been slowing for some time, but it is transforming from export-led to balanced consumer-led growth, so we don't see a hard landing. On the other hand, Latin America has got problems with commodities and oil prices."
In equities, a trend towards minimum variance stocks has been observed, as well as a larger exposure to Japanese equities, which often have a negative or low correlation with European equities.
Kristof Woutters, global head of investment solutions and financial engineering at Candriam, says US high yield is less in demand and has even seen some outflows since last year: "That's because short-term yields in the US increased last year, rendering US bonds less attractive."
Belgian pension funds are also becoming more adventurous in terms of equities, as the bias towards the euro-zone is replaced by increasing international diversification. As a result, foreign exposure within equities is close to 50%, with a large proportion held in US dollar, hence the fact that Belgian pension funds have profited from the rise in the US currency.
Alternative investments still form an insignificant component of portfolios, partly because the relatively small size of most pension funds – €40m is the average – makes it difficult to invest while maintaining diversification.
"Each year they invest a bit more in alternatives, such as infrastructure, loans and direct real estate," says Woutters. "But it will be a while before the alternatives sector becomes significant because of the long learning curve involved." But for some Belgian funds, alternatives include protection against fixed income losses.
Constant proportion portfolio insurance (CPPI) uses dynamic asset allocation to protect a specific floor in values, focusing on the low-risk end of the portfolio. An allocation fee is charged for trading the underlying bond or equity funds.
One scenario where this could be useful is where funds shift back towards fixed income because of falling equity markets but face rising interest rates.
At a glance
Belgian pension funds are seeking alternatives to core bonds, looking at peripheral Europe and emerging Asia, and local currency bonds from high- quality issuers.
Possible changes in the fiscal treatment of lump sum pensions and annuities could make liability-driven investing popular.
The government may allow more alignment between required guaranteed returns and markets.
Looking ahead, Schroven considers liability-driven investing (LDI) may become more important for Belgian pension funds. Most Belgians take their defined benefit (DB) or defined contribution (DC) occupational pension as a lump sum, because it is both fiscally advantageous and culturally ingrained in Belgium – for example, many Belgians use their lump sum to buy a second home. This means the duration of fund liabilities is much shorter than in the UK or Netherlands, for example, so LDI strategies are not commonly used.
However, in a package of measures published last October, the Belgian government said it is planning to better align the fiscal treatment between lump sum and annuity payments, to encourage more members to vest their fund in the form of an annuity. Moreover, given the low saving rates available to private investors drawing lump sums, annuities have become more appealing from a personal finance perspective.
"These could potentially affect future investment strategy because if annuities become more popular, pension funds will have to invest for the longer term, so there will be more reason to use LDI," says Schroven.
The government also plans to align guaranteed returns more with the market. At present, employers offering a DC or cash balance pension plan have to provide a minimum guaranteed return of 3.75% on employee contributions and 3.25% on employer contributions.
Under the new proposal, the principle of a minimum return on these plans would be maintained, but a new 'dynamic' definition of the legal minimum return would link it to real market returns. So under present conditions, the minimum return would probably fall, but then increase when markets picked up.
However, it is unclear how the change would be implemented; at present, the government is negotiating with the social partners.
"This will have an enormous impact for pension funds executing DC and cash balance plans because some are really struggling," says Schroven. "It gets very difficult to achieve the minimum returns if the fund can't afford the investment risk."
He says the outcome of the negotiations will affect the way these funds position their investments.
"If nothing really changes, these pension funds will have to diversify more and get into alternatives such as alternative credits, but they will continue to struggle," he says. "But if the rules are changed to make the guarantees more insurable, then maybe the pension funds can stick to mainstream bonds or insurance products."