Auto-enrolment to be rolled out in Poland as the second pillar is wound up
Romania must weigh short-term budgetary constraints against long-term capital market development as it considers its second-pillar pension system
Bulgarian pension savers receive paltry returns after inflation and costs

There is a trend among regional capital market participants for the increased centralisation of regulation, but it needs to be counterbalanced by increased trust

Analysis of assets, membership and asset allocation

As budgetary and demographic pressures start to bite, what is the future for CEE pension systems?
A recent panel with members of PensionsEurope's CEEC Forum discussed regional pensions issues
Auto-enrolment looks to be key to Poland's pension future. Dismantling of the OFE system remains on hold
The Romanian government has decided to reduce contributions to the mandatory pensions system 

The collapse of Croatia's largest food and drink company in 2017 has barely affected pension portfolios
Armenia is implementing compulsory private pensions to help stimulate capital markets
Baltic second-pillar pension funds face common challenges in a low-return environment, such as searching for yield and illiquid opportunities in a challenging regulatory environment

Transfer to state or private provision set for January 2020, subject to consultation and parliamentary approval

Industry fears nationalisation by the back door through government reforms
Slovenian insurer Triglav to bring more competition to Macedonian pension fund market

Ultra-low interest rates mean the state pension is now the best element of Dutch system, says pensions law professor Yves Stevens
European pension fund lobby group calls new capital requirements "disproportionate"

Auto-enrolment system is mandatory for younger workers, while older ones must opt out

Government cuts fees for occupational pension providers and increases capital requirements 

SMEs in central and eastern Europe not on investors' radar screens, European Commission says
Digital Edition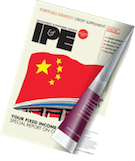 Subscribe to the digital edition of IPE magazine to view the latest issue directly in your browser.