Gail Moss assesses the effect of two new regulations on the asset allocation of Irish pension funds in a continuing low-yield environment
James Kavanagh says visionary thinking is needed to meet Ireland's pension challenges
Mick O'Byrne looks at the accounting deficits of Irish defined benefit pension schemes
Since 2010, successive governments have proposed, or at least hinted at, sweeping pension reform. But this could finally become a reality in 2017, as the regulator publishes a report on the market, finds Jonathan Williams
Ireland's sovereign development fund is fully established and building up a sizeable and diverse portfolio

Despite promising comprehensive pension reform and after five years in government, Ireland's Fine Gael-Labour-led coalition is months away from an election without a significant road map for change
Despite a growing economy and regulatory developments in the defined benefit sector, Ireland still faces challenges in its pensions system. Jerry Moriarty urges long-term considerations to form part of future pensions policy
Irish DB schemes face a new financial buffer from this year. Each of the various ways to meet the risk-reserve standard comes at a considerable cost
Philip Shier and Aidan Kennedy review the new risk reserve requirement for pension funds 
Mick O'Byrne provides an update on the accounting deficits of defined benefit pension schemes of Irish listed companies and state entities

At its first meeting of 2015, the Irish Cabinet discussed the introduction of a "new, universal supplementary pension savings scheme". The plan was presented by Joan Burton, deputy prime minister and minister for social protection. 
Jerry Moriarty welcomes the planned end to the pensions levy but calls for definite action on auto enrolment

1% allocation towards sustainable investments from top 25 funds would outstrip international aid

ISIF invests in floating data centres making use of new water-cooling technology
Politicians seek protection for defined benefit pension schemes that have been wound up

Change follows the overhaul of its internal asset management division earlier this year

Pensions regulator Brendan Kennedy voices concerns over DB governance and advice

74% of funds meet regulator's minimum funding standard, with aggregate industry surplus at €2.7bn

The ISIF committed €522m to Irish companies in 2016 as part of transition to domestic portfolio

Independent News & Media agrees with trustees to meet deficit payments and wind up DB schemes
Digital Edition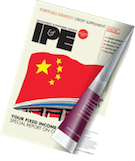 Subscribe to the digital edition of IPE magazine to view the latest issue directly in your browser.