As industry consolidation shows no signs of slowing down in the Netherlands, Leen Preesman finds that the drivers go beyond cost reduction
The Dutch pensions supervisor De Nederlandsche Bank (DNB) has raised the bar for board expertise and integrity, an extensive new governance structure has been introduced and new legislation for pensions communication is set to be passed. Moreover, asset management has become more complex. The sector needs the best hands on deck and consolidation is a way to make this affordable.
Since the end of 2005, the total number of pension funds has dropped from 800 to 365, and this trend is not showing any sign of slowing. In 2010, Joanne Kellermann, then director of supervision at DNB, argued that 100 funds should be sufficient. By far the largest reduction has taken place among company pension funds, whose number has fallen from 710 to 279.
The DNB has been encouraging consolidation recently. Following a 2013 survey into the risk that small and shrinking pension funds would no longer be able to pay promised pensions in the medium term, it identified 60 "potentially vulnerable schemes", which it said should consider their future as independent organisations. These pension funds – with assets ranging from €50m to €2bn – were selected according to their ability to amend their funding level through contribution changes, the average age of their participants as well as cost levels.
However, Jan-Jaap Dahmeijer, project leader for vulnerable schemes at DNB, explained that any decision would be up to a pension fund's board, and that consolidation was not a goal in itself. "What matters is that things work," he said last year. "Even a large pension fund is not a guarantee for this." Dahmeijer said he was convinced that the consolidation process would continue, and that it would affect all players in the pensions sector, including accountants and pensions providers.
Meanwhile, half of the 60 vulnerable schemes have decided to liquidate, merge, or place their participants' pension rights with an insurer, according to DNB. It has announced a new survey that will look into the quality of pension fund administration, and examine the health of the associated industry sector. The regulator says it will check whether pension funds are able to find suitable board members.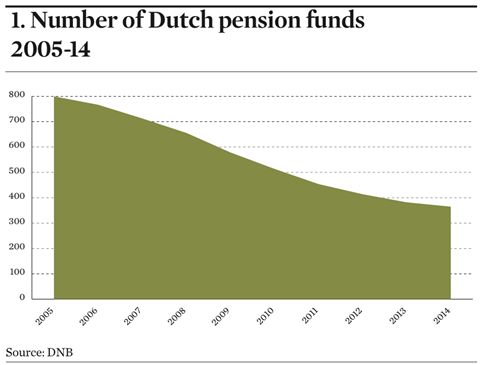 The disappointing multi-opf
The multi-opf – a vehicle in which company pension funds were intended to work together with ring-fenced assets – has not been popular. Since its introduction in 2010, no more than three multi-opfs have been established and all are funds with one parent company. "The multi-opf had too many restrictions," concludes Joost de Winter, head of client relations at the pensions adviser AZL. "Pension funds were only allowed to participate if they had existed for more than five years. There was also uncertainty in the sector about the effectiveness of the mandatory ring-fencing. And moreover, the mandatory paritarian representation would result in a large and not very decisive board."
According to De Winter, the recently introduced multi-scheme vehicle APF (algemeen pensioenfonds) lacks the barriers of the multi-opf and is more flexible. "Ring-fencing is no longer mandatory and seems to be better regulated, and board options have been increased as well," he says. Several funds have indicated that they are exploring co-operation within an APF.
What the social partners say
Corporate sponsors are pleased with the consolidation trend, according to Leon Mooijman, head pensions adviser at the employers' organisation AWVN. "Affordability of pension arrangements is the most important criterion for our members nowadays, and weighs more heavily than having a pension fund of their own. If the employers can have a similar pension plan implemented elsewhere and can make agreements on costs then they will. It would rid them of a lot of pressure on their organisation, including the ever increasing requirement for board expertise. And if outsourcing pension arrangements can achieve cost reduction, it also benefits a company's employees."
PGB and PME, the magnets
The €19bn pension fund for the printing industry (PGB) and the €40bn scheme for the metal and electro-technical engineering industry (PME) have proved to be the most popular merger partners for smaller funds. However, the reasons for their attractiveness differ.
The most striking player to join is PGB. Since 2005, it has absorbed 27 smaller schemes, and is continuously talking with potential new entrants. In order to keep growing in a shrinking sector, PGB has extended its sphere of activity. It has welcomed overlapping sectors without an industry-wide scheme, such as paper, cardboard, paint and printing ink. Chemicals, pharmaceuticals and rubber have followed, as well as the pension fund of a technical wholesale business. However, Jetta Klijnsma, state secretary for social affairs, is looking into the desirability of this development. Pending her investigation, PGB has ceased expanding.
PGB considers its success to be the result of its flexible approach. Potential entrants can add a number of options to PGB's basic pension plan, such as a preferred accrual rate, indexation as well as the salary part exempt from pension accrual. In addition, they still have a say in policy through sector committees. However, PGB decides on the price of these options, the contribution level and investment policy, and has the last word on possible rights cuts and indexation. So far, new arrivals have added €5.5bn of pension assets and approximately 75,000 participants.
The metal scheme PME has also absorbed a few dozen pensions funds, including the €2.5bn scheme of industrial conglomerate Stork. PME's assets have grown by €7bn thanks to mergers.
"Pensions funds linking up with us have a direct relationship with our sector"

Hans van der Windt
"Pensions funds linking up with us have a direct relationship with our sector," says Hans van der Windt, one of PME's three executive directors. "They are chiefly pension funds with an exemption from mandatory affiliation, but following economising measures at company schemes their pension arrangements have become more and more like ours. The remaining difference is often merely their higher costs. In addition, the obligation to fill in a funding shortfall has become a problem at many companies as the risks have turned out to be bigger than they had ever expected."
Van der Windt emphasises that PME has not widened its sphere of activity. "Companies from other sectors can only join us if they are part of a metal conglomerate." Nonetheless, he noticed that pension funds of larger companies, such as Océ/Canon and Dutch Space had voluntarily linked up with his fund.
He further points out that his scheme does not actively acquire new entrants. "Newcomers must adopt the PME plan. And PME's funding ratio is the standard for establishing the value transfer," he notes. When funds with a lower coverage ratio join they must reduce pension funds if the employer does not pay an additional contribution. Participants in funds with a higher funding receive additional pension benefits.
Mooijman forecasts that the new APF vehicle will accelerate consolidation. "Schemes are more likely to move into an APF because assets can be ring-fenced and they still have a say on their pension scheme as well as the contribution level within their own compartment," he says.
However Ab Fraterman, pensions secretary of employer's organisation VNO-NCW, takes a cautious approach. "We would prioritise a new pensions contract, which could move into the direction of collective defined contribution without the legal requirement to buy annuities for all saved assets at retirement date," he says. "This would allow further accrual with part of the assets after retirement. Under such new arrangements, consolidation may be less necessary."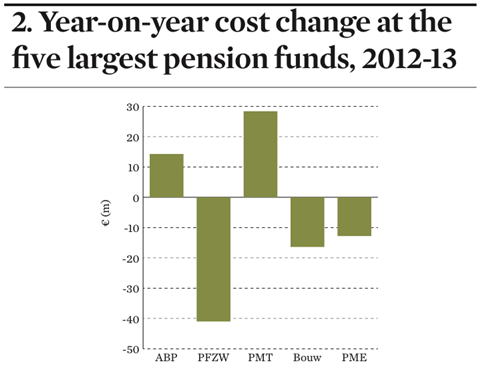 The trade union federation FNV looks favourably at consolidation. "It is an effective and efficient way to reduce costs and to improve pension results for participants," comments Gijs van Dijk, trustee at FNV. In his opinion, scaling up through mergers has not been fast enough. "There are still too many small industry-wide pension funds without sufficient viability," he comments. "All schemes with assets of less than €1bn should seek partners, preferably in the same sector or with a similar culture."
Van Dijk sees the APF vehicle as next step towards consolidation for company pension funds. "Initially, within the segregated compartments of the APF, schemes could slowly work towards standardising processes and arrangements. And as a social partner, we could put our best people on the board." The FNV's trustee stresses that industry-wide schemes should be legally allowed to establish an APF, which they are currently unable to do. "We will keep on lobbying for the necessary legal changes," he says.
Costing the earth?
However, research suggests that scaling up is not always the best route to cost reduction. Jacob Bikker, an econometrist at DNB, claims there is a limit to cost benefits in asset management. He concluded in 2013 that asset managers' optimal scale equates to €690m in AUM and that increases in scale beyond that do not provide cost benefits. Having said that, Bikkers also found that economies of scale for administration could be achieved through further consolidation.
"Ring-fencing is no longer mandatory and seems to be better regulated and board options have been increased"

Joost de Winter
His findings are supported by David Hollanders, a researcher at Tilburg University (UvT). However, Hollanders also discovered that pension funds' combined costs keep on rising year on year. "Although, administration costs per participant decrease when the number of members increases, large managers incur greater asset management costs, both in absolute and in relative terms," he says. "But, I have failed to find a correlation between costs and results."
According to Hollanders, small pension funds incur high costs, both for asset management and for administration. Pension funds with assets of up to €500m, or 2,000 participants, should certainly seek a merger with an industry-wide scheme, or join an insurer.
Dutch pensions policy: In the balance
1

2

Currently reading

Best hands on deck: The consolidation of Dutch pension funds

3

4

5

6