Pensions In The Netherlands: The end of the road
The sector has run out of options to avoid looming rights cuts, says Leen Preesman
At a glance
• The new financial assessment framework (nFTK) allows pension funds in principle to postpone rights discounts for five years and to spread out any cuts over a ten-year period.
• Rights cuts look to be needed sooner than anticipated, following plummeting interest rates, the criterion for discounting liabilities.
• Pension funds must already start cutting pensions next year if their funding has dropped to the critical level of about 90% at year-end.
• Some 29 pension funds are facing pension reductions in 2017 of up to 1%, if interest rates and equity markets do not improve before year-end.
The persistent low long-term interest rate – the criterion for discounting liabilities in the Netherlands – is putting the coverage ratios of Dutch pension funds under pressure. If interest rates do not rise, or equity markets fail to improve soon, widespread cuts to pension rights are inevitable next year.
Such a scenario is the opposite of what the Dutch cabinet intended with January 2015's new financial assessment framework (nFTK). Under this, schemes short of the required 125% funding level must submit a recovery plan annually mapping out how they will improve their coverage within 10 years. 
If they are unable to recover within this period, they must reduce pension rights to such a level that they can improve. If their funding remains short of the minimum required coverage of 105% for five consecutive years, and the sponsor does not fill the funding gap, they also have to cut.
When the nFTK came into force, the coverage ratio of Dutch pension funds was on average 108%. At the time, rights reductions looked unlikely. Now, thanks to the historically low interest rates, funding has plummeted to an average of 94% by the first week of July 2106. 
Without any improvements in the second half of 2016, many funds will cut pension rights next year. However, the good news is that they are allowed to smooth these out over a decade.
The €179bn healthcare pension fund PFZW saw its funding drop to 89% this June. This is two percentage points above the level for immediate cuts. Earlier this year, Peter Borgdorff, the scheme's director, said that its recovery plan was based on the maximum allowed assumptions for future returns, amounting to an average annual result of 6%.
With coverage of 90.6% in June, the €372bn civil service scheme ABP is within 60bps of a rights discount. The large metal schemes PMT and PME are in similar positions.
According to Dennis van Ek, actuary at Mercer, the trigger level for immediate rights cuts depends on the scale of a pension fund's asset allocation, and can range from 85% to 100%. "The larger the allocation, combined with a costs-covering contribution, the lower the critical funding is, as the higher expected equity returns outweigh their risk under the nFTK," he says.
This July, the regulator De Nederlandsche Bank (DNB) confirmed that three pension funds must start reducing pension rights in 2016, owing to their financial position. Its conclusion followed an assessment of the recovery plans of more than half of the 300 Dutch pension funds. DNB did not identify the schemes, but said 9,000 workers and 500 pensioners would be affected. That said, SPV, the €300m occupational scheme for midwives, has already acknowledged that it would cut pensions this year, after its funding had fallen to 85% by the end of 2015.
This March, as the average coverage ratio stood at about 96%, DNB estimated that 27 schemes were headed towards rights cuts in 2017, if their funding failed to improve. The number of affected participants would be 1.8m, who would face discounts of 0.5% in 2017 based on a 10-year recovery period. In addition, two pension funds, with 50,000 participants in total, could expect cuts of at least 1% next year if they opt to even out the discounts.
If pension funds' average funding has not improved, the likelihood that these schemes will have to apply cuts is still high. Van Ek: "If interest rates and equity markets do not pick up before the end of the year, reductions will be inevitable. And if interest rates were to fall by another 0.5%, or equity markets were to decline by 20%, 10 million pensions would be affected."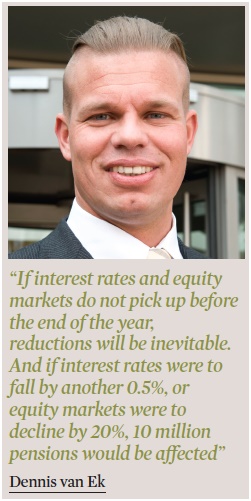 The smoothing mechanism is meant to avoid shock of rights cuts and to defer the actual reduction of pensions. During the past decade, the cabinet and DNB have accommodated pension funds and pensioners by successively easing the rules to avoid rights cuts.
Soon after the 2008 financial crisis – and average funding based on market rates plummeted from 144% to 95% – the recovery term for underfunded schemes was extended from three to five years. Four years later, the regulator abandoned the swap curve as criteria for liabilities, and introduced an ultimate forward rate (UFR) of 4.2% to shore up the discount rate. 
Last year, however, DNB reduced the UFR to 3.3%, as it deemed the initial one "too optimistic". As the new UFR is based on the 10-year average of the 20-years forward rate, it has since declined to 3%, which is still higher than current rates. "If interest rates remain at the current level, the UFR will be 2.9% at year-end," says Van Ek.
In April, Aon Hewitt suggested that the funding assumptions of pension funds were too upbeat. It noted that pension funds did not have to factor in the new UFR into the recovery plans submitted last spring. According to the firm, the UFR will halve over the next 10 years, if interest rates remained constant. At the end of March, the 30-year euro swap rate was 1.04%. This had dropped to 0.81% by the end of July 2016.
At the time, Aon Hewitt claimed that pension funds would lose an additional 10 percentage points on average of its coverage ratio in 10 years' time, as a result of the declining UFR. However, the effect would be limited to five percentage points in case of an pension fund with an older demographic, it said.
It is unlikely that pension funds will get another reprieve. This May, the cabinet indicated that it saw no reason to adjust the nFK rules to prevent rights cuts ahead of planned reforms to the pensions system. Jetta Klijnsma, the state secretary for Social Affairs, argued that it was unclear how these arrangements would look. She also pointed to the risk that schemes' funding would deteriorate further in the meantime, which would hamper transformations.
A new system would not prevent the need for rights cuts in any case, as Guus Wouters, director of the €66bn metal scheme PMT, emphasises. However, under either a new pensions contract of individual pension accrual or 'defined target' – the two options that are currently under discussion – there would no longer be the pressure of a pensions promise.
Thanks to good investment results during the second quarter of 2016, the funding of the five largest pension funds has stabilised, albeit it only just above the critical level. A slight drop at year-end means that they cannot avoid cuts in 2017.
The intention of the nFTK was to defer rights discounts by allowing cuts to be postponed for five years, if funding was short of the required minimum of 105%. Only if pension funds had been underfunded for five consecutive years, would they have to start applying rights cuts. The fact that this moment is likely to come soon, has sent shock waves through the sector. 
Pages in: Pensions In The Netherlands: The end of the road