Is the Nordic dream of a unified Danish-Swedish pensions market over?
Nordic institutions maintain an innovative diversification path
Gustav Karner cleans out old medicine at the pharmacy pension fund, as attention turns to cost cutting
Reform of the Premium Pension System aims to root out poor management practices and make the system sustainable
How to formulate evidence-based pension reform proposals in 10 weeks

The lifting of capital controls will allow Icelandic pension funds to invest more overseas
The newly consolidated Finnish mutual pension insurance sector sees new problems in the investment conundrum
Finland has woken up to the difficulties created by the flexible world of employment and the inability of pension regulation to ensure suitable provision for the self-employed 
Sweden's four main buffers funds have increased co-ordination since the failed system change in 2017
Kommunale Landespensjonskasse is asset rich with a mandate to invest in more real estate, but where can it find suitable opportunities?

Is managing its huge sovereign wealth fund distracting the Norwegian Central Bank from its monetary stability role?

Members of two Danish labour market pension funds to vote on Wednesday on merger
Pensions insurance giant has started negotiations with its 685 staff over a restructuring process aimed at flattening its hierarchy

Auditor concludes Magnusson should have raised proposed staff trip to France with board

Denmark's biggest pension fund reduces carbon footprint with addition of environmental 'signal' to equities investments

Oslo, Bergen and Akershus pension funds all made money in 2018 despite rocky equity markets

PenSam pledges 10% green investments; Lærernes Pension blacklists coal and oil firms
DNB notes lack of guidelines related to competition in the market
Danish pension funds post gains as they bounce back from last year's negative figures 
Digital Edition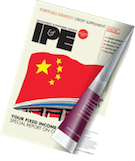 Subscribe to the digital edition of IPE magazine to view the latest issue directly in your browser.