Kirstein has formed a new asset-management company to increase client reach, writes Rachel Fixsen
Key points
Kirstein has formed Spektrum from its investment department
Ex-CEO of AP Pension Søren Dal Thomsen is CEO
Jesper Kirstein moves up to head the holding company
Jesper Kirstein is one of the most active figures in the Danish pensions and investment sector.
His perpetual-motion approach to work is nicely illustrated in his latest business move, which involves taking a step towards retirement – at the same time as expanding his investment business.
"I'm not getting any younger, but I still feel young," he tells IPE by way of explanation in the group's offices, suitably silhouetted against the downtown Copenhagen panorama through the meeting-room window.
In September, Kirstein announced the launch of a new company in the form of the investment management firm, Spektrum, which is now operating alongside the longstanding pensions and investment consultancy firm which bears his name. The new company has been formed out of the existing investment department, and is now also able to manage portfolios for institutional investors, whereas Kirstein could only advise.
The idea of forming two companies out of one is to broaden the group's client reach.
In a surprise move, unveiled in October, the former AP Pension chief executive Søren Dal Thomsen is to become Spektrum's chief executive from the beginning of November.
Kirstein feels the appointment has been a coup. "We work together well, but we are not alike," he says. "He is a very charismatic and dynamic person and has a unique network," he says.
Dal Thomsen has been working formally with Kirstein since the summer, having approached the firm with a proposal for offering investors access to the latest infrastructure fund from Copenhagen Infrastructure Partners (CIP). He worked with the firm on the project that is now up and running.
It was during this period of co-operation that the broader business deal between the two men was hammered out, which has resulted in Dal Thomsen taking a stake not only in the CIP feeder fund operation, but in Spektrum itself.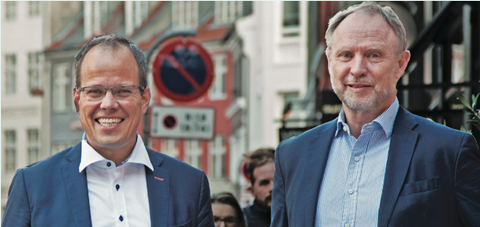 "This is like a marriage," says Kirstein, who has known Dal Thomsen for about 10 years. "We trust each other, and while we will disagree on points, we do solve those differences."
Kirstein himself is moving up to the role of CEO of the ultimate parent company of the group, Kirstein Holding.
One of the most appealing skills Dal Thomsen brings to the Kirstein group is his expertise in alternative investments – asset types that have a lot to offer the portfolios of smaller professional investors such as family offices and foundations, as well as large pension funds, Kirstein says.
At AP Pension, Dal Thomsen was involved in investing some of the DKK106bn (€14bn) commercial pension fund's assets in farmland, including a deal two years ago to buy agricultural land in eastern Romania and lease it back to the Danish operator FirstFarms.
A year before that, under Dal Thomsen's leadership, AP Pension set up the fund, Dansk Farmland, which aimed to invest DKK600m in Danish agricultural land and buildings and lease them back to the individual farmers.
Kirstein says Spektrum will bring alternatives exposure within the reach of medium-sized companies and family offices, ensuring these investments are cost-efficient.
The CIP feeder fund, for example, has minimum investment of just DKK5m, much lower than the €30m minimum required for the main fund offered by the partnership directly.
Kirstein and Spektrum are both strong supporters of the benefits of active asset management, despite the strong move recently in the direction of passive, and Jesper Kirstein says the focus on alternatives is all part of this offering.
"With investment returns hovering at around 3.5% these days, if you can add to that by 1% or even 1.5% through active management, it is worth it.
"We're good at finding the right manager, and this is part of our value proposition," he says.
The Danish Financial Services Authority (Finanstilsynet or FSA) has been vocal over the past year over its concerns about investment by pension funds in alternatives, in particular about the issue of whether or not the institutions have enough expertise regarding these asset types.
Jesper Kirstein backs the agency's observant stance. "Alternatives are like fireworks," he says. "They are beautiful when they work, but in inept hands, they are dangerous.
"You should be very careful because some areas of alternatives are clearly overbought, and the market is saturated, so every time you engage in alternatives you should make sure that there really is a premium for the illiquidity and for the complexity," he says.
Analysis is vital to ensure this is the case, he says, adding that Spektrum is now involved in a project on private debt, having been hired to do the work by two Danish pension funds.
"We got access to a large number of private debt deals in order to carry out the work, done over the last five or six years, and analysed what the spreads, leverage, covenant of these deals were, to see if the area was getting overcrowded," Kirstein says.
"We did not want to be the last one to invest in private debt so we wanted to make sure there was still a sizeable premium for the illiquidity."
Norway: A trillion dollar issue
1

2

3

4

5

Currently reading

Jesper Kerstein: Kirstein widens its Spektrum

6

7