Nordic Region: Denmark - Pension funds transfer season
Danish pension providers have been vying for top talent in a bid to secure the best returns in the current low-interest-rate environment. Rachel Fixsen traces the movements of high-profile management staff between the rival firms in recent months
At a glance
• There is fierce competition in the Danish pension market and there has been a rash of new hires.
• Funds are keen to build up their own asset management capabilities.
• Danish pension funds are cost sensitive.
A flurry of high-profile appointments has drawn attention to heightened competition in the Danish pensions sector. Over the past 12 months, after years of relative staffing stability at pension funds, many top management and investment staff have been persuaded to change jobs.
In general, the recent movement in the industry is a sign of the fierce competition between the providers to woo customers with the best returns in an ultra-low-yield environment and the lowest costs by bringing investment in-house. But, specifically, Danica Pension seems to have triggered the latest volley of poaching and counter-poaching with its bid to regain its former joint top position in the ranking of the country's commercial pension providers.
Danske Bank subsidiary Danica dealt a blow to its arch rival PFA Pension back in May when it managed to lure both of the men at the top of its asset management division. Danica said that hiring Poul Kobberup and Jesper Langmack, the joint managing directors of PFA Asset Management, was all part of its new investment strategy, which was conceived by chief financial officer Jacob Aarup-Andersen.
This double move was preceded by a rash of notable job changes within the pensions and investment sector, starting with PFA's hiring of Anders Damgaard in August 2014 from Danske Bank. Damgaard was to become the fourth member of group's management board and take charge of investment and risk management. Although he was joining a board of three – chief executive Henrik Heideby, chief commercial officer Lars Ellehave-Andersen and chief operating officer Jon Johnsen – within the next few months, two of these would be gone.
Heideby announced his resignation in October 2014, saying he wanted to take on more directorships and give strategic advice, which he said was incompatible with his job as chief executive. Then in August 2015, in an open grab at new business and market share, Danica Pension lured PFA sales chief Ellehave-Andersen.
Ellehave-Andersen, said Danica, was the right person to help the business exploit its co-operation with parent Danske Bank, and use its sharpening customer focus to bolster its market share. Danica's decision to post Ellehave-Andersen in Norway for the first 12 months before he became the new commercial director (CCO) of the Danica group in Denmark the following summer seemed to suggest there had been a clause is his contract with PFA preventing him from going to a rival firm within a year of leaving, but Danica said it had no comment on this move.
In January 2015, PFA filled the gap left by Heideby by poaching Allan Polack, Nordea Asset Management's chief executive. Polack has direct pensions experience, having been chief executive of the Nordic and Baltic banking group's pensions-focused division, Nordea Life & Pensions, before taking the helm at Nordea Asset Management.
Top five Danish funds: boosting in-house and alternative fixed-income capabilities
ATP
• Total assets: DKK691bn (end-June 2015)
• Location: Hillerød
• Profile: State supplementary labour-market pension fund, set up in 1964 to ensure basic financial security and contribute to efficient welfare. Has 4.9m members.
• Management:  Carsten Stendevad, CEO; Henrik Gade Jepsen, CIO; Lilian Mogensen, COO, processing business and HR, CEO of business division Udbetaling Danmark;  Bo Foged, CFO and chief operating officer (COO), pensions and investments 
• Recent notable activity:  June 2015 – joined other Danish pension funds in suing collapsed shipping fuel firm OW Bunker in collective bid to recoup more than DKK800m; Divested from Irish low-cost airline Ryanair, selling DKK25m of shares, after dispute over staff conditions in Denmark escalates; 
May 2015 – announced it is likely to reduce the number of risk classes in its investment portfolio from five currently; invests DKK500m in NEAS Energy in an equity and debt deal, citing potential for major growth.
PFA Pension
• Total assets: DKK552bn (end 2014)
• Location: Copenhagen
• Profile: Commercial, mutually-owned pensions company, founded in 1917 by labour organisations. Has a membership of about 800,000.
• Management: Allan Polack, group CEO; Anders Damgaard, group finance director;  Jon Johnsen, group director and COO.
• Recent notable activity:  June 2015 – took part in €250m investment in German offshore wind project Veja Mate alongside other Danish pension funds via Danish private equity group Copenhagen Infrastructure Partners; joined other Danish pension funds in suing collapsed shipping fuel firm OW Bunker in collective bid to recoup more than DKK800m;
April 2015 – reported slowdown in business growth in 2014 full year; took over DKK1.5bn Danish pension fund for pharmacists.
Danica
• Total assets: DKK366bn (end-June 2015) 
• Location: Kongens Lyngby
• Profile: Second biggest commercial pension provider in Denmark, and a 100% subsidiary of Danske Bank since 1995. Has about 600,000 customers and 750 staff. 
• Management:  Per Klitgård, CEO;  Jesper Winkelmann, director;  Jacob Aarup-Andersen, director and CFO; Anders Hjælmsø Svennesen, director and CIO.
• Recent notable activity:  March 2015 – invested DKK5bn  in new development in central Copenhagen, buying postal buildings from logistics firm PostNord; joined ATP and PensionDanmark putting DKK1bn into fund to invest in domestic small and medium enterprises (SMEs) via subordinate loan capital; with Lægernes Pensionskasse, committed to private equity fund CataCap to invest in SMEs.
Sampension
• Total assets: DKK257bn (end-2014)
• Location: Hellerup
• Profile: Manager of industry-wide pension schemes set up in 1982, mainly for white collar employees  in municipalities and central government. Organised as a life insurance limited company, but non-profit. About 300,000 pension customers. 
• Management: Hasse Jørgensen, CEO; Henrik Olejasz Larsen, CIO. 
• Recent notable activity:  August 2015 – partnered with three other Danish pension funds to invest DKK520m in a hospital building project in Slagelse, via a public-private partnership (PPP); announced forthcoming increase in alternatives allocation to between 20% and 25% of total assets.
June 2015 – Along with PKA, sold Danish property manager DEAS to Montagu Private Equity.
November 2014 – won pension scheme contract from IT and software company KMD, taking about DKK3bn of pension savings under management.
PKA
• Total assets: DKK215bn (end-2014)
• Location: Hellerup 
• Profile: Pension service provider for three health and social care sector pension funds – the Health Care Professionals' Pension Fund, the State Registered Nurses' and Medical Secretaries' Pension Fund and the Social Workers', Social Pedagogues' and Office Staff Pension Fund.
• Management: Peter Damgaard Jensen, CEO; Michael Nelleman Pedersen, director; Annegrete Birck Jakobsen, director; Morten Lund Madsen, director. 
• Recent notable activity:  August 2015 – partnered with three other Danish pension funds to invest DKK520m in a hospital building project in Slagelse, via a public-private partnership (PPP);
March 2015 – said it made a gain of DKK600m in January and February from the effects of the wave of currency speculation on the Danish krone; 
February 2015 – secured a rescue deal with banks for troubled private equity investment Genan, having written down its original investment.
In July, labour-market pension fund Sampension moved to bring in skills to boost its direct lending investments, by hiring Theis Nygaard in the new role of credit portfolio manager. He was poached from Nordea in Copenhagen, where he was chief dealer and head of derivatives structuring. At the time, Sampension was also in the process of expanding its alternative investments team by hiring four new people – two of whom were already in place.
Then in September, PFA finally found a new CIO in Henrik Nøhr Poulsen, who had been heading investments at the DKK134bn (€18bn) fund Industriens Pension. 
The big changes under way in Danish pensions have to be seen in the context of funds' ambitions to do their own asset management, according to Henrik Hoffmann-Fischer, principal at the Copenhagen-based consultancy Kirstein.
"As such, several Danish pension funds are spending serious time and effort towards the expansion of internal capabilities in direct competition with their external asset managers. The changes taking place at senior management level within organisations such as PFA and Danica are both examples of this," he says. 
Danish pension funds are cost sensitive, Hoffmann-Fischer notes, and says that at least one of the arguments in favour in taking asset management in-house is to manage costs. Certainly, Sampension is taking steps to do more of its implementation in-house within alternative investments and credit, even though the overall investment strategy has not changed.
"The aim is to utilise the experience built up over recent years, increase agility and lower total investment costs," says Sampension's chief investment officer Henrik Olejasz Larsen. One question thrown up by the latest spate of management and investment team changes is whether such change is disruptive for pension funds or, in fact, whether it makes their activities more productive.
How are these top personnel switches likely to affect the funds' efficiency in the near-term? "Changes in staff and management have elements of creative destruction," says Olejasz Larsen. "Certainly there is a short-term pain, but there is also a derived benefit in innovation and transfer of knowledge," he says. "In Denmark, there is a focus on investment results and, I would add, an increased focus on short-term investment results. And that also drives this competition for staff that have a good track record."
PFA's group chief executive Allan Polack says that although management changes can be disruptive, they do not have to be. "In some situations, the life cycle of a talented investment manager can be surprisingly short. In other cases, managers are capable of renewing themselves and adapt to the investment environment," he says.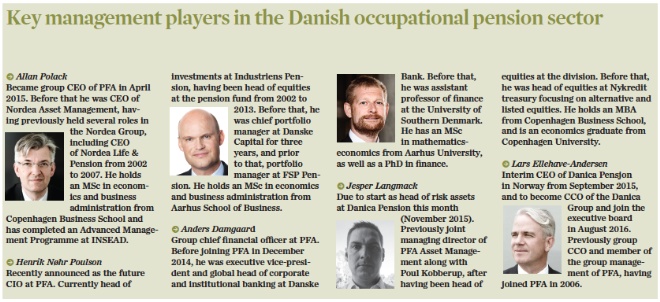 Nøhr Poulsen is one of the most talented long-term investors in the Nordic region, Polack says. Meanwhile, Olejasz Larsen says that the shift within Danish pension provision towards market return-type products is a factor behind the personnel changes.
Similarly, Anders Schelde, CIO at Nordea Life & Pension in Denmark, sees the shift at pension providers towards unit-link or market-return products as transforming investment departments. Since he started his job five years ago, assets under management for market-return products have grown to DKK7bn from DKK1bn, he says.
"That has meant we've had to extend our team because it's a completely different thing," he says. The old traditional guaranteed products were backed with high levels of investment in Danish fixed income.
"Of course you need good people to do that, but you only need a handful of guys," he says. "But with market return you have more risk and more complex exposure, so you really need more people with a broader skill set".
The trend towards in-house investment makes Hoffmann-Fischer wonder if institutional investors can ever distance themselves completely from external managers – and if they would even want to. But he sees one thing as clear: "The natural symbiosis that exists between pension funds and external asset managers is being seriously challenged these years, forcing asset managers to seriously rethink their value proposition vis-à-vis these institutional investors."
Much of the change in staffing in the Danish pensions sector seems to have begun with Danica Pension, and the new strategy adopted after the arrival of Aarup-Andersen in the spring of 2014. It is this re-positioning that has sent waves through the system, says one insider. 
"Danica had a small team that didn't really have the authority to do what they would like to do, and their returns were quite small, so they decided they needed to do something radical," he says.
A few years ago, PFA and Danica were almost the same size in assets under management, but gradually PFA has taken many clients away from the Danske subsidiary. At the end of 2014, Danica had group assets of DKK358bn compared with PFA's DKK552bn, but in 2009, the two players had assets of DKK264bn and DKK253bn respectively. Danica's efforts to regain its former glory are apparently in full swing.
Change in the Danish pensions market
The well-funded Danish pensions market is in a phase of transformation from both investment and business structure perspectives. In the past few years, many smaller pension funds have moved to merge with the larger players, and there is more change in this direction on the horizon, according to Henrik Olejasz Larsen, CIO of Sampension.
"Both the increased competitive pressure and the pressure from regulation of institutions and markets makes it likely that there will be further consolidation in the industry," he says. Because the corporate pensions market in Denmark is highly competitive, scheme sponsors often test the market and are prepared to switch provider.
"It's a healthy structure that ensures that on top of the regulatory supervision, corporates and brokers constantly force market players to improve their performance through the three parameters – return/risk, price and services," says Allan Polack, chief executive of PFA Pension. 
"As the Danish market is quite mature with zero growth in net new premiums over the last five years there is a natural focus on winning existing pension schemes through a change of provider," he says.
Olejasz Larsen mentions two aspects of the current financial and investment environment that have prompted new thinking on pension fund investment strategy. First, he says, the low returns currently produced by assets – and by fixed income in particular – are going to make other asset classes more attractive in relative terms, even if this means giving up some liquidity and flexibility.
Second, pension funds are now able to take advantage of new opportunities that have emerged for direct lending. "The regulation of banks opens up a more direct involvement of pension funds and insurance companies in areas where banks previously had the monopoly," he says.
Although PFA's fundamental strategy has not changed, Polack says there is a gradual change in thinking on investment related to the long-term decline in interest rates, and that this has been accelerated by the quantitative easing action by central banks. "PFA is committed to be an active investor and our mandates through the core pension products allow us to take a long-term view, where we can find return contributors from all aspects of asset classes, and structures based on these," he says.
The change that is happening because of low yields is towards assets delivering stable yields, or ones that produce returns that are similar to the stable coupon from a bond. "It can be stable dividends, leases, rents or other cash structures," says Polack.
Rachel Fixsen
Pages in: Nordic Region: Denmark - Pension funds transfer season