The Swiss public has rejected a complex reform package for the first and second pillar. What comes next?
Industry experts and groups offer analysis of the referendum and its consequences for the future of Swiss pension reform
Switzerland's most vulnerable pension fund has been offered a CHF4.7bn bailout from its sponsor, the canton of Geneva
The Swiss government has decided against further reporting standardisation for Pensionskassen
Coverage ratios have improved but riskier investments mean some pension funds are vulnerable to market shocks

Pension funds seek the right risk-return balance in a low-interest-rate environment. Opportunities seem few and far between

The referendum in September will decide the fate of the Swiss pension reform package. Barbara Ottawa analyses the first stages of the political campaigns leading up to the vote
Lombard Odier Pension Fund has developed an innovative multi-asset approach based on absolute return and diversification
Pierre Spocci, director of the Istituto di Previdenza del Cantone Ticino, tells Carlo Svaluto Moreolo about the pension fund's stable strategy 
Best practice in governance has been shown to produce above-average investment returns, say Manuel Ammann and Christian Ehmann
What do Swiss pension funds do when risk budgets are stretched and diversification has failed? Barbara Ottawa reports
Ueli Mettler and Benita von Lindeiner examine the difficult question of costs in Switzerland's second-pillar pension system
The AHV fund is expected to run out of assets by 2030 due to Switzerland's ageing population

€8.9trn of assets were managed in European-domiciled open-ended funds at the end of last year

Swiss pension fund is looking to allocate CHF350m
Plus: SBB's Pensionskasse reports 2017 return above benchmark
Four months after the failed referendum on Swiss pension reform there is still disagreement on the next steps, writes Barbara Ottawa

Equities helped Zurich Pensionskasse return almost 200 basis points more than the market average

Conversion rate to be lowered, retirement age and employee contributions upped

Plus: Corporate pension plans' funding nearly at 10-year highs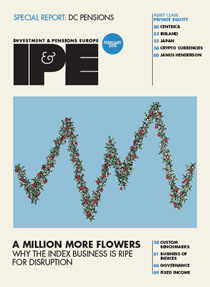 Digital Edition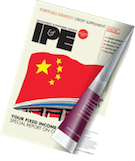 Subscribe to the digital edition of IPE magazine to view the latest issue directly in your browser.