The Swiss public has rejected a complex reform package for the first and second pillar. What comes next?
Industry experts and groups offer analysis of the referendum and its consequences for the future of Swiss pension reform
Switzerland's most vulnerable pension fund has been offered a CHF4.7bn bailout from its sponsor, the canton of Geneva
The Swiss government has decided against further reporting standardisation for Pensionskassen
Coverage ratios have improved but riskier investments mean some pension funds are vulnerable to market shocks

Pension funds seek the right risk-return balance in a low-interest-rate environment. Opportunities seem few and far between

The referendum in September will decide the fate of the Swiss pension reform package. Barbara Ottawa analyses the first stages of the political campaigns leading up to the vote
Lombard Odier Pension Fund has developed an innovative multi-asset approach based on absolute return and diversification
Pierre Spocci, director of the Istituto di Previdenza del Cantone Ticino, tells Carlo Svaluto Moreolo about the pension fund's stable strategy 
Best practice in governance has been shown to produce above-average investment returns, say Manuel Ammann and Christian Ehmann
What do Swiss pension funds do when risk budgets are stretched and diversification has failed? Barbara Ottawa reports
Ueli Mettler and Benita von Lindeiner examine the difficult question of costs in Switzerland's second-pillar pension system

BVK is already the biggest Swiss Pensionskasse by number of insured persons

Survey identifies international diversification and lack of investments in renewable energies as key factors
Denmark once again is the world's best but several systems have seen ratings drop in the past 12 months

Peter Meier says smaller pension funds need to focus on one strategy
Complementa study indicates simple, cheap approaches are not always successful

Swiss consultancy Libera doubts 1.25% long-term rate used in UK

Social minister Berset wants to start new talks following Sunday's public poll

Plus: New LGPS transparency code commitments, HSBC MiFID II research decision
Digital Edition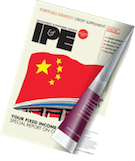 Subscribe to the digital edition of IPE magazine to view the latest issue directly in your browser.