The Swiss pension system needs reform but consent is needed in a federal referendum. Have politicians learnt from campaigning during the rejected Altervorsorge 2020 proposals?
The Swiss second pillar has become too complex and lost sight of its original principle of employer patronage towards employees

The globalisation of asset management means that Swiss managers have to broaden their product range and service different regulatory regimes
ESG is still an unpopular investment strategy in Switzerland. How will it overcome this lack of enthusiasm?
Swiss pension funds have coped well with the financial crisis, but appearances can be deceptive
Illiquid investments should appeal to pension funds because of their long-term benefits, but are opportunities equal? 
Swiss longevity assumptions have substantial effects on key technical figures in Pensionskassen
Talks on the reform of the Swiss first and second pillar have been prolonged by the 2017 rejection of the Altersvorsorge 2020 pac
The reserve fund for Swiss social security is well-equipped to deal with growing deficits
1e pension plans are facing reform. Will this hinder their continued popularity?
Pensionskassen were slow to embrace ESG but many are now committed to integrating sustainable thinking into their strategies

The Swiss public has rejected a complex reform package for the first and second pillar. What comes next?

CPEG is anxious about a May referendum that could pave the way for much-needed financing

Strategy should cut out absolute downside risk  

CHF16.6bn fund loses 3.3% in 2018, roughly in line with market average 
BLPK says move is – at least in part – in response to external expectations 
Arguments against default exclusion in mainstream indices 'do not stand up', argues Noël Amenc
Independent ethics adviser granted mandate by major occupational Swiss pension fund 

€35.6trn invested in 22 markets, Willis Towers Watson reports, with DC making headway in the UK, Canada and Japan

Compenswiss feels 'forced' to increase monthly divestment to meet pension payments 
Digital Edition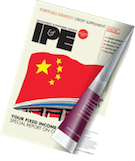 Subscribe to the digital edition of IPE magazine to view the latest issue directly in your browser.