Industry commentators do not expect radical changes to retirement legislation
The collapse of Carillion highlights just how difficult it is for pension fund trustees to influence the sponsoring company
The experience of collective defined schemes in the Netherlands illustrates shortcomings
Only 36 entities made a submission to the select committee, and some influential UK names are absent
Three years after its introduction, the liberation of pensions savings has been marred by accounts of poor advice and scams

A large proportion of institutional investors' costs remains opaque. Will a new UK initiative change this?
Trustees need to think about market volatility and employer covenants in light of Brexit
Are regulated apportionment arrangements the answer for insolvent employers?
How should UK pension fund trustees evaluate the credit risk they are exposed to in their main employer sponsor?
Cash equivalent pension transfers offer members flexibility and lower the funding burden for employers. What's not to like?

Warning against seeing CDC as an adequate replacement for defined benefit

Xafinity Punter Southall warns accounting bill from at-retirement freedoms introduced in 2015
Plus: London CIV's latest mandate launched; Water industry regulator on dividends v pension contributions debate

Former Legal & General chairman Sir John Kingman will lead review of FRC's governance, conflicts of interest and accountability
UK bank agrees to match shareholder payouts with pension fund contributions 
The restoration of Danish links with India suggest post-Brexit trade deals for the UK will not be straightforward

Plus: UK approaching 'peak LDI'; Xafinity Punter Southall calls for legal separation of consultants and fiduciary managers

Hermes' CEO Saker Nusseibeh and Federated Investors' vice-chairman Gordon Ceresino speak to IPE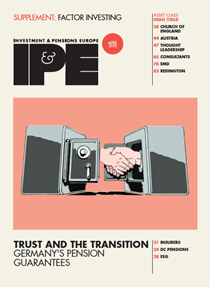 Digital Edition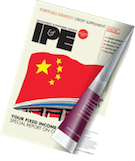 Subscribe to the digital edition of IPE magazine to view the latest issue directly in your browser.