Rolf, our chairman of trustees is having a reception to mark his 30 years working for Wasserdicht. An engineer by profession, he was worked for us all over the world and has many stories to tell
Last month I met with my old friend Thijs, who is CIO of a large UK corporate pension scheme, working in a small investment office in the UK with an enlightened CEO
Our investment committee members had quite a few questions at the final meeting of 2016. Brexit, Trump, the equities rally, long-bond yields, emerging markets: the trustees kept the topics coming thick and fast
Recently we had to admit that the trustee board of the Wasserdicht Dutch pension fund isn't very diverse. Of course, we fulfil the requirement to have one female trustee and one under the age of 40 and have for some time
Last month I joined our co-operation partners at PensionKøbenhavn in Copenhagen for a private round table of institutional investors discussing real assets
Recently, I was invited to join a network of financial academics as a 'practice adviser', which means I speak to them regularly about the challenges our pension fund faces and what we are doing in the investment portfolio.
For some months now, the powers that be here at Wasserdicht headquarters have been looking at moving our Dutch pension fund over the border to Belgium
Last year, if anyone had mentioned blockchain my first associations would have been Bitcoin, the dark web and cybercrime. But such new concepts have a habit of shifting shape
Three pension funds - Industriens Pension, Migros Pensionskasse and SPMS – explain their approach to managing geopolitical risks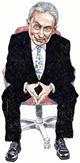 Robin Ellison, chairman of Carillion Pension Trustees, tells Carlo Svaluto Moreolo about the scheme's approach to de-risking and regulation
Fiduciary management is a potential solution to the problems of countless pension funds in Europe. Lyxor Asset Management is raising its efforts in this area
Frank Juliano, head of asset management at Compenswiss, tells Carlo Svaluto Moreolo what lies ahead for Switzerland's social security funds
Three pension funds - Amonis, Fondenergia and UMR Corem - talk about equity risk 
For most investment professionals the aftermath of an almighty financial crash would probably not seem like a good time to launch an asset management firm
Three pension funds - Sparinstitutens Pensionskassa, Grafton Pension Plan and Advocates Pension Fund - share their views on manager selection

Stefan Dunatov, CIO of Coal Pension Trustees, tells Carlo Svaluto Moreolo about his vision for managing the UK coal industry's legacy schemes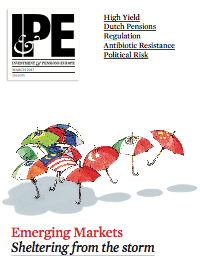 Digital Edition
Registered users are entitled to the first digital issue of IPE with the compliments of the IPE.com team.
Active bond managers are having to work hard to convince investors that they can provide better value for money than passive strategies
What one investor sees as risk might not be the same for another, writes Joseph Mariathasan. It all depends on the objective of the individual investor
Bob Swarup warns that blaming central banks for all the ails of the world lets politicians off the hook
Developments in the US and Europe presage a substantial change in the conduct of international trade