We at Wasserdicht Pension Funds have been using BIG Asset Management for what seems like an eternity. I have learned two things about BIG over the years
Can you guess the topic of discussion of the latest Wasserdicht global investment committee? You probably can: it was political risk
Rolf, our chairman of trustees is having a reception to mark his 30 years working for Wasserdicht. An engineer by profession, he was worked for us all over the world and has many stories to tell
Last month I met with my old friend Thijs, who is CIO of a large UK corporate pension scheme, working in a small investment office in the UK with an enlightened CEO
Our investment committee members had quite a few questions at the final meeting of 2016. Brexit, Trump, the equities rally, long-bond yields, emerging markets: the trustees kept the topics coming thick and fast
Recently we had to admit that the trustee board of the Wasserdicht Dutch pension fund isn't very diverse. Of course, we fulfil the requirement to have one female trustee and one under the age of 40 and have for some time
Last month I joined our co-operation partners at PensionKøbenhavn in Copenhagen for a private round table of institutional investors discussing real assets
Recently, I was invited to join a network of financial academics as a 'practice adviser', which means I speak to them regularly about the challenges our pension fund faces and what we are doing in the investment portfolio.
Three pension funds - CNPADC, KZVK-VKPB and Sampension - talk about their exposure to real assets
Reima Rytsölä, CIO of Finnish pension fund Varma, tells Carlo Svaluto Moreolo why it makes sense to keep an allocation to hedge funds
Nordea has always been a multi-centric institution. Created from four entities across the Nordic countries, it straddles geographies and markets by design
Over three-quarters of the respondents to this month's Focus Group are allocated to strategies that employ risk-factor investing concepts, with four of these considering further allocations
Three pension funds - BNL BNP Paribas, Heidelberg Cement and Istituto di Previdenza del Cantone Ticino - share insights on working with consultants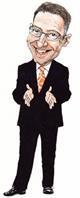 Mark Fawcett, the CIO of NEST, tells Carlo Svaluto Moreolo what the future holds for the UK's fast-growing defined contribution scheme
Asset management is one of the few areas of business where, so far at least, the Chinese have made little global impact. No Chinese firm was even in the top 100 in the 2016 IPE rankings
Three pension funds - Industriens Pension, Migros Pensionskasse and SPMS – explain their approach to managing geopolitical risks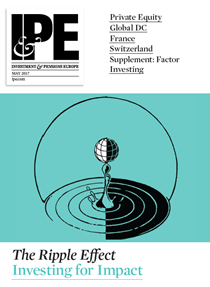 Digital Edition
Registered users are entitled to the first digital issue of IPE with the compliments of the IPE.com team.
Daniel Ben-Ami finds that while there are signs that the global economy might be bouncing back, doubts are being raised by the weakness of the recovery
The Indian subcontinent is adjusting to the realities of the new administration in Washington, writes Joseph Mariathasan
Sorca Kelly-Scholte and Michael Buchenholz say that pension funds can build better portfolios by adopting strategies used by insurers
European investors face an unprecedented array of political risks over the next few months. Daniel Ben-Ami reports