We asked a group of 24 pension funds with total assets of €164bn their views on the current risks and opportunities
We asked a group of 30 pension funds with total assets of €293bn what risks the markets will face during 2018
We asked a group of pension funds with total assets of €28.2bn about their use of credit
Pension funds have largely been absent from the debate about MiFID II and research costs. We asked a group of pension funds with total assets of over €330bn for their views
We asked a group of European pension funds with total assets of €180bn about their emerging market debt strategies
We asked a group of European pension funds with total assets of €110bn about governance
We asked a group of European investors with total assets of €84.4bn about their appetite for alternative credit. The answers confirm that the sector is set to grow further.
Over three-quarters of the respondents to this month's Focus Group are allocated to strategies that employ risk-factor investing concepts, with four of these considering further allocations
As the equity markets begin 2019 in worse shape than last year, we asked three European pension funds how they conceive and execute their equity strategy, in order protect the portfolio
Xander den Uyl, chairman of PWRI, the Dutch fund for disabled workers, tells Carlo Svaluto Moreolo about its particular approach to ESG
Saying that Tages is an investor in alternative asset management businesses does not really do justice to its eclectic nature
We asked two European pension funds how they hedge against interest rate risk, as the probability that interest rates will rise over the few next years grows 

Mikael Angberg, CIO of Första AP-fonden (AP1), one of Sweden's buffer funds, outlines the fund's investment philosophy to Carlo Svaluto Moreolo
The suspension of a GAM fund manager has revived the discussion about due diligence. We asked three pension funds how they deal with it

Christian Mosel, CEO of Ärzteversorgung Westfalen-Lippe, the pension fund for doctors in Germany's Westphalia-Lippe region, talks about his old-fashioned approach to investment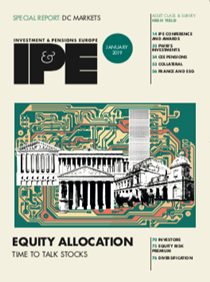 Digital Edition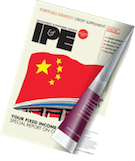 Subscribe to the digital edition of IPE magazine to view the latest issue directly in your browser.

Rising interest rates put collateral management strategies to the test

Protectionism is becoming more widespread despite the benefits of free trade being understood for more than two centuries
The new rules are having a dramatic effect on the world of investment research
A major GICS index methodology change seeks to reflect underlying market economics