We asked a group of 24 pension funds with total assets of €164bn their views on the current risks and opportunities
We asked a group of 30 pension funds with total assets of €293bn what risks the markets will face during 2018
We asked a group of pension funds with total assets of €28.2bn about their use of credit
Pension funds have largely been absent from the debate about MiFID II and research costs. We asked a group of pension funds with total assets of over €330bn for their views
We asked a group of European pension funds with total assets of €180bn about their emerging market debt strategies
We asked a group of European pension funds with total assets of €110bn about governance
We asked a group of European investors with total assets of €84.4bn about their appetite for alternative credit. The answers confirm that the sector is set to grow further.
Over three-quarters of the respondents to this month's Focus Group are allocated to strategies that employ risk-factor investing concepts, with four of these considering further allocations
The suspension of a GAM fund manager has revived the discussion about due diligence. We asked three pension funds how they deal with it

Christian Mosel, CEO of Ärzteversorgung Westfalen-Lippe, the pension fund for doctors in Germany's Westphalia-Lippe region, talks about his old-fashioned approach to investment
The debates over the failures of active managers and parallel growth of passive investment often neglect two important facts
We asked the senior managers of two European pension funds to describe how they invest in small-cap equities and what are the challenges and opportunities in this asset class

Marie Giertz, CIO of Kåpan Pensioner, the pension fund for Swedish government employees, tells Carlo Svaluto Moreolo about the fund's strategy and ongoing projects
Yvonne Bakkum, managing director of FMO Investment Management, is an evangelist for the UN's sustainable development goals (SDGs) – and even wears a lapel brooch representing them
We asked chief investment officers of three of Sweden's AP funds about how they view emerging market equities

Bill Galvin (pictured left) and Guy Coughlan of the UK's Universities Superannuation Scheme outline their measured approach to valuation to Joseph Mariathasan
Digital Edition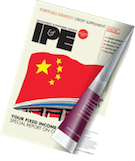 Subscribe to the digital edition of IPE magazine to view the latest issue directly in your browser.
A major GICS index methodology change seeks to reflect underlying market economics
The long/short liquid alternatives universe is more hetreogenous than some realise
Recent tax reforms and the expected inclusion in global indices of Chinese sovereign bonds has shone a spotlight on a vast, under-exploited, multi-trillion bond market
So how does one model the effect of further tariffs on a portfolio? This article shows how to construct a potential trade-war scenario and analyse the impact on a euro-denominated global multi-asset class portfolio