We asked a group of 24 pension funds with total assets of €164bn their views on the current risks and opportunities
We asked a group of 30 pension funds with total assets of €293bn what risks the markets will face during 2018
We asked a group of pension funds with total assets of €28.2bn about their use of credit
Pension funds have largely been absent from the debate about MiFID II and research costs. We asked a group of pension funds with total assets of over €330bn for their views
We asked a group of European pension funds with total assets of €180bn about their emerging market debt strategies
We asked a group of European pension funds with total assets of €110bn about governance
We asked a group of European investors with total assets of €84.4bn about their appetite for alternative credit. The answers confirm that the sector is set to grow further.
Over three-quarters of the respondents to this month's Focus Group are allocated to strategies that employ risk-factor investing concepts, with four of these considering further allocations
We asked two pension funds whether the distinction between emerging and developed markets still makes sense

Harold Clijsen CIO of Dutch multi-sector Pensioenfonds PGB, speaks to Carlo Svaluto Moreolo about asset allocation, sustainable investment and member communications
If people ask Peter Branner why he moved from Sweden to the Netherlands to run the asset management arm of APG he might tell them that he is in effect chief investment officer for more than a quarter of the Dutch population
We asked two pension funds to tell us about the case for investing in China and their experience with investing in the country
Carlo di Gennaro, head of global group pensions at Eni, tells Carlo Svaluto Moreolo how the oil and gas company is streamlining its pension strategy

We are living in Disneyworld," says George Muzinich, the CEO and chairman of Muzinich & Co, a New York-based investment manager specialising in corporate credit.
We asked two pension funds to share their views about investing in Europe at this crucial juncture for its economy 

Grégoire Haenni, CIO of CPEG, the public pension fund for the Swiss canton of Geneva, explains the fund's multidimensional approach to asset allocation
Digital Edition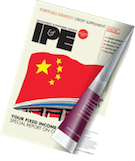 Subscribe to the digital edition of IPE magazine to view the latest issue directly in your browser.
It has been a bad decade for European financials, with share prices still a fraction of their pre-crisis highs
DB pension funds could benefit from synthetic credit exposures provided by credit default swap indices
The tragic Easter Sunday bombings have devastated tourism, a key plank of the economy

"Public interest in IPOs hasn't been this high since the dot-com era of the late 1990s," say analysts at UBS. Such popularity is stoking fears of a bubble in unicorns – privately-financed start-ups valued at over $1bn (€900m) taking listings.