We asked a group of 24 pension funds with total assets of €164bn their views on the current risks and opportunities
We asked a group of 30 pension funds with total assets of €293bn what risks the markets will face during 2018
We asked a group of pension funds with total assets of €28.2bn about their use of credit
Pension funds have largely been absent from the debate about MiFID II and research costs. We asked a group of pension funds with total assets of over €330bn for their views
We asked a group of European pension funds with total assets of €180bn about their emerging market debt strategies
We asked a group of European pension funds with total assets of €110bn about governance
We asked a group of European investors with total assets of €84.4bn about their appetite for alternative credit. The answers confirm that the sector is set to grow further.
Over three-quarters of the respondents to this month's Focus Group are allocated to strategies that employ risk-factor investing concepts, with four of these considering further allocations
As the valuations of traditional credit assets look stretched, we asked two Danish institutions how they invest in alternative credit markets
Tom Mergaerts , CEO of Amonis, tells Carlo Svaluto Moreolo about the Belgian €2.1bn pension fund's uncompromising investment philosophy
A year into Generali's ambitious growth plan, it looks set to meet its promises
After the ECB's announcement of more QE, we asked two pension funds how they plan to manage the prospect of lower yields

Gregor Asshoff  (pictured), board member of ZVK, the pension fund for Germany's construction workers, talks to Carlo Svaluto Moreolo about upcoming asset allocation shifts

By his own account Nico Marais is an extraordinarily lucky man. The CEO of Wells Fargo Asset Management (WFAM) is keen to use every opportunity to emphasise his good fortune. In Marais's modest telling of his own story, his success is thanks to the qualities of others, rather than to his own merits. "It's the story of my life. I've just always worked for amazing people," ...
We asked two pension funds whether the distinction between emerging and developed markets still makes sense

Harold Clijsen CIO of Dutch multi-sector Pensioenfonds PGB, speaks to Carlo Svaluto Moreolo about asset allocation, sustainable investment and member communications
Digital Edition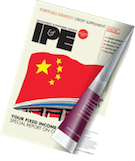 Subscribe to the digital edition of IPE magazine to view the latest issue directly in your browser.
Equity investors putting faith in growth stocks – stocks that are priced expensively relative to fundamentals because they are expected to grow fast – received a shock in early September when they sold off sharply.

Large buyout funds are a staple ingredient in many institutional pension funds' private-equity portfolios. Focusing on more diversified private-market strategies could be a better way to achieve return objectives
If anyone in Europe was left in any doubt on 11 September about the dovishness of the European Central Bank (ECB) under Mario Draghi's leadership, by close of business on the next day their doubts were surely dispelled. On that day the outgoing president of the ECB unleashed a bout of monetary easing, in an attempt to boost euro-zone inflation from 1% to its target of "below, but close to, 2% over the medium term".

Father Christmas delivered a sack of coal to equity markets last Christmas Eve, with the S&P 500 index losing 1.8%, following a three-day slide. Forecasters had previously been expecting two or three rate hikes in December, as Federal Reserve chairman Jerome Powell steered that discussion. He had mistakenly assumed that the economy had not yet reached a normal, ...