Climate change risk has been formally discussed by 15 funds polled for this month's Focus Group. Eight have not discussed it, while a further two have it on their agenda.
Of the group of 25, three-quarters agree that the pledge signed at December's COP21 talks in Paris will contribute to a significant reduction of climate change risk in investors' portfolios. However, a Liechtenstein fund has reservations: "[A] negative outlook for the related industries affects expected long-term performance".
Six disagree, one UK fund strongly: "If anything, it will increase climate change risk to investment portfolios by destroying [the] market cap of extractive-industry companies in which portfolios are currently invested, and it will lead to significant misallocation of capital to value-destroying, unproven technologies rather than might be experienced by letting the free markets run their own course."
We focused our questions on the main group of 15 funds that has discussed climate change issues. All but one are signatories to at least one pledge or set of principles covering fossil fuel, carbon emissions or other environmental issues. This is an increase from our February 2015 survey, when 10 out of 28 polled were signatories.
Twelve funds have analysed their extractive industry or carbon exposure (versus nine in 2015). "We've started a project to quantitatively measure and track our portfolio carbon emissions," says a UK fund. "So far, the analysis only applies to our global equity fund, but this still gives a good picture of developments under way. We believe this analysis is valuable because we're benchmarking over time."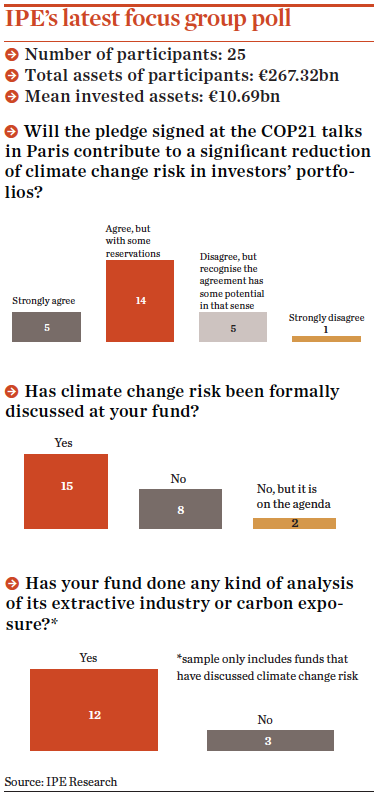 Out of the group of 15 funds, 14 agree that climate change poses diverse risks to the world in general, including their fund's beneficiaries, while 13 highlight the reputational risk to their fund posed by the extractive industry and other carbon-intensive investments.
While 12 say investing in clean energy presents considerable upside risk for their fund, just six are convinced that fossil fuels will present an upside risk should they become scarcer or even circumscribed.
One Danish fund investment officer offers a view: "I believe energy inefficient companies will fare worse in the future, than those with efficient resource use. I also believe that many extractive-industry assets will remain unused."
Just five of the group of 15 investors say climate change-related risks are now more important relative to other risks affecting their fund's investments. Two say they are less important, and eight that they are on a par. "Climate change-related risks are important. However, there are other, more urgent risks. Climate change tends to be a longer-term risk," states a Dutch fund.
Two-thirds (10) of the main group say the best course of action on carbon risk is to increase renewable energy and other carbon-mitigating investments. Seven suggest assessing carbon exposure and positively engaging with the most exposed companies, while six recommend divesting completely from the most exposed companies.
A Dutch fund favours assessing carbon exposure and re-weighting portfolios accordingly, while also positively engaging with the extractive industry. "We will halve the carbon footprint of our portfolio by underweighting the most carbon-intensive companies in [the] portfolio and engaging with them to improve their efficiency. We will [also] quadruple our impact investments, including renewable energy and carbon mitigating assets."
The 'stranded assets' thesis has been widely cited in recent debates on extractive-industry investment risk. It holds that climate change targets mean that many extractive-industry assets will remain unusable and that this has not yet been priced into company securities. In the main group, 13 agree, although 11 of these have some reservations. Just one disagrees, although recognising it is important.
"We believe that many extractive companies are planning for this scenario and [this] is reflected in their discount rates," says one UK respondent. "They are also large enough to adapt over time and have the scale and resources to do so."