Focus Group: Do consultants add value?
Three-quarters of the investors polled for this month's Focus Group say investment consultants have added value to their investment portfolio, including two who indicate they have added considerable value. A Spanish fund says its consultant has brought "best practices, new ideas [and] cut costs". However, four funds say consultants have added limited or no value.
A third of respondents use investment consultants on a retainer basis, while five do so on an occasional or project basis. Just three never use consultants. Over half describe their consultant as a global firm, while only one describes them as local. Two describe them as a boutique and two as a specialist in a particular area.
Asset allocation advice and product and strategy knowledge/expertise are rated the best consultant services, while the ability and willingness to recommend other specialist advisers and the ability to recommend successful active management strategies are rated the worst.
"Consultants, in general, lack a bit of innovation and tend to stick to mainstream solutions, avoiding risk in a way," says the CIO of a Swiss fund. "They used to push a lot for active managers, [but] less so now, maybe in part because you're never wrong when you select a low-cost passive strategy. Consultants need to be at the forefront of asset allocation techniques, and be brave to go for innovative solutions."
Just over half of respondents say consultants are better placed than asset managers to offer asset allocation advice to pension funds. Of these, three consider them to be significantly better placed, including a UK fund that comments: "Using an investment consultant that has a good understanding of funding is very helpful and something that asset managers just don't do. [I'm] not convinced they really understand the intricacies of funding and are too short term in outlook."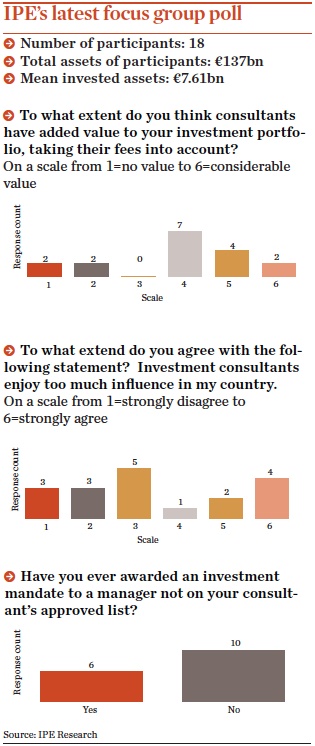 Four funds say consultants are no better placed than asset managers to offer advice. A Dutch fund states: "There seems to be little to no alignment for consultants to offer proper advice. The only advantage they have is that they have a larger audience and can use the same data multiple times, hence it is more rewarding for them to employ a bigger research staff."
Over two-thirds of those polled say their consultant takes their ambition to be a truly long-term investor seriously. "[They] take care of our liquidity needs based on members' needs instead of market needs," states a Spanish fund.
Most respondents says consultants do not have too much influence in their country. However, the director of pensions at a UK fund comments: "I want them to have strong influence as it helps keep the asset manager in check and should, one hopes, protect a scheme's interests. However, when a consulting firm gets into fiduciary management or similar, then I think they have too much influence or at least blur the lines too much. I do think there is some risk, at least in the UK and Ireland (possibly elsewhere) of domination by the three large consulting firms."
Six respondents have previously awarded an investment mandate to a manager not on their consultant's approved list. "Consultants are only one more opinion. Internal committees have expertise too and the final word," says a French fund.
Those polled suggest a variety of ways in which consultants could better serve pension funds. "Learn to listen, customise and adapt," states a Dutch fund. A UK fund adds: "Be more independent. Avoid conflicts of interest. [Do not] try and cross-sell their asset management offerings so brazenly. Think more like investors."
Ten respondents each give strategic asset allocation, real estate and private equity as a reason for using consultants. This is followed by equities and hedge funds (nine responses each); infrastructure and asset-liability management (eight each); and tactical asset allocation and liability-driven investment/swaps (seven each).