Christer Franzén , CIO of the Ericsson Pension Foundation, talks about the fund's capital-preservation philosophy
Olivier Rousseau, member of the executive board of Fonds de Réserve pour les Retraites, talks about regulation, ESG and his vision for the markets

Joachim Schwind and Andreas Hilka, veterans of the German pension industry, tell Carlo Svaluto Moreolo how the country's pension reform will change pension fund management

Mark Thompson, CIO of HSBC's UK pension scheme, tells Carlo Svaluto Moreolo about the scheme's creative de-risking solutions and search for innovation in DC provision
Livio Raimondi, CIO of PREVIP, a €2.2bn multi-employer DC pension fund in Italy, talks about the fund's growth aspirations

Rachel Fixsen asked Thomas Otbo, Jesper Nørgaard and Erik Callert about the changes being made to the Nordics' biggest commercial life insurer
Reima Rytsölä, CIO of Finnish pension fund Varma, tells Carlo Svaluto Moreolo why it makes sense to keep an allocation to hedge funds
Over three-quarters of the respondents to this month's Focus Group are allocated to strategies that employ risk-factor investing concepts, with four of these considering further allocations
Merseyside Pension Fund, Stapi Lífeyrissjóður Iceland and Fondo Pensioni BNL BNP Paribas Italy on investing in hedge funds

Frédéric Janbon inherited a complex multi boutique structure in 2015 when he moved from his position as special adviser to the board of BNP Paribas to become chief executive of the asset management business
APK Pensionskasse, APG Asset Management and Sampension Denmark share their views on hiring and keeping the best investment professionals
Investment professionals are fond of talking about the power of compound interest but many fail to fully appreciate its implications for Asia
Solidarietà Veneto, Pensioenfonds TNO and Nationwide Pension Fund share details about their equity exposure 
Only a few weeks after the 1929 Wall Street crash, a group of seven Rotterdam businessmen set up the Rotterdamsch Beleggings Consortium, later shortened to Robeco
Three pension funds – ÄVWL, Ilmarinen and Pensioenfonds PGB – talk about the importance of reputation and trust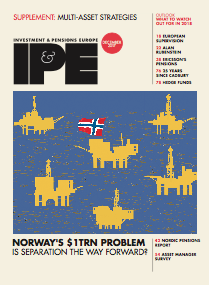 Digital Edition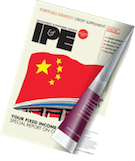 Subscribe to the digital edition of IPE magazine to view the latest issue directly in your browser.
The ongoing economic expansion is set to become the longest in the post-war era, at least for the US. The debate about the pros and cons of zero rates and quantitative easing continues
Integrating private markets within an asset allocation can be rewarding but is also challenging

Insurance-linked securities (ILS) are an asset class based upon insurance events. They provide an element of diversity to portfolios. Put simply, a market collapse is unlikely to be correlated to a natural disaster.
Published 25 years ago this month, the Cadbury Report introduced the first comply-or-explain corporate governance code