We asked two pension funds to tell us about the case for investing in China and their experience with investing in the country
We asked two pension funds to share their views about investing in Europe at this crucial juncture for its economy 
We asked two European pension funds how they view, and invest in, the hedge fund sector at a time when volatility is structurally low
Dmytro Sheludchenko of Sweden's AP1 buffer fund explains how it constructs and manages its factor-investing portfolios
We asked European pension funds whether they see value in investing in UK assets. Despite the uncertainty regarding Brexit, most still see opportunities in the long term
We asked two European pension funds about their attitude to asset management fees and costs
As the equity markets begin 2019 in worse shape than last year, we asked three European pension funds how they conceive and execute their equity strategy, in order protect the portfolio
We asked two European pension funds how they hedge against interest rate risk, as the probability that interest rates will rise over the few next years grows 
Carlo di Gennaro, head of global group pensions at Eni, tells Carlo Svaluto Moreolo how the oil and gas company is streamlining its pension strategy

We are living in Disneyworld," says George Muzinich, the CEO and chairman of Muzinich & Co, a New York-based investment manager specialising in corporate credit.

Grégoire Haenni, CIO of CPEG, the public pension fund for the Swiss canton of Geneva, explains the fund's multidimensional approach to asset allocation
As a Europe-focused small and mid-cap manager, the decision of London-based Montanaro Asset Management to launch its Better World fund, a global impact focused fund after a 27-year track record as a European house, was most certainly a change in strategic direction.
Andrea Ash (pictured), investment director at RPMI Railpen, tells Carlo Svaluto Moreolo about the UK pension fund's private markets strategy
Digital Edition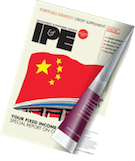 Subscribe to the digital edition of IPE magazine to view the latest issue directly in your browser.

"Public interest in IPOs hasn't been this high since the dot-com era of the late 1990s," say analysts at UBS. Such popularity is stoking fears of a bubble in unicorns – privately-financed start-ups valued at over $1bn (€900m) taking listings.

Pension funds lose billions annually in badly timed trades in the capital markets 
Exchange-traded funds (ETFs) have grown into a $5trn (€4.4trn) global industry by focusing on a few key selling points – low costs, liquidity, easy diversification and transparency.
Valuation has always been an important, albeit thorny, component in assessing insurance-linked securities (ILS) but the higher-than-expected losses in 2017 and 2018 made the number crunching even trickier. The recently published set of guidelines from the  Standard Board of Alternative Investments (SBAI) is designed to improve the process but investors should always be aware of the risks attached to this asset class.