Like their international counterparts, Austrian Pensionskassen must find new sources of return. Barbara Ottawa reports on the potential opportunities
Karl Timmel, CEO of Austria's largest Pensionskasse, VBV, helped to set up the second pillar in the country more than two decades ago

Mandatory contributions mean Austrian provident funds are catching up with Pensionskassen both as institutional investors and in terms of business strategy
Despite good long-term performance, few companies are making use of a multi-employer pension fund or indeed any form of occupational pension
Every Austrian born after 1955 who has accrued pension benefits in the state pension system now has a new account, the Pensionskonto. And for the first time, each citizen has also received a letter in which they are informed about their pension benefits from the first pillar pay-as-you-go scheme.
Implementation of Solvency II continues apace. Wide-ranging reforms will raise the retirement age and there has been a focus on transparency following a governance scandal.

Mercer data also shows strong results for VBV in higher risk category
Next step is to roll out environmental management system fund-wide

Major Austrian pension fund returns 3.4% for 2016

Austrian schemes return nearly 4.2% on average over 2016

Germany, Austria and Switzerland with system debates – but rather different ones

Deal includes distribution agreement with UniCredit covering three major European markets

German industry experts lament loss of British 'allies' in EU pensions debate

Schemes return 3.3% on average over first nine months of year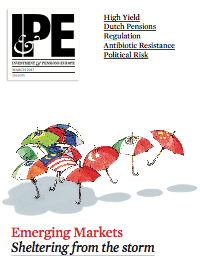 Digital Edition
Registered users are entitled to the first digital issue of IPE with the compliments of the IPE.com team.