Belgian pension funds are well funded, but their small size restricts their opportunities to diversify, according to Gail Moss 
Having enjoyed good returns in 2014, Belgian pension funds are now seeking alternatives to bonds, writes Gail Moss
The new government has received a raft of recommendations to fix the disparities in the country's pension system. Is it too little too late?
KBC has introduced a DC pension fund for new members starting from the beginning of 2014 and closed its DB fund. The fund is one of Belgium's largest pension schemes, founded in 1941 with €1.2bn in assets and 15,500 active members.
Belgium has doubled occupational pension fund participation in the last 10 years and returns were a healthy 6.7% in 2013, writes Iain Morse
Belgian pension schemes are looking ahead to another year of improving funding ratios as they diversify fixed income portfolios, writes Rachel Fixsen
Cécile Sourbes asks what lessons can be learned from the failure of UMR to create an IORP domiciled in Belgium
An Van Damme analyses Belgium's attempt to raise the age of retirement through incentives rather than legislative decree
Challenges in the form of regulation and lower expected returns mean Belgian pension funds must seek economies of scale and improved governance, writes Karel Stroobants
After more than a year of political deadlock, Belgium's new government has pensions in its sights. Christine Senior reports
Ministers will carry out further technical analysis of FTT effect before making decision
Consultancy is also weighing up options for its administration business

Consultant talking to 'dozens' of companies about taking over defined contribution arrangements

Lobbying organisation calls on government to reject the financial transaction tax for pension funds
Vehicle to offer DC plans in France, Spain, Germany, Italy and Netherlands

Trade association event showcases Belgium-based cross-border pension funds
In many OECD countries, civil servant replacement rates 20 percentage points higher than in private sector
Industry scheme invests €40m in fund targeting job-creating company financing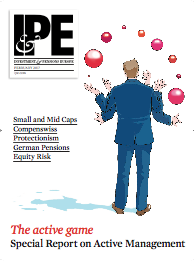 Digital Edition
Registered users are entitled to the first digital issue of IPE with the compliments of the IPE.com team.