Gail Moss assesses the effect of two new regulations on the asset allocation of Irish pension funds in a continuing low-yield environment
James Kavanagh says visionary thinking is needed to meet Ireland's pension challenges
Mick O'Byrne looks at the accounting deficits of Irish defined benefit pension schemes
Since 2010, successive governments have proposed, or at least hinted at, sweeping pension reform. But this could finally become a reality in 2017, as the regulator publishes a report on the market, finds Jonathan Williams
Ireland's sovereign development fund is fully established and building up a sizeable and diverse portfolio

Despite promising comprehensive pension reform and after five years in government, Ireland's Fine Gael-Labour-led coalition is months away from an election without a significant road map for change
Despite a growing economy and regulatory developments in the defined benefit sector, Ireland still faces challenges in its pensions system. Jerry Moriarty urges long-term considerations to form part of future pensions policy
Irish DB schemes face a new financial buffer from this year. Each of the various ways to meet the risk-reserve standard comes at a considerable cost
Philip Shier and Aidan Kennedy review the new risk reserve requirement for pension funds 
Mick O'Byrne provides an update on the accounting deficits of defined benefit pension schemes of Irish listed companies and state entities

At its first meeting of 2015, the Irish Cabinet discussed the introduction of a "new, universal supplementary pension savings scheme". The plan was presented by Joan Burton, deputy prime minister and minister for social protection. 
Jerry Moriarty welcomes the planned end to the pensions levy but calls for definite action on auto enrolment
Minister calls for further debate as issues are deemed too complex to take forward

Minister urged to review 2012 law changes and remove inequality in state pension payments
UK's FRC says more work needed before updating GAAP in line with IFRS changes 

Transfer creates the third country DB section in UnitedPensions vehicle
Department of Social Protection wants to bring in strict timetable for funding agreements

Existing passporting rules for fund domiciles should keep disruption to a minimum, experts say

Government wants to close loophole allowing sponsors to abandon underfunded schemes
€55m to go towards fund targeting more timber supply, with European Investment Bank also involved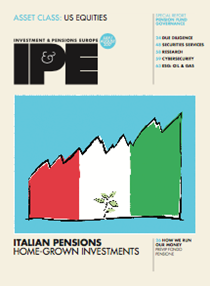 Digital Edition
Registered users are entitled to the first digital issue of IPE with the compliments of the IPE.com team.