The sector has run out of options to avoid looming rights cuts, says Leen Preesman
Infrastructure, real estate and alternative credit are finding favour among Dutch pensions funds, finds Gail Moss
Leen Preesman looks at the measures the government is taking to stabilise the pension system
André de Voss speaks to Geraldine Leegwater and Paulien Siegman about how the one-tier board structures are working in practice 
IORP II sometimes fails to reflect European case law, according to Hans Van Meerten

Pension fund for Dutch insurer creates liability-matching portfolio
Asset manager follows variable-pay cap set by government
Few things are as expressive of a country's culture and history as its popular sayings and expressions. Take the Dutch: when we believe somebody is crazy, we say 'he has been hit by a windmill'. When something is obvious, we can 'sense it on our wooden shoes'.
The new general pension fund vehicle provides an opportunity for insurers to enter the occupational pensions market and could bring the two sectors closer together. Leen Preesman reports
PNO Media, a provider for 450 media sector companies in the Netherlands, is striking a new path to retain pension market share in a competitive environment, according to Gail Moss
There is room for improvement in the government's plans to introduce variable annuities for DC pension funds, according to Wichert Hoeckert 
Continuing stress on funding ratios is leading to renewed calls for a comprehensive overhaul of the Dutch occupational pension system
Participants to be compensated for funding difference between pension funds

Meubel is first Dutch scheme to join new IT provider

Pensions Federation urges sector to produce proposals ahead of negotiations for new coalition government

Dutch PMT prefers to achieve reduction through engagement which takes effects on firms' staff into account
Consultancy is also weighing up options for its administration business

Pharmacists' pension fund SPOA to continue independently after merger talks fall through

Collaborations sought in order to drive down costs and improve services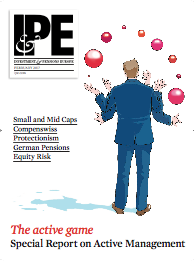 Digital Edition
Registered users are entitled to the first digital issue of IPE with the compliments of the IPE.com team.