With a potential Brexit in sight, Carlo Svaluto Moreolo asks whether the assumptions underlying liability-driven investment (LDI) need to be reconsidered 
Regulation is constraining pension funds' ability to manage risk and they should prepare for future illiquidity
UK defined-benefit deficits are ballooning. The Brexit vote might initiate behavioural change, Stephen Bouvier writes
As the UK government consults on whether NEST should be allowed to enter the drawdown market, Jonathan Williams examines the arguments for and against its entry, and what the fund can learn from Australia
Katherine Lynas and Adam Gillespie point out that strong diversified growth funds distinguish themselves in performance terms at times of heightened market stress
Pádraig Floyd assesses how master trust providers are shaping the design of defined contribution default funds
The British Steel and BHS cases have drawn attention to structural flaws in the UK's defined benefit system when it comes to the sponsor covenant, writes Gill Wadsworth
Scheme-specific adjustments to standard industry tables can help smaller pension funds take into account the effect of longevity, according to Michael Kelly and Glyn Bradley
Gail Moss assesses progress so far as the eight local government asset pools of England and Wales test the water
Latest IPE Focus Group sees split between UK and Dutch markets
The advent of The Pensions Regulator and the Pension Protection Fund in 2005 changed the UK occupational pensions sector for good. But have they changed it for the better?
Trustees are at the heart of UK pension funds. Do they need to get better at what they do?

Final agreement seen as still some way off as trustees reiterate desire for RAA solution

£57bn UK pension fund to back new offshore wind fund and low carbon lending platform
UK pensions body praised Segars for the impact she has made

Also: PPF helps packaging company avoid pre-pack administration; Scotland seeks private equity fund advice

Theresa May seeks stronger electoral support ahead of Brexit negotiations

FCA will review options for asset managers to deal with liquidity issues
Denise Le Gal is an influential name in local government pensions

£7.6bn scheme to shut in 2018 to avoid spike in annual contributions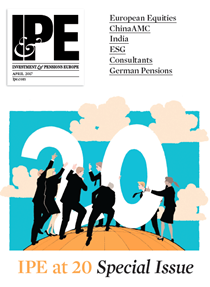 Digital Edition
Registered users are entitled to the first digital issue of IPE with the compliments of the IPE.com team.