The new IPE-Fundo UK pension index series gives trustees and pension funds a reliable, transparent and free composite benchmark against which to assess the performance of their scheme
Pension fund fiduciaries and staff members need a simple guide to how their assets are faring. The IPE-Fundo index series provides such oversight in three flavours: a mix of 75% equities and 25% bonds: 60% equities and 40% bonds; or 45% equities and 55% bonds.
At a click, those responsible for UK occupational pension schemes can compare how the scheme's assets have performed against one (or all three) of these basic composite benchmarks.
Some might consider such market comparators to be an anachronism given the widespread use of scheme-specific benchmarks. Further, sophisticated asset owners have deconstructed their portfolios into fundamental sources of risk or by factors. Others take their liabilities as the ultimate benchmark.
This index series was not created to challenge such policies or their efficacy. For organisations with the human and capital resources to maintain them, market-cap benchmarks might be superfluous.
IPE-Fundo and DC
There is no universal agreement on what constitutes an appropriate DC default fund but an essential requirement is a reasonable and fair comparison index. The IPE-Fundo indices offer three excellent comparators for DC default funds, covering all but the most mature cohort of contributors. They also offer a reasonable proxy for most balanced funds. For lifestyling default funds, the asset allocation spread (from converse 75% to 45% in equities) covers the broad spectrum of changes in such a strategy.
But many funds, particularly in the local government sector, are under-resourced. For them a simple and reliable measure of how assets and strategies have fared offers an important information tool that fiduciaries and staff can use to question investment managers and others.
IPE-Fundo UK pension indices
• Three index strategies to reflect broad spread of asset allocation of UK occupational pension funds.
• Fully transparent methodology at ipe.fundo.ch with downloadable performance history.
• A free and reliable information tool for trustees, staff and others.
Indeed, the virtue of this index series is its simplicity, and this is often underrated in pension scheme management. Providers love to introduce new phrases, calibrations and perspectives. These can obscure the truth that market beta explains the majority of equity returns and equity risk remains the number-one risk for most UK plans. This, in turn, explains the dominance of equities in the IPE-Fundo index series.
The second and third major risks for defined-benefit pension schemes are interest-rate and inflation-rate sensitivity, which are captured in the fixed income suite of sub-indices.
We also include currency risk via two of the five sub-indices: the MSCI All Country ex UK index for equities and the Barclays Global Aggregate ex UK Sterling index.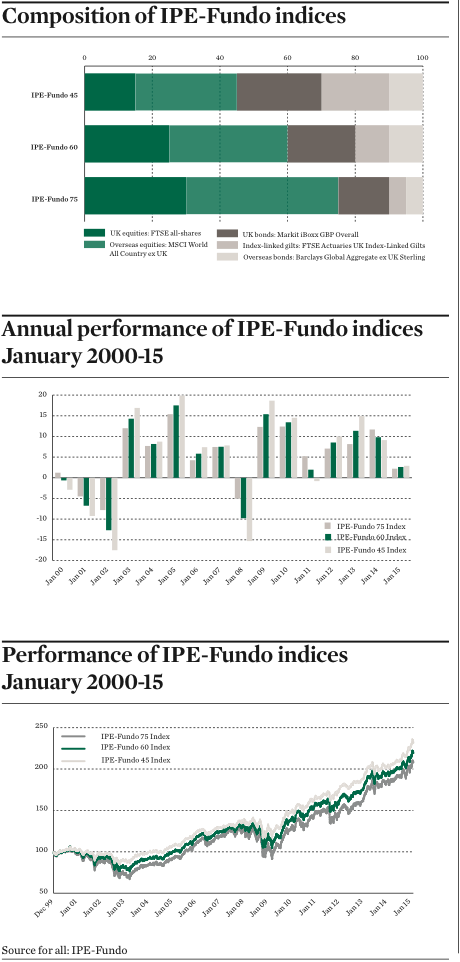 Absent from the IPE-Fundo series are several of the alternative asset classes and strategies, notably property. In part this decision was taken for the sake of the ease of understanding.
Despite their label, alternatives in general retain considerable correlation to fixed income and equity markets. Attempting to refine their differentiating characteristics further becomes a struggle because certain strategies such as hedge funds and private equity are not well represented by indices.
IPE-Fundo and LGPS
Absent from much of the discussion about the UK Local Government Pension Scheme recently has been comparators acceptable to all. There is the peer-group universe for LGPS administering authorities, and there are benchmark indices for each major asset class and region. The IPE-Fundo series provides a useful guide of broadly representative asset mixes for all. The average allocation of LGPS funds is broadly reflected in the IPE-Fundo 60 Index, which is 35% overseas equities; 25% UK equities. To repeat our message, this series is no substitute for in-depth analysis. It is, however, a useful information tool.
Acquiring sufficient data from all hedge funds over the long run has also proved impossible – hence the lack of reliably representative indices. Finally, few UK pension schemes make meaningful allocations to alternatives for us to justify including another asset-class index – for now.
The IPE-Fundo family will grow in time in response to demand and we welcome comments from pension scheme officials and others to help shape this growth.
An introduction to the indices and the full methodology can be found here, along with a fully downloadable performance history.
Fundo is an independent asset manager based in Switzerland focused on risk management strategies for pension funds. It also provides independent quarterly performance comparisons for members of KGAST, the Swiss Association of Investment Foundation Administrators.