Dutch pension funds are picking up a yield premium by using swaps 
Back in 2010, the IASB and its US counterpart, the FASB, published a document that proposed a re-think of financial statements
Has the UK FRC failed to enforce Section 172 of the Companies Act on directors' duties?
International pension plans involve complex questions of structuring and compliance
The annual pensions accounting survey from KPMG is revealing on assumptions around asset ceiling guidance, discount rates and life expectancy
MN Netherlands and PFA Denmark share their views on investment research under MiFID II

Arto Sirvio, Nokia's director of pensions, tells Carlo Svaluto Moreolo how the communication and information technology company manages a large portfolio of pension plans
It is a subtle point but important not to miss. Natixis Investment Managers is in plural form. The group is not just an asset manager but an owner of asset managers and the provider of a global distribution platform
Merseyside Pension Fund, Stapi Lífeyrissjóður Iceland and Fondo Pensioni BNL BNP Paribas Italy on investing in hedge funds

Christer Franzén , CIO of the Ericsson Pension Foundation, talks about the fund's capital-preservation philosophy

Frédéric Janbon inherited a complex multi boutique structure in 2015 when he moved from his position as special adviser to the board of BNP Paribas to become chief executive of the asset management business
APK Pensionskasse, APG Asset Management and Sampension Denmark share their views on hiring and keeping the best investment professionals
Olivier Rousseau, member of the executive board of Fonds de Réserve pour les Retraites, talks about regulation, ESG and his vision for the markets
Digital Edition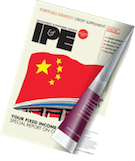 Subscribe to the digital edition of IPE magazine to view the latest issue directly in your browser.
The carry trade may be making a comeback, after a decade in the doldrums, laid low by the global financial crisis
The changing financial services landscape raises doubts about the belief that publicly traded investments are more liquid than private ones
The ongoing economic expansion is set to become the longest in the post-war era, at least for the US. The debate about the pros and cons of zero rates and quantitative easing continues
Integrating private markets within an asset allocation can be rewarding but is also challenging