Supervisor DNB warns against redistribution of pensions assets across participants

Lack of UK participation seen as unsurprising given Brexit process
But in Europe regulation was the top driver of pension funds' adoption of ESG principles

Plus: GPIF forges ahead with additional green bond partnership

Group was set up by the pensions regulator together with government departments
PIRC suggests FRC ignored s172, IASB completes hedge accounting amendments
Market now comprises 53 fewer schemes, with one new prospective entry being assessed

Plus: Government responds to cross-party MPs on costs and transparency, private members' bill introduced
As the valuations of traditional credit assets look stretched, we asked two Danish institutions how they invest in alternative credit markets
Tom Mergaerts , CEO of Amonis, tells Carlo Svaluto Moreolo about the Belgian €2.1bn pension fund's uncompromising investment philosophy
A year into Generali's ambitious growth plan, it looks set to meet its promises
After the ECB's announcement of more QE, we asked two pension funds how they plan to manage the prospect of lower yields

Gregor Asshoff  (pictured), board member of ZVK, the pension fund for Germany's construction workers, talks to Carlo Svaluto Moreolo about upcoming asset allocation shifts

By his own account Nico Marais is an extraordinarily lucky man. The CEO of Wells Fargo Asset Management (WFAM) is keen to use every opportunity to emphasise his good fortune. In Marais's modest telling of his own story, his success is thanks to the qualities of others, rather than to his own merits. "It's the story of my life. I've just always worked for amazing people," ...
We asked two pension funds whether the distinction between emerging and developed markets still makes sense

Harold Clijsen CIO of Dutch multi-sector Pensioenfonds PGB, speaks to Carlo Svaluto Moreolo about asset allocation, sustainable investment and member communications
Digital Edition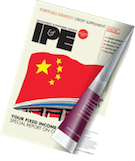 Subscribe to the digital edition of IPE magazine to view the latest issue directly in your browser.

The experience of Bosch shows that a better framework is required for cross-border pensions

A recent ruling by the UK Tax Tribunal decided that the imposition of UK income tax on the property income of a German pension scheme was unlawful under EU law
Some entities will not be eligible to offer PEPP products in Bulgaria, which looks like a recipe for market confusion