Carlo Cottarelli, the Italian economist and former IMF director, says fixing the European economy will mean taking difficult decisions
Key points

Carlo Cottarelli's recent book 'Pachyderms and Parrots' attempts to disprove many economic myths
In 2018 he briefly led an Italian caretaker government
The book contains one chapter dedicated to debunking the fake narratives criculated by the establishment itself
Cottarelli argues that the wider imbalances in Europe need to be addressed collectively
The latest book by Carlo Cottarelli, the Italian economist and former director of the International Monetary Fund's (IMF) fiscal affairs department, skillfully attempts to debunk the 'fake news' circulated by anti-establishment figures on the Italian and global economy.
A good example is the demonstrably false but still popular idea that prices doubled in Italy after the introduction of the euro in 2002. This originates from the notion that the conversion rate was fixed at 1,936 lire (the national currency at the time) to one euro. The conversion rate reflected current exchange rates on currency markets.
While it is true that prices rose relatively fast after the switch to the euro, they did not double. In his book, Cottarelli analyses the evidence, provided by the Italian National Institute of Statistics (ISTAT) to find the simple truth that prices rose by about 2.5% during 2002 and 2.7% during the following year.
Still, Italians would use a 2,000 lire to 1 euro conversion rate for ease of calculation, which added a perceived 3.3% to prices. Even adding up the real inflation rate and the perceived one results in a 6% rise. Cottarelli points out that perceived inflation rate represented a level not seen since the early 1990s. There was also significant dispersion in price rises, with some prices falling significantly too.
Inflation had been historically high in Italy, owing to the government's habit to devalue the lira in order to raise competitiveness internationally. However, Italians associated the introduction of the euro with undesirably high inflation. One can see how such narrative could be used to stoke anti-euro sentiment.
Cottarelli's book, entitled Pachidermi e Pappagalli (Pachyderms and Parrots) after a song by Italian pop singer Francesco Gabbani, tries to disprove many similar myths. But it also touches on more controversial topics. It argues against some of the narratives surrounding the austerity enforced by the technocratic government of Mario Monti in the aftermath of Italy's debt crisis in 2011.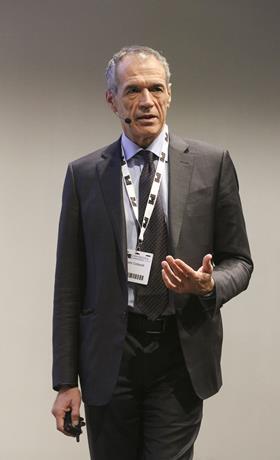 Another popular pre-conception is that austerity caused the debt-to-GDP ratio to rise, achieving the opposite of its intended objective, which was for debt to fall. This is a gross oversimplification, but it gives credence to the argument that raising government spending is the only way out of Italy's low-growth and high-debt trap.
Higher spending was the main economic strategy of the previous government, which put the country on a collision course with the European Commission. Cottarelli, on the other hand, has been a vocal advocate of fiscal adjustment. He argues that Italy cannot break free of its sovereign debt shackles without balancing its budget.
In his view, balancing the budget is essential to avoid speculative attacks by bond investors and to channel government spending towards more productive areas of the economy. This is part of this recipe for how Italy would achieve long-term growth. Other ingredients are curbing tax evasion and corruption, reducing red tape and speeding up court trials.
Carlo Cottarelli
● 2017 to present: Director of the Osservatorio Conti Pubblici Italiani (Italian Public Finance Monitor) at the Università Cattolica del Sacro Cuore of Milan
● 2018: Visiting professor, Bocconi University
● 2014-17: Executive director of the International Monetary Fund (IMF) Board representing Italy, Albania, Greece, Malta, Portugal and San Marino
● 2013-14: Commissioner for Italy's Public Spending Reform
● 2008-13: Director of the IMF fiscal dffairs department
● 1998-2008: Various roles at the IMF
● 1987-88: Head of the economic research department, ENI
● 1979-87: Economist, Bank of Italy
● BSc in economics and banking from the University of Siena and MSc in economics from the London School of Economics
Cottarelli became a public figure in Italy in about 2013 when he was tasked with reviewing the hefty government budget by the then prime minister Enrico Letta. He came up with a programme of budget cuts that would have generated about €34bn of savings. It included elements such as standardising procurement budgets and reducing the number of procurement agencies.
To illustrate how badly Italy needed – and still needs – to rationalise its government budget, Cottarelli recalls an anecdote of his days as spending review commissioners. "There is a local authority that runs funeral services, where in most places they are run by the private sector. I asked why that was the case, and the answer was that it was legal because the law stated that the local authority could intervene in any areas of general interest. They asked: what is of more general interest than death?"
The implementation of Cottarelli's programme of budget cuts was liable to political shifts. In 2014, Letta was ousted by fellow Democratic Party member Matteo Renzi, who became one of the most influential politicians in Italy's recent history. Renzi was worried about the political implications of the programme and appointed Cottarelli to serve on the IMF board. In the end, the most ambitious elements of his plan were ignored. Cottarelli later estimated that only about €8bn to €10bn of savings were implemented.
In 2018, Cottarelli was again involved in politics. Italy's president Sergio Mattarella appointed him to lead a caretaker government, after the negotiations to form a government between the League and the Five Star Movement had stalled. His tenure as prime minister lasted for a few days, until negotiations between the parties resumed and Italy's populist government was formed.
Cottarelli has since gone back to his academic work. He leads the Osservatorio Conti Pubblici Italiani, an organisation based at the Università Cattolica del Sacro Cuore in Milan that monitors Italy's public finances. He remains ubiquitous in the Italian media, commenting on economic policy issues.
Having worked at the IMF for nearly three decades, he is seen by some as the quintessential 'establishment' figure, a technocrat with a fondness for rules, particularly with regard to fiscal affairs. However, he recognises the weaknesses of what populists would identify as technocratic policy-making.
As well as dealing with the false narratives perpetuated by anti-establishment figures, Cottarelli's recent book contains one chapter dedicated to debunking the fake narratives criculated by the establishment itself. These are ideas such as 'growth-friendly fiscal adjustment' and 'inclusive growth'.
In Cottarelli's view, the establishment's rhetoric is misleading because it that paints too positive a picture of reality. He says: "The characteristic of the fake narratives of the establishment is that they make policy choices appear cost-free. The establishment suggests that results can be obtained without sacrificing anything."
"Problems such as global warming or income inequality are all deemed to have a 'win-win' solution. This may be true in the long term but in the short term there are always costs to bear and trade-offs to consider."
"If a society is too unequal, it fails, but redistributing income to address inequality can affect incentives, and in the short term this can create problems. Fiscal adjustment can be achieved but there can be significant costs to growth in the short term."
The IMF is one of the institutions using the rhetoric that Cottarelli is referring to. He says that the organisation has significantly changed its style of communications in recent years and that there has also been a slight change in its approach to policy. "Within fiscal adjustment programmes, more attention is given to protecting expenditure on health services and education, particularly in developing countries,", he says. However, the substance of policy-making remains the same. Cottarelli says: "There are painful choices to make when it comes to closing deficits."
When it comes to Europe, Cottarelli argues that the European policy of keeping interest rates at negative levels is problematic. He says: "We need to recognise the fact that we are exaggerating the problem of growth. We are keeping interest rates negative in the absence of a recession. Europe is still growing, albeit more slowly than last year. What would we do if we had a real recession? Are we trying to do away with economic cycles? A mere slowdown should not justify fiscal expansion."
That is not to say that our economies are in good shape. The global economy is growing at a rate of about 3%, which Cottarelli says was for a long time considered a 'natural' rate of growth by the IMF. However, he sees great risks surrounding the level of debt to GDP in the world economy. Both private and public debt have grown to such an extent that if a reversal in interest rates were to occur, the fragility of the current situation would become apparent. The issue is particularly relevant to Italy, which could become the target of 2011-style speculative attacks if the debt-to-GDP level were to rise further.
Central banks have called on governments to pursue a more expansive fiscal policy but high public debt levels leave little space for such activism. Cottarelli's explanation for this predicament is perhaps not obvious. He says: "Central banks have been forced to keep monetary policy so expansionary over the past decades because of the huge changes in income distribution that have occurred."
Cottarelli does not dismiss the lack of productivity growth in the economy as a likely reason for structurally low growth in developed economies. However, he emphasises another interpretation. He says: "The large shift of income distribution in advanced economies towards the richest is causing a trend decline in aggregate demand. No matter how much the rich try to consume, they cannot consume as much as the millions of middle-class people."
"Because of this shift in income distribution, the lower middle-class is disappearing in the US and other countries, and to ensure that people continue to buy goods it is necessary to keep interest rates low so that people borrow in order to consume."
In Italy, the change in income patterns has been tremendous. Cottarelli points out that income per head is at the same level as 20 years ago. This is linked to the loss of international competitiveness by Italian firms, a structural weakness that successive governments could not tackle.
There are internal solutions to Italy's problems but Cottarelli argues that the wider imbalances in Europe need to be addressed collectively. Cottarelli proposes the creation of a budget for the EU. He says: "If we compare Europe with the US, we can see how the US states do not make fiscal policy. In Europe, we cannot leave active policies to individual countries as conflicts emerge. A federal budget would generate the resources to support economic activity."
That proposal perhaps does not chime with the popular mood in many European countries. But it is one that has endured the confidence crises that have engulfed the EU at many points in its history.
Cottarelli's main message is that fixing the problems of the European and global economy will require painful measures. He is not alone in taking this view. He reminds us, however, of the importance of a long-term approach to economic policy. Based on his observations, it appears policymakers are severely lacking in long-term thinking.