The new European Commission will inherit a coherent but partially implemented Capital Markets Union (CMU) in the autumn. But much needs to be done to consolidate, refocus and re-energise this landmark constellation of policies and objectives.
One policy is in danger of falling well short of its objectives.
The Pan-European Personal Pension (PEPP) policy, agreed in early 2019, suffers from two structural flaws. One is that competing policy aims – individuals' capital security versus individuals' need for capital growth over their working life – were not fully reconciled.
While the 0% guarantee of contributions paid may seem, on the surface, like a political compromise between the insurance and asset management lobbies, Germany's experience with a similar structure since a 2002 pension reform has been mixed and it has now introduced a new occupational pensions structure without guarantees – a significant cultural shift, should it be adopted.
The second major flaw of PEPP is that it was conceived from the outset with two objectives. One was to meet the aims of the CMU, as a vehicle to provide infrastructure funding by channelling European household savings away from low-yielding bank deposits. The other, of course, was to raise pension adequacy and coverage.
As the Dutch economist Jan Tinbergen famously conceived, policy makers require an instrument for each objective they seek to achieve. In the case of PEPP, national member state tax incentives will probably be the defining factor in whether it meets its goal to increase pension savings.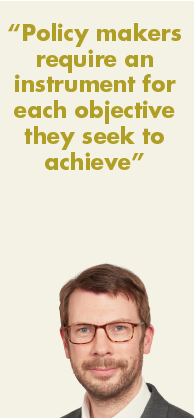 Asset allocation objectives and market incentives, including availability and pricing, will determine whether PEPP vehicles do channel assets to long-term assets that will meet the CMU's objectives.
The 2009-14 Commission focused on post-crisis financial system repair, just as the recent mandate period focused on restructuring the capital markets, including policies to reorient debt financing away from banks and towards long-term investors such as pension funds.
CMU aside, this process is already well under way across the world as maturing pension funds have sought yield to compensate for ultra-low rates and have piled into newer asset classes like infrastructure, private debt and loans. Regulations, including Solvency II in some cases, have often provided a strong incentive. It is not news that record inflows into some of these asset classes have driven up prices to levels where it is hard to find much of a yield pickup.
PEPP providers could find themselves late to the party if they are looking to compete for the same long-term assets as their more established competitors.
And none of this addresses the urgent need to increase pension coverage and retirement income adequacy across the EU.
Liam Kennedy, Editor
liam.kennedy@ipe.com
Policies needed
1

Currently reading

Policies needed

2

3

4