Structural changes in pension fund asset and liability profiles are making alternative credit more attractive to pension funds, finds Christopher O'Dea. This is transforming fixed-income allocations as investors navigate a new universe and compete for scarce assets
At a glance
• Maturing pension funds need more fixed-income options as their asset mix becomes more annuity-like.
• The alternative credit universe is actually numerous small markets with unique characteristics.
• Allocations are rising rapidly from a low base as managers and consultants devise new vehicles to tap alternative credit risk premia.
Behind all the headlines about the profusion of credit-based investment options, a more fundamental story has been unfolding for a number of years, which is changing the typical pension fund's asset allocation. These new approaches are so different that one of the mainstays of institutional portfolio management might be relegated to a sliver of overall assets.
One major consulting firm has already adopted a new moniker for thinking about the traditional bond portfolios, replacing the idea of 'fixed income' with the broader concept of 'secure income' that can be harvested from a long-term-oriented portfolio viewed as a basket of 'useful cashflows' instead of positions in interest-bearing securities or allocations to fixed-income strategies.
"What we've seen over the last few years is defined benefit pension schemes start to look a lot more like annuity funds than they used to, as they close down or as they become mature," says William Nicoll, co-head of alternative credit at M&G Investments. "Pension funds, as they start to think and look more like annuity funds, will move to the same sort of asset mix, which is going to include a lot of the alternative credit assets," he adds. "An annuity fund can afford to take the lack of liquidity in a lot of these credit assets – and hopefully get the higher returns that you'd expect."
There's no doubt that alternative credit strategies are joining the mainstream. At its annual investment manager update in February, Willis Towers Watson said alternative credit searches more than doubled in 2014 and 2015. Pension funds are deploying more capital to a wide array of strategies that can replace scant yield from sovereign and investment-grade bonds, including subordinated infrastructure debt, direct lending funds, residential-mortgage securities, and even asset-based lending strategies that trade the outstanding stock of bonds backed by credit cards.
The search for yield from alternative credit sources highlights a major practical problem thrust upon pension funds by the low-interest-rate policies since the financial crisis – meeting liabilities and sometimes onerous solvency and funding requirements in the face of what is, essentially, financial repression. While strong equity returns have boosted the asset levels at many plans in some recent periods, observers say too many are still facing significant unhedged liabilities.
Consultants are keen to help clients assess the situation, advising on increased allocations to alternative credit assets, often as a way to reduce reliance on – and allocations to – the equity risk premium, while taking care to identify skilled managers of sometimes arcane strategies that can be accessed in a cost-effective manner.
A new paradigm?
The ongoing rotation into these strategies raises the question as to whether the classic split of a portfolio between liability-matching and return-seeking assets makes sense any longer, since investors might also be trimming government bond holdings to fund long-term alternative debt such as private infrastructure bonds as a yield replacement, rather than a source of return.

While market participants say that split is here to stay, there are two major changes in motion that promise to transform the bond and credit buckets of the typical pension portfolio. First, the balance between liability-shifting and return-seeking is tilting inexorably towards a world where more pension investors will need ever-larger blocks of liability-matching assets. This is creating the second major change as the management of the return-seeking elements of credit and fixed-income portfolios promises to become much more dynamic as funds assemble their required cashflows from the forms of credit that will be available at a given time.
"The alternative credit market is a very large market that's made up of numerous small, specialist markets," says Nicoll. Because different sectors offer value at different times, it's important to adopt a multi-asset approach in order to avoid becoming a "forced buyer of whatever the market has on offer", he says. The demand for liability-matching assets makes for rapid uptake of credit products: "At the moment, there are more clients than assets."
Part of the attraction of alternative credit strategies is that the balance between return and income is "not mutually exclusive", says Peter Drewienkiewic, head of manager research at the UK-based consultancy Redington. "There is a middle ground opening up, set between the two stools of pure liability matching and pure return-seeking strategy," he adds. "But the world of managers that can do this is pretty small."
Several of the major alternative credit strategies are primarily diversification sources rather than true liability hedges, according to Drewienkiewic. Subordinated debt and subordinated infrastructure debt, as well as distressed-debt strategies, tend to carry seven to 10-year terms, by way of example, while US business development companies (BDCs) produce loans with three to five-year terms, and direct lending strategies are shorter still at two to five-year terms. "They're yield plays, and you're going to need to do some of that, but they're shorter-dated," Drewienkiewic says.
In liability-matching terms, Drewienkiewic advises pension funds to look to assets that have the long-dated cash flows they need, even if they are not typically classified as alternative credit. Those include UK property long leases, which can carry 30-year terms, and senior, secured infrastructure debt, which pays lower yields but can provide income streams of up to 40 years.
Certain unlevered renewable-energy assets also fit the new specifications that pension funds are using as they remodel their fixed-income portfolios. The attraction is easy to see. Against an equity risk premium of just 3-3.75% over the risk-free rate, Drewienkiewic says, alternative credit strategies offer yields of LIBOR-plus 3.5-5% for longer-term alternative credit strategies, and up to LIBOR-plus 8% for some direct lending strategies. But those strategies are not highly scalable.
Talent scouts
Finding alternative credit managers and devising structures to make these yield premia accessible to clients is a top priority for Willis Towers Watson in 2016. "Clients tend to be underweight the whole alternative credit bucket," says Nimisha Srivastava, who heads the consultancy's alternative credit research effort and EMEA manager research team. The remit of Willis Towers Watson's credit research spans securitised credit, credit long/short, high yield, bank loans, emerging market corporate debt and multi-strategy credit (see figure 2). The firm says that although alternative credit, excluding illiquid credit, represents over 25% of the global credit universe, its clients have only invested 8% of their total credit portfolios into alternative credit and less than 1% into illiquid credit.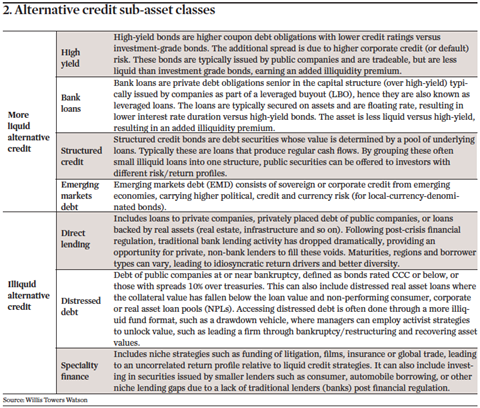 Willis Towers Watson refers to this range of yield sources as 'secure income'. In recognition of the diversity of the return drivers, it advises pension funds to place capital with active managers that can invest – unshackled by rating restrictions or benchmark guidelines – through a variety of methods in trades and themes that require a long time period to unlock value.
Manager skill is a significant return driver in alternative credit strategies, the firm says (see figures 1 and 2). "We're exploring a lot of strategies," says Srivastava. "When we identify a manager that has skills in a certain area, we'll collaborate with them to design a fund or vehicle that provides our clients access to the strategy."
For example, Willis Towers Watson recently started a fund focusing on US residential mortgage-backed securities with a structured credit manager. In the corporate sector, the firm has helped clients shift about €5bn from traditional investment-grade corporate credit into a mandate investing in high-quality collateralised loan obligations. Another new fund focused on long-lease ground rents for smaller property lots. By investing with a newer manager willing to tackle the smaller lots, the fund offers a yield premium over large long leases dominated by large asset managers. Six clients seeded the strategy in December 2015 with €300m.
The name of the game in alternative credit is finding new frontiers. "End investors are looking to broaden the asset mix and the sources of yield and income beyond traditional fixed income as the backdrop of low and negative interest rates has made it extremely difficult to achieve income goals with those assets," says David Riley, head of credit strategy at BlueBay Asset Management.
BlueBay's global multi-asset credit strategy selects the 'best ideas' among regions and asset classes, including direct lending, emerging market local-currency corporate debt, distressed credit and bonds. The firm's total return approach is currently yielding between 5.5% and 6%. That's the lower end of its 5% to 10% target range, Riley says, as the portfolio is positioned cautiously on both its credit stance, and through asset allocation to defensive sectors like loans.
Demand from asset owners for investment vehicles that can reliably harvest income from a wide range of alternative credit sources is set to grow for years to come. The recovery plan for the average UK pension scheme has a nine-year time horizon, says Drewienkiewic, which will increase demand for liability-matching assets as more plans near the point where they're sufficiently funded to trim back riskier return-seeking assets.
This is a natural evolution as schemes close and scheme members age, says Mark Versey, head of global investment solutions at Aviva Investments, which manages £20bn (€25.5bn) in alternative credit assets for institutions. "Insurance companies may have up to 50% of their assets in alternative income sources," he says. "Pension schemes are coming from zero, but we're now seeing allocations up to 20% at some schemes." The reason, Versey says, is that alternative credit is fit for purpose. "It's the perfect asset class."