Passive investment has been more popular than active over the past five years with investors focused on cost and value, writes Charlotte Moore. But recent market trends could favour a return to active management
At a glance
• A change in the economic environment could prompt a switch back to active management.
• Active strategies tend to underperform in a one-way-momentum market.
• Rising interest rates are likely to favour stockpickers.
• Value stocks should also benefit from a tightening of monetary policy.
Over the past five years European pension funds have turned away from active managers and towards passive investment vehicles as these investors focused more closely on cost and value. But a change in the economic environment could encourage pension funds to re-allocate assets to active managers.
Since the financial crisis, there has been a growing sense of dissatisfaction among institutional investors about active manager performance. Benjardin Gärtner, head of equities at Union Investment, says: "The returns generated by some active funds have not met investor expectations."
Higher costs, relative to passive products, has further weakened the case for active funds. Gärtner says: "Returns across many asset classes have fallen in recent years, making investors balk at paying high fees for lower yields." Luba Nikulina, global head of manager research at Towers Watson, adds: "Institutional investors acknowledged that active managers did not represent the best value proposition."
This closer focus on cost and value by institutional investors happened against the backdrop of a positive environment for market-capitalisation-weighted indices. Equity markets, in particular, benefitted from quantitative easing and ultra-loose monetary policy as investors chased yields they could no longer find in fixed-income markets.
Jason Hsu, co-founder and vice-chairman at Research Affiliates, says: "This wall of money created a spike in asset prices." In addition, as some segments of securities markets become more expensive, investors start to trend-chase. Hsu says: "This causes a virtuous cycle where returns attract flows and flows, in turn, drive returns." In other words, momentum becomes the key driver of market performance.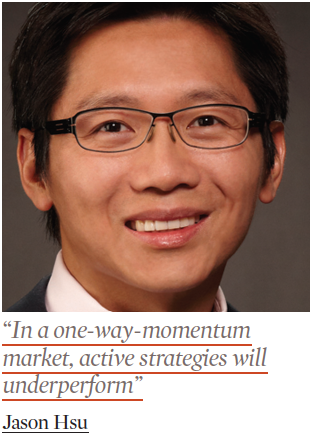 The nature of a market-cap-weight index makes it excellent at capturing momentum; the more the price of a particular stock rises, the greater the contribution it makes to an index. But active managers select their stocks for fundamental reasons rather than recent price movements and so their performance fails to keep pace with that of a market. Hsu says: "In a one-way-momentum market, active strategies will underperform."
This outperformance of market-cap-weight indices and the underperformance of active managers further strengthened the case for passive investing. "The net result was strong inflow of assets into passive vehicles," adds Peter Ferket, CIO of equities at Robeco.
"Companies with significant exposure to the emerging markets have considerably under-performed those with a greater reliance on developed markets"
Benjardin Gärtner
But while passive products and their underlying indices have performed well over the past five years, the outlook is not so rosy. After a bull market has lasted for several years, investors start to get nervous about assets being overpriced. Hsu says: "Investors are focusing more on whether stocks are overvalued."
At some point, there will be a trigger to crystallise these valuation concerns and the market cycle will switch, causing momentum trends to reverse and market-cap-weighted indices to fall. The return of a more normal economic environment once rates rise could spark this change, adds Ferket.
In such an environment investors will focus more closely on the characteristics of individual stocks. Ferket says: "At this point dispersion will return to the market resulting in significant difference in the return profiles of different companies." In these market conditions active managers perform well because of their focus on company fundamentals.
It is hard to spot at a market level but there are signs that dispersion is already starting to emerge. The performance of equity markets has been erratic over the course of the year with the first half performing well, a sharp correction over the summer and then a recovery.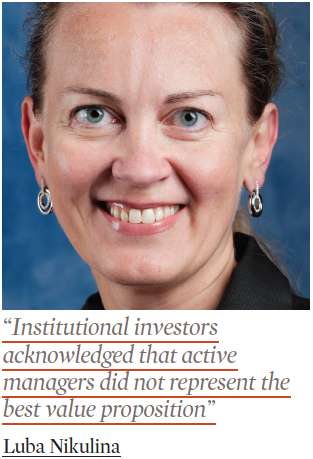 However, underlying this erratic overall performance are some clear trends. "Companies with significant exposure to the emerging markets have considerably underperformed those with a greater reliance on developed markets," Gärtner adds.
There has also been a divergence between industrial and commodity companies compared with consumer-focused companies. Gärtner says: "Service sector earnings have outperformed the manufacturing sector." That greater earnings potential has translated into better price performance.
It is not possible to take advantage of these emerging trends through a passive index strategy – they can only be implemented through active alpha strategy, adds Gärtner.
But while the case for pursuing more active strategies might be strengthening, European pension schemes will only consider allocating more to these strategies after taking all the other constraints into consideration.
Nikulina says: "Schemes need to consider whether this still represents good value after the costs have been taken into account and whether they are able to select the right managers."
Will value start to outpace growth?
Charlotte Moore
Value investors have had a torrid time in recent years. On a 10-year relative performance, the MSCI World Value index has underperformed the MSCI World Growth index by 30% – similar to the period at the end of the internet boom at the end of the 1990s, as NN Investment Partners points out.
While value stocks are out of favour in both the US and Europe, the drivers of that trend are different. Michael Peterson, portfolio manager of Pzena, says: "In the US, the technology and biotechnology sectors are generating very high growth rates."
But Europe lacks stocks generating similarly high levels of growth. Peterson says: "In this region investors have favoured those stocks which represent quality and have stable earnings which translate into reliable dividend streams." Effectively, these stocks are proxy for bonds, he adds.
Despite the difference between the regions, the low-interest-rate environment on both sides of the Atlantic has played an important part in this disenchantment with value stocks. Nicolas Simar, head of the equity value boutique at NN Investment Partners, says: "Growth stocks and those viewed as quality stocks have been the major beneficiaries of very loose monetary policy."
However, with the prospect of increases in US interest rates, there is a good chance this trend could start to reverse in this market. The outlook for value stocks might also improve in Europe. Simar says: "The ECB's quantitative easing plan should hopefully re-awaken inflation."
In addition, the leading economic indicators point towards further recovery in Europe. "This should favour value stocks as these companies tend to be more reliant on a buoyant domestic economy," Simar says.
Peterson concurs: "Even a small increase in interest rates in the US and a rise in economic growth in Europe could cause investors to rotate out of expensive growth and quality stocks and back into cheap value stocks."
But investors should be aware than even though these economic conditions will be more favourable to value stocks, the outlook for some sectors is better than others. Peterson says: "Financial services companies comprise a significant proportion of the value market and will benefit from the higher-interest-rate environment."
But the outlook is less clear-cut for mining and energy stocks. "The outlook for mining stocks remains weak, given the dependence of these stocks on Chinese demand," Peterson says. However, the outlook for energy is slightly more positive since they are less reliant on one particular country.
But even in these challenging sectors, it is worth considering the merits of individual companies. "The outlook for one energy company might be considerably better than for another because of the characteristics of that company," adds Peterson.
Accessing the right sectors and specific companies in a sector with a generally bleak outlook requires employing an active manager, he continues.
There is no guarantee, however, that a turnaround in value stocks will come quickly, but it should happen over the longer term. Peterson concludes: "It's unrealistic to expect growth to continue to outperform over the long run. This would be at odds with the longer-term data which shows that value works."
Active Management: The active-passive debate
1

2

3

4

5

6

7

Currently reading

Time to become more active?