Financial Markets: Europe still courting China
European financial centres are still keen to court China despite the country's economic slowdown and recent market meltdown. Lynn Strongin Dodds reports
At a glance 
• China is keen to widen the international use of the renminbi.
• Offshore trading centres for the Chinese currency have emerged in Europe.
• Luxembourg is an important regional hub for Chinese asset managers and banks.
• Frankfurt is also developing financial ties with China.
Despite China's economic slowdown and the ensuing market meltdown, the country is the European Union's largest trading partner and financial centres are taking a bet on its long-term prospects. They have been busy courting authorities not only to cement new partnerships but also to strengthen existing ties. 
"China is not a short-term play," says Rebecca Healey, European consulting analyst for TABB Group in London. "We will see several strategic alliances being created over the next decade. Part of the push is to widen the renminbi as China moves to a service economy from a manufacturing-led economy and looks to countries such as the UK which is known for its service industries. The other side is the wider geopolitical elements, in that the balance of power is shifting and developed countries want to align themselves with those that have wealth."
Another impetus is the country's desire to diversify its trade flows, according to Russell Dinnage, a senior consultant with the London-based capital markets advisory firm Greyspark. The Chinese government has been promoting greater use of the renminbi in international trade and finance to decrease the country's dependence on the dollar and move towards making the currency convertible for investment purposes. "Europe has been a prime candidate and its potential could be further enhanced by the Transatlantic Trade and Investment Partnership (TTIP) which aims to boost the economies of both sides by removing and reducing trade barriers," he adds. 
The TTIP has been mired in two years of discussions, although the recent Trans-Pacific Partnership trade deal struck between the US with Japan and 10 other Pacific Rim economies gives participants hope that talks will be accelerated even if a final agreement cannot be reached before US President Barack Obama leaves office in 2017. 
Inclusion in the International Monetary Fund's Special Drawing Right (SDR) fold is also expected to give the renminbi the status the Chinese government has been longing for. Beijing loosened government controls on the currency in August, allowing it to devalue. The IMF, which will announce its decision in November, saw the policy shift as a step toward a freer exchange rate, potentially setting the stage for the currency to join the dollar, euro, yen and sterling in the SDR reserve basket.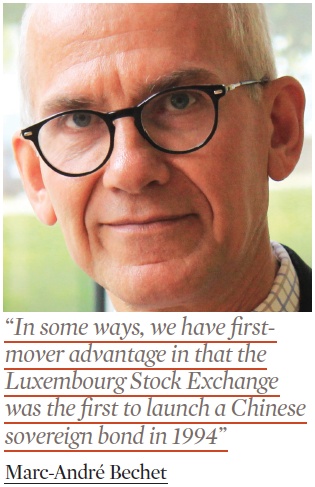 Against this backdrop, the rivalry for Chinese attention is intensifying but Rongrong Huo, global head of China and renminbi business development and capital financing at HSBC, says that countries that play to their own strengths will be the most successful. "The pie is big enough but the value of each country will be based on the unique value and services they can offer."
Michael Tsang, senior vice-president and head of relationship management and sales for Hong Kong at Brown Brothers Harriman echoes these sentiments. He notes that the proliferation of renminbi offshore centres in key European financial hubs and the extension of China's Renmimbi Qualified Foreign Institutional Investors (RQFII) quotas to Europe, combined with the establishment of overseas offices of leading Chinese asset managers in Luxembourg and London, lends further weight to the growing appetite for Chinese financial instruments. "I expect to see London, Frankfurt and Luxembourg continue to vie with each other for a strategic niche, whether from a trading or investment management perspective," he adds. 
Luxembourg has already successfully leveraged its position as a leading European fund management centre, boasting the largest renminbi deposits in the region at RMB61.5bn (€8.6bn) as well as investment strategies, at RMB296.3bn through pan-European UCITS funds and other investment vehicles. The Grand Duchy was also recently granted a RMB RQFII mandate by the Peoples Bank of China (PBoC) to directly invest up to RMB50bn in mainland China. Major international and Chinese fund promoters had already set up RQFII funds through the country's domiciled vehicles, using other jurisdictions' quotas. 
In addition, five Chinese banks – Industrial and Commercial Bank of China (ICBC), the country's largest lender by assets, Bank of China, China Construction Bank, Bank of Communications and Agricultural Bank of China – have set up their European headquarters in Luxembourg, while the China Merchants Bank recently established a branch.  
Although the regulatory environment is welcoming, it also boils down to long-standing relationships, according to Marc-André Bechet, director of legal and tax at the Association of the Luxembourg Fund Industry (ALFI), the official representative body for the Luxembourg investment fund industry. "In some ways, we have first-mover advantage in that the Luxembourg Stock Exchange was the first to launch a Chinese sovereign bond in 1994, as well as the first reminbi-denominated bond by a European issuer (Volkswagen) listed at the Luxembourg Stock Exchange in 2011. 
"We have the right connections and an alliance with the Asset Management Association of China [AMAC]. ALFI also operates a large number of industry working groups and we were fortunate to have representatives of Chinese banks on our RQFII working group." 
Huo adds: "Several Chinese banks have made Luxembourg their regional headquarters and this creates an interesting dynamic for other countries, in terms of creating an environment that helps Chinese banks to develop further. For example, the UK has already started granting branch licences in addition to the previous subsidiary set-up."
Last year, the UK's Prudential Regulation Authority revised its rules and is now considering banks if they demonstrate strong resolution plans. In the past, UK regulators were wary of giving licences to overseas companies to operate without close supervision due to fears of a crisis at the parent bank taking hold in the UK. China Construction Bank and ICBC have been granted a licence and more are expected to follow.
London's prowess as the leading European financial centre and the world's biggest foreign exchange and bond trading centre is also a draw, although there are doubts over the proposed London Stock Exchange (LSE) and  Shanghai Stock Exchange (SSE) connection. A feasibility study has been launched but Florence Lee, head of China sales and business development, EMEA, for securities services at HSBC anticipates that there will be several challenges, most notably settlement and time differences.  
"The market in China will be closing just when people in London are waking up," she notes. "This cannot be just simply replicating the existing model of the Shanghai-Hong Kong Stock Connect. They will have to think out of the box when looking at linking the two." 
Herbie Skeete, managing director at exchange provider Mondo Visione also sees different settlement cycles, as well as currencies, as substantial hurdles. In addition, as witnessed this summer, the Chinese authorities have a heavier touch in terms of intervening in the markets. He says they will have more success with renminbi-denominated Global Depository Receipts (GDRs) and exchange-traded funds listed on the LSE. 
Mark Helmsley, chief executive of BATS Chi-X Europe, says the foreign exchange markets offer better opportunities for a tie-up because they are established markets in offshore currencies, non-deliverable forwards and other vehicles that trade 24 hours a day all through the year. 
Other exchanges are also looking to develop alliances but in specific areas. For example, in September pan-European bourse Euronext entered into an agreement with its Shanghai counterpart to enhance the promotion of its market data in China. The deal also includes educating the Chinese market on the equities available on Euronext, which include half of the Euro Stoxx 50 constituents and other high-tech stocks of particular interest to investors.
The Frankfurt Stock Exchange is also firmly in the game. Last year, it signed an accord with Bank of China to expand a partnership that helps Chinese issuers and Asian investors to access European capital markets, including stock listings. Germany has also sharpened its trade finance edge with the Bundesbank and PBoC agreeing to facilitate transactions in the renminbi and to co-operate more closely in clearing and settlement arrangements of payments in the Chinese currency.