China's rapid rise in the technology stakes is causing tension among other world-leading manufacturing countries
Key points
The US and the EU are concerned about China's technology aspirations
As China becomes more technologically sophisticated it is becoming increasingly concerned to protect intellectual property
Over half of China's research and development spending is focused on the telecommunications sector
Artificial intelligence is also at the top of China's wish-list
Beijing proudly unveiled its Made-In-China 2025 (MIC2025) strategy in 2015 as a blueprint for China's transformation from world factory to global technology leader.
Under the imprimatur of President Xi Jinping, China has identified a dozen key sectors in which it seeks to excel. These include advanced robotics, aerospace engineering, artivicial intelligence (AI), high-end rail infrastructure, next generation information technology and telecommunications.
China's technology aspirations have set off alarms bells in advanced economies, in particular the US and the EU. Some even say it is China's MIC2025 concept that sowed the seeds of the current US-China trade war.
"Absolutely. Current [trade] tension is all about technology," says Francis Gurry, director-general of the Geneva-based World Intellectual Property Organisation (WIPO), a United Nations specialist agency.
"Why? Because technology is the source of competitive advantage in an economy. There is a technology race on between the US and China. The US is still ahead but China has been rising quickly. And whenever a leader in any competition – whether porting or economic – is challenged, tensions arise."
Gurry has a good bird's-eye view of global technology development through the lens of world filings for patents, industrial designs and trademarks.
"The Chinese leadership is highly focused on transforming its economy to, if you like, a higher level or an increased knowledge base, with more emphasis on design and innovation in the manufacturing process."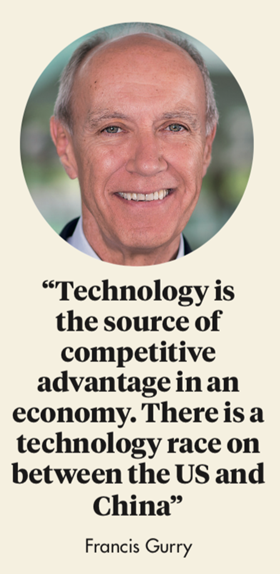 As it becomes a technological power, he says, China's interest is increasingly in the protection of intellectual property (IP) for its own manufacturing. Chinese firms and institutions are seeking protection both within China and internationally.
In 1990, China's Patent Office received 10,000 filings. That number grew to 400,000 in 2010 and by 2017, had reached 1.3m. China handles the largest number of domestic patent, trademark and design applications in the world.
Overseas, China has also lodged with WIPO, under the Patent Co-operation Treaty (PCT), the second-largest number of filings in the world, behind the US.
Last year, US-based applicants filed 56,142 PCT applications, those in China filed 53,345, and Japan 49,702, with Germany and South Korea trailing behind at 19,883 and 17,014 respectively.
"On current growth rates, China will overtake the US this year, or in 2020," says Gurry.
Zhang Jing Bing, research director of IDC Manufacturing Insights Asia-Pacific, says the technology gap between China and other world-leading manufacturing countries is narrowing. IDC is a leading provider of global IT research and advisory service.
Under MIC2025, China lists five key endeavours – to create a national innovation centre, strengthen the industrial base, enhance intelligent manufacturing, promote green manufacturing and apply high-end equipment.
Of these five, the effectiveness of the intelligent manufacturing enhancement project has been the most remarkable, says Zhang.
"The average production efficiency of the first batch of 109 intelligent manufacturing pilot demonstration projects improved by more than 30, and the highest efficiency gain was greater than 200."
Progress in other areas has been patchy. 'Enhanced intelligent manufacturing' has made much progress, but the promotion of both the 'industrial strong foundation project' and 'innovation engineering centre project' is "fairly difficult and slow", Zhang says.
"Technology is at the centre of the changing relationship between China and the world," says the San Francisco-based McKinsey Global Institute (MGI) in newly-published research entitled 'China and the World – Inside the dynamics of a changing relationship'.
It says China's MIC2025 plan sets targets for domestic companies to achieve domestic market shares of between 40% and 90% in 11 of 23 technology sub-sectors prioritised by the government.
With China channelling 57% of its overall research and development (R&D) spending to the telecommunications sector, the country is betting heavily on leading the world in the race for fifth generation (5G) technology. "Lenovo, Huawei and other vendors have all claimed they will offer the world's first 5G device," says Zhang.
More tangible, however, is China's success with electric vehicles (EVs). In 2018, sales in China reached 1.27m vehicles, 62% of the world total.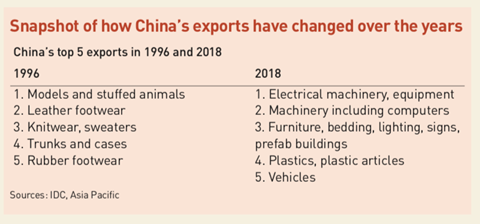 Sales of electric buses in China grew from 1,000 units in 2011 to 116,000 in 2016, on the back of government support.
Shenzhen, on the border of Hong Kong, is the first city in the world to run an entirely-electric bus fleet. According to MGI's calculations, Shenzhen's government is subsidising the fleet at more than $1bn (€900m) a year.
Most new energy vehicles sold in China are local independent brands but they run mainly on imported core components (motor and electric controls), says .
Chinese carmakers have been forging strategic relationships and mergers with foreign carmakers to import their technologies.
The Chinese carmaker Geely last year acquired a 9.69% stake in Germany's Daimler to access battery technology and to strengthen its R&D ability in battery electric vehicles. Meanwhile, Great Wall Motor has formed a joint venture with BMW to co-operate on new energy vehicles and future technologies.
Intelligent advantage
AI also sits at the top of China's wish-list. WIPO's Francis Gurry says China is performing well on AI as measured by the number of patent applications and the number of scientific publications coming from entities like the Chinese Academy of Sciences.
China is level with the US in AI research, with each country spending $20bn on R&D in 2017, Gurry says. Europe, in comparison, spends about $2bn.
China's stated aim is to create a domestic AI market of RMB1trn (€131bn) by 2020, and to become a world-leading AI centre by 2030, says MGI.
Three of China's internet giants, Alibaba, Baidu and Tencent, have joined iFlytek, a voice-recognition specialist, to form a national team to develop AI in areas such as autonomous vehicles, smart cities and medical imaging.
About 40% of all Chinese businesses have adopted AI, compared with the international average of 30%, but less than 10% of Chinese manufacturing companies have adopted AI, says MGI.
"Stories in the media about widespread AI adoption in China tend to exaggerate the gaps between east and west," says the MGI research team.
In robotics, however, China's take-up of industrial applications is impressive. Zhang says: "Our numbers show that China will take up 38.3% of the world's total robotics production by 2022. Including support services and software, that would be worth $210.3bn."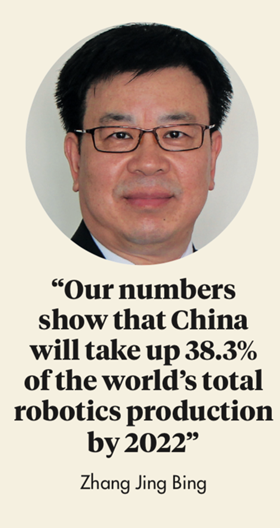 The national target is to increase domestic output of industrial robots by around 50%, but this is a "tough order", he says, because Chinese-made products first have to measure up against imported robots.
China also needs to catch up on core components like speed reducers, which continue to be imported from Japan. Chinese manufacturers are trying to localise their supply chain in software and motors.
Zhang says: "They have a long journey to catch up with global producers."
Up to 75% of new robots will continue to be imported from big-brand producers in Japan, Germany and Switzerland, he says.
As in its EV sector, China is closing the gap by acquiring leading global companies. As an example, China's Midea Group in 2016 bought the world's fourth-largest robotics company, German-based Kuka.
China did have an early head start with solar panels, and today supplies half of the world market, but it lags in areas such as aircraft manufacturing, where its market share abroad is less than 1% .
IDC's Zhang told IPE that China's aerospace engineering is progressing at a "relatively slow" pace.
"In 2017, the home-made passenger aircraft, C919, completed its first flight. People see the C919 as a critical symbol of China's ambition to muscle into the global jet market but the truth is that it will not be operational until at least 2021, and only 50% of the components are domestically manufactured."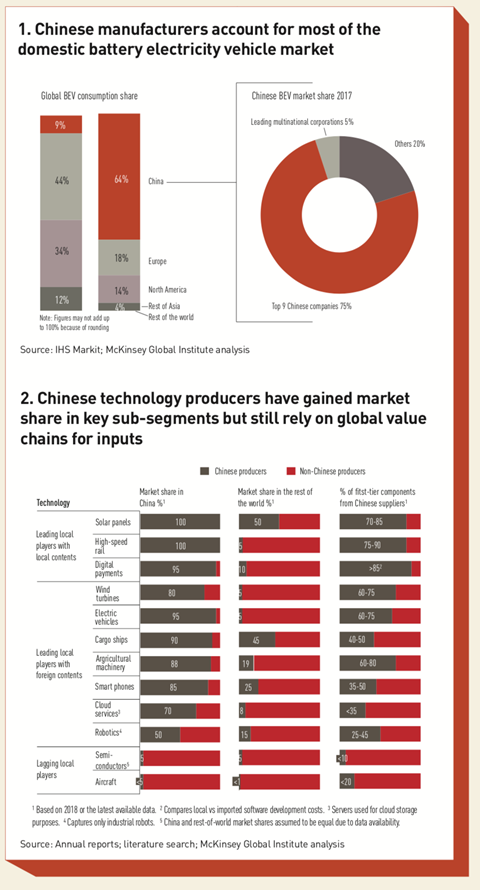 Where China goes from here in all its priority areas will largely be determined by the availability of chips that power AI and algorithms in deep-learning machines.
In a research note, Sinosilicon, the Hong Kong-based investment firm CLSA says semiconductors are at the heart of China's ambitious policies to make the country a global tech leader.
CLSA says 75% Chinese entities, starting with ZTE, the electronic giant, are affected by the US tech embargo. This has brought a sense of urgency to make China's National Semiconductor Plan work.
"Over the next five years, we expect to see military-to-civil technology transfers and China launching commercially-competitive products such as AI processors, domestic central processing units (CPUs), network switching and so forth," says CLSA, which is now owned by the Chinese securities firm, CITIC.
It says Beijing is stepping up measures to protect the interests of its companies, and to reduce its dependence on US semiconductors to counter deteriorating relations with the Trump Administration.
Today, China is coming from a low base of no more than 7% of the global value of the semiconductor supply chain. But it continues to direct resources – $293bn in 2018 – to research and development and in some areas this is paying off.
As MGI says, China already utilises AI in facial recognition. In early 2019, its Chang'e space rover was the world's first vehicle to land on the far side of the moon.
"However, in each of these cases, China benefits from access to foreign components, investments and talent," MGI says.
China: Crazy rich Chinese
1

2

3

4

5

Currently reading

Technology: The race is on

6