Leveraged Loans: An attractive niche
Leveraged loans and CLOs represent a niche that is increasingly interesting for European institutional investors and multi-asset credit funds, according to Anthony Harrington
At a glance
• Leveraged loans are attractive for institutional investors, who now make around 50% of the European market.
• There appears to be more capacity than demand currently and the market suffers from quiet patches.
• The CLO market is picking up, having slowed down dramatically in early 2016.
The leveraged loan market attracts a variety of lenders. Primarily, there are traditional bank lenders, specialised institutional leveraged-loan funds and the more exotic world of collateralised loan obligations (CLOs). 
The leveraged-loan market was particularly affected by the deleveraging of the European banking market following the 2007-08 credit crunch. The result has been strongly positive for the market both in terms of characteristics and returns, making it a highly attractive market for institutional investors. 
As European banks struggled to de-leverage post 2008 – under pressure from tightening regulation and central bank stress tests as well as the commercial requirement to reduce their balance sheet risk – institutional investors have stepped in to replace banks in providing corporate funding, attracted by the significantly higher returns on offer as a result of the shrinking lender base.
Continuing demand constraints – loans are not sold to mainstream retail investors for regulatory reasons and bank demand remains much reduced from pre-crisis levels – means that these high returns continue to be on offer and the market has therefore remained attractive for long-term investors. Investors are well compensated for the credit risk they are taking on.
"As things stand now, you do not need to take on undue risk to get well rewarded," says Andrew Boughen, leveraged loans portfolio manager at M&G. "Defaults have been pretty low for a long time and these are senior secured loans, so even in the event of a default you are first in line to get paid. Recovery rates have been averaging around 70% historically and at an average default level of 2% you are only losing on average 60bps in your loan portfolio for that level of default. For this you are getting a mid-single-digit yield with very low volatility relative to fixed-rate bonds and equities."
The corporate leveraged loan market in Europe is between €250bn and €400bn, according to Boughen, of which M&G holds €9.5bn. He points out that while the average market annual default rate is 2%, careful lending, with rigorous due diligence can drive that much lower. "Our annual running default rate is currently zero. Plus, the loans carry a floating-rate interest, so interest-rate duration is minimal, reducing the volatility you see in many fixed-rate products."
Institutional investment makes up about half of the European leveraged loans market, with traditional bank lending making up the other 50% – down from almost 100% bank lending in 1999. In the US, however, institutional and retail investors came to the market earlier and now make up 85% to 90% of the leveraged loan market. 
The European market is much tighter and harder to access as it is not widely available to retail investors as the product is not UCITS-compliant. 
For institutional investors the attractions are secured, low duration and relatively stable returns of LIBOR plus 4-5%. Loans are generated largely from M&A (mergers and acquisitions) deals driven, in the main, by private equity houses. "About 75% to 80% of the leveraged loan market is driven by private equity activity, often following large mergers where corporates have to divest divisions for regulatory reasons. Private equity houses then step in to buy these divested entities and come to the leveraged loan market for debt funding. 
This dynamic also explains why the leveraged loan market went through a prolonged quiet patch post-2008 as M&A volumes fell. It has recovered over recent years and deal flow has increased to normalised levels. However, there can still be quiet periods, as in the first half of 2015 when M&A was still going ahead but private equity houses were outbid by trade buyers. These buyers were doing deals with their own highly priced shares in a buoyant equity market, perhaps supplemented by cheap investment-grade funding. Nevertheless, such conditions unwind over time and the outlook for M&A and resulting leveraged-loan issuance remains positive.  
Deborah Shire, head of structured finance at AXA Investment Managers, oversees a team managing a portfolio of some €21bn, comprising CLOs, structured notes, ABS lending and other instruments. She is not particularly impressed by the current state of the direct lending market in Europe. "To me, there is far more capacity in the market than there is demand, and that is an imbalance that looks like enduring for a long while yet."
Demand for CLOs, on the other hand, is picking up again, after having virtually closed down at the start of 2016. "We have seen three sizeable vehicles so far in recent weeks and we know of a few others coming to market, which is very positive," she notes. The average size seems to be from €350m to €400m.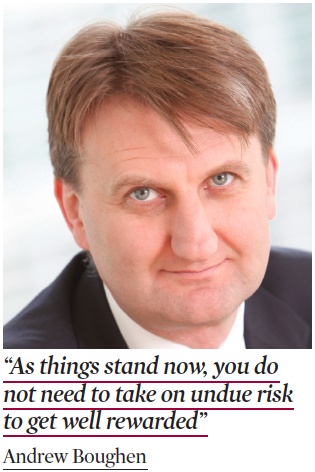 CLOs, of course, are a form of ABS with loans packaged up and sold to investors in a series of tranches, with higher yields for tranches the higher up they are in the capital structure. The best rewarded tranche, in terms of yield, is the equity tranche, which takes the first hit of any defaults in the underlying pool of loans.
The main reason the CLO market closed at the start of 2016 was the sudden spike in market volatility. "A CLO is an entity that purchases leveraged loans and issues debt for finance, and when the market is very volatile, it is very hard to find the equilibrium between assets and liabilities," Shire notes.
"The new deals that are printing now show that it is becoming easier to find this equilibrium, and as deals stabilise we are seeing a reopening of the CLO market," Shire continues. The activities of the European Central Bank (ECB) have little do to with this other than tangentially. If those activities stimulate or inhibit leveraged-loan issuance it will ultimately have some ripple effect in the CLO sector. But turbulence in the markets has a much more direct impact, as demonstrated at the start of 2016. 
Jonathan Butler, European head of leveraged finance at PGIM Fixed Income, formerly Pramerica, is active in both high-yield and leveraged loans, depending on what constitutes the best risk-adjusted return. "This might push us towards a BB-rated loan or a bond, or even a riskier CCC-rated name if the outlook for the company is attractive and we are being sufficiently rewarded," he says.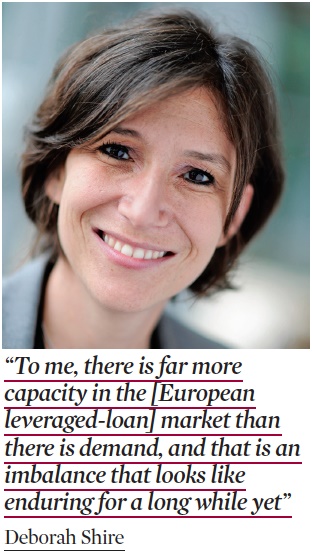 The Federal Reserve's leveraged loans guidelines, he says, are having an impact because of the provisions regarding a company being able to repay its debts within a reasonable time frame. This means a bank has to be able to prove that, with respect to any leveraged loan, the company concerned has sufficient cash flow over a sensible, visible future, to service its debt. 
"In a few aggressive lending transactions the Fed has written to banks highlighting excess leverage concerns. US investment banks are very wary of receiving those letters, so that constrains leverage somewhat. A European bank marketing only to European investors, however, may be less concerned," he argues.
With CLOs, he points out, because they are generally leveraged around 10 times, there is no need for a big full market value in the underlying leveraged loan portfolio to have a large negative impact on the net asset value of the equity. So increasing levels of default in the US commodity and energy sectors is creating some caution, with the likelihood that CLO issuance through 2016 will be lower than in 2015.
Timothy Smith, head of fixed income at Stamford Associates, argues that, even with some tightening, the mixed credit sector is still a better place for pension funds to look for reasonable yield now than, say, the high-yield market. "We really like a multi-credit approach, where a pension fund invests in a mix of bonds, loans, the more senior CLO notes and some other structured credit as well," he says. 
Smith cautions that understanding performance in this sector takes a lot of specialist knowledge and analysis. "This is a highly idiosyncratic market and a generalised market benchmark really does not work for this kind of market. We like to get credit fund managers to commit to, say, LIBOR plus 3%, net of fees and default losses. That aligns them positively with the client and gets the manager away from thinking that he has done well when he beats the market benchmark by 1%. If the benchmark happens to be in negative territory for that year, just losing the client 1% less than the benchmark is not very productive for the client," Smith concludes.