Several factors have combined to boost the dollar's performance, finds David Turner
Emerging market currencies have been boosted recently by strong inflows from investors seeking higher returns. But Ayşe Ferliel Barounos finds not everyone expects the rebound to last 
Policies being pursued by Japan and China for different reasons are behind the rising yen and the falling renminbi that are having significant effects on financial markets
Anthony Harrington finds that investors can easily overlook the foreign exchange risk that comes with investing outside of their own currency area
Yes, says Michael Howell, managing director of CrossBorder Capital As the world gets bigger it seems to become ever more volatile. So its financial markets ride an endemic eight or nine rollercoaster with dizzying, white-knuckle peaks occurring in 1972, 1981, 1989, 1998, 2007-08 and now maybe in 2015 too. 
Funds indicate they will pace themselves in building up international assets

Big movements in major currencies could be a chance to look again at hedges – but don't try to time the market

Consultancy's risk study shows success of more 'expensive' strategies

Joseph Mariathasan looks into how companies should trade currency in what looks set to be a volatile year
Finnish pensions insurer sees 4.3% first-half investment return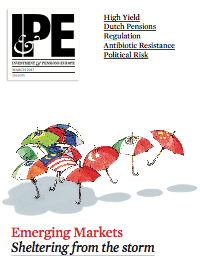 Digital Edition
Registered users are entitled to the first digital issue of IPE with the compliments of the IPE.com team.