Australia: Changing fortunes
A new landscape for Australia's fast-growing super sector will evolve over the next five years
Key points
Australia's superannuation industry is set for a shake-up as regulation becomes even tighter
There will be far-reaching consequences for the investment industry
One of the most important changes will be to commission paid to financial advisers
Australia's AUD2.76trn (€1.79trn) superannuation industry faces unprecedented challenges as it moves towards an impending shake-up. Trustees and managers of super funds face more red-tape, tighter government scrutiny, political intervention, and commercial challenges.
The already highly-regulated super industry is poised to become even more regulated as the government scrambles to recover public confidence in a system that represents a substantial portion of the wealth of Australians. Some of Australia's 200-plus super funds will be taken over, while the business models of the country's for-profit, retail funds, almost all of them owned by the big four banks and by AMP, will have to be overhauled.
Industry funds also face more scrutiny and, increasingly, will need to resolve the issue of where to invest the additional billions coming to them from other funds. Their hardest task will be to maintain the high returns to which their members are accustomed.
The foreshadowed changes in the wake of Royal Commission into financial services, including superannuation, and the findings of the Productivity Commission, a federal government agency, will be profound. The super funds industry will bear the brunt of tough legislation which the federal government is expected to implement. Industry experts say the expected changes will have far-reaching consequences on the industry – greater than any since compulsory superannuation was introduced in 1992.
The poor conduct of bank-owned and other retail funds exposed during the Royal Commission has prompted an exodus of members.
In the third quarter 2018 some AUD8.6bn left for-profit funds, mainly for industry funds.
The Hayne Royal Commission, which wound up its hearings in November, is due to make its final recommendations in February. During the hearings, even regulators, particularly the Australian Prudential Regulation Authority (APRA), which has oversight of the superannuation industry, were exposed as being ineffective and having a soft-touch with financial institutions.
Since the Royal Commission, APRA has pre-emptively moved to tighten its rules and step up oversight of financial institutions and super funds. APRA has flagged the Superannuation Industry Supervision Act as an example of regulatory framework that is due for overhaul.
But the real pain will be felt by the bank-run superannuation businesses. They account for about two thirds (more than AUD400bn) of funds under management in the for-profit sector.
Political pressures
If the Australian Labor Party (ALP) takes office next year, it will be under pressure to ban banks and other for-profit companies from managing superannuation. Labor leader Bill Shorten told a business audience in Melbourne that some in the industry are asking whether banks should actually be allowed to remain in superannuation.
While Shorten said he had yet to form a view on this, Australia's labour movement, which backs the ALP, is pushing hard for a Labor government to keep banks out of managing super.
The Labor leader, who is a former assistant treasurer responsible for superannuation, says banks had a conflict in running super funds in the interests of both superannuation members and shareholders. Shorten wants independent boards and trustees overseeing super funds to be separate from the banks' other businesses.
Matt Linden, deputy CEO of the Industry Super Association, says in advance of the Royal Commission final report it is hard to know exactly how far either political party might go. "It is premature to rule anything in or out, but there is no chance of the status quo continuing," he says.
Linden says it would certainly appear that the business models of for-profit super funds will change. "Whether banks retain vertical integration and whether they run super funds alongside their other insurance and banking businesses, will be issues to be considered. Changes to governance, conflicts management and consumer protection may make it an untenable commercial model regardless of any specific prohibitions.
"Regardless what the regulatory responses, the days of preferencing shareholders at the expense of members have ended."
Linden says the traditional model of distributing inferior super products through financial advisers and selling them over bank counters will be disrupted.
Eva Scheerlinck, chief executive of the Australian Institute of Superannuation Trustees, says the focus will be on regulators. "There will be greater clarity on the role of regulators in the super industry," she says, noting that regulators have signalled closer scrutiny of the industry. 
Scheerlinck says the way fees are charged and to the incentives used by retail funds to sell their super products will be changed first. "We have had concerns about the structure of retail super funds and the vertically-integrated systems under which banks operate their super, insurance and banking businesses." The focus on generating returns for bank shareholders has resulted in low returns for super members. 
It is estimated that banks and retail super funds pay AUD5bn in commissions and trailing fees, including grandfathered commissions to financial advisers selling their super products.
One bank, Westpac has moved to end grandfathering of commissions payable to financial advisers. Banks are looking at selling their wealth management businesses. The question is whether they will also sell their superannuation businesses. 
Industry sources say these are sizeable, and the price on them will be prohibitive for any not-for-profit fund in Australia. The not-for-profit sector has the capital but would not want it tied up in such businesses.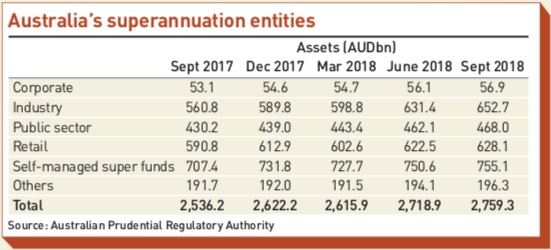 If in the unlikely event that the banks' super funds do come on the market, overseas players who have large customer distribution networks in Australia could buy them – Blackrock, Mercer, Russell and Vanguard already offer super products.
A more likely outcome is the gradual erosion of funds under management to the not-for-profit (industry funds) and profit-for-member (public sector funds). According to APRA, AUD30.6bn in rollovers took place in the 12 months to September 2018.
Total funds under management (FUM) of the industry fund sector surpassed retail funds by AUD24.6bn at the end of the third quarter, at AUD652bn, A year ago, industry super's FUM was AUD560bn, against AUD590.8bn managed by the retail funds.
Members vote with their feet 
Rose Kerlin, group executive membership at AustralianSuper, which has AUD140bn under management, says: "Since the start of the Royal Commission [in 2017], there has been a sharp rise in member contributions. AustralianSuper has experienced an increase of 319% in net cash flow coming from AMP, the big four banks and SMSF [self managed super funds] over the six-month period."
The most significant increase has been in members aged 50 to 65 years. This is an affluent group with substantial savings. Traditionally, these people have been more likely to entrust their super savings to the AMPs and Colonial First States of the world.
The inflow from members into AustralianSuper each month this financial year has been almost 90% higher than for the same period the previous year. It has received inflows totalling AUD4.65bn – up AUD2.15bn – in the first four months of this financial year.
David Elia, CEO of Hostplus, says: "Hostplus has seen very strong net inflows of members and funds under management – particularly from the retail fund sector. This includes employers who currently hold default status with bank-owned funds considering switching to Hostplus."
From April to September 2018, almost AUD2bn in FUM rolled into Hostplus from the bank-owned and retail fund sectors. "We are confident that our industry-leading investment returns, low administration fees, not-for-profit status and non-conflicted financial advice have all played a key role," he says.
Employees and unions are urging employers to consider moving their default funds away from the for-profit sector. Employers channel employees' super contribution to their default funds if the employees have not nominated a fund of their choice.
Both the Australia Post Superannuation Plan, which has a AUD206m mandate, and Anglican National Super are moving from AMP to other managers. Anglican National has already announced that its AUD250m corporate fund has gone to Mercer.
An AMP spokesperson says: "As part of good governance, we expect our customers to periodically review their service arrangements. We support and participate in this process. If organisations decide to change default providers we do everything possible to ensure a smooth transition of members' benefits, while continuing to provide strong returns and service to those members who decide to stay with AMP. AMP's workplace superannuation business has more than AUD32bn in assets under management, supporting more than 53,000 small and large businesses around Australia."